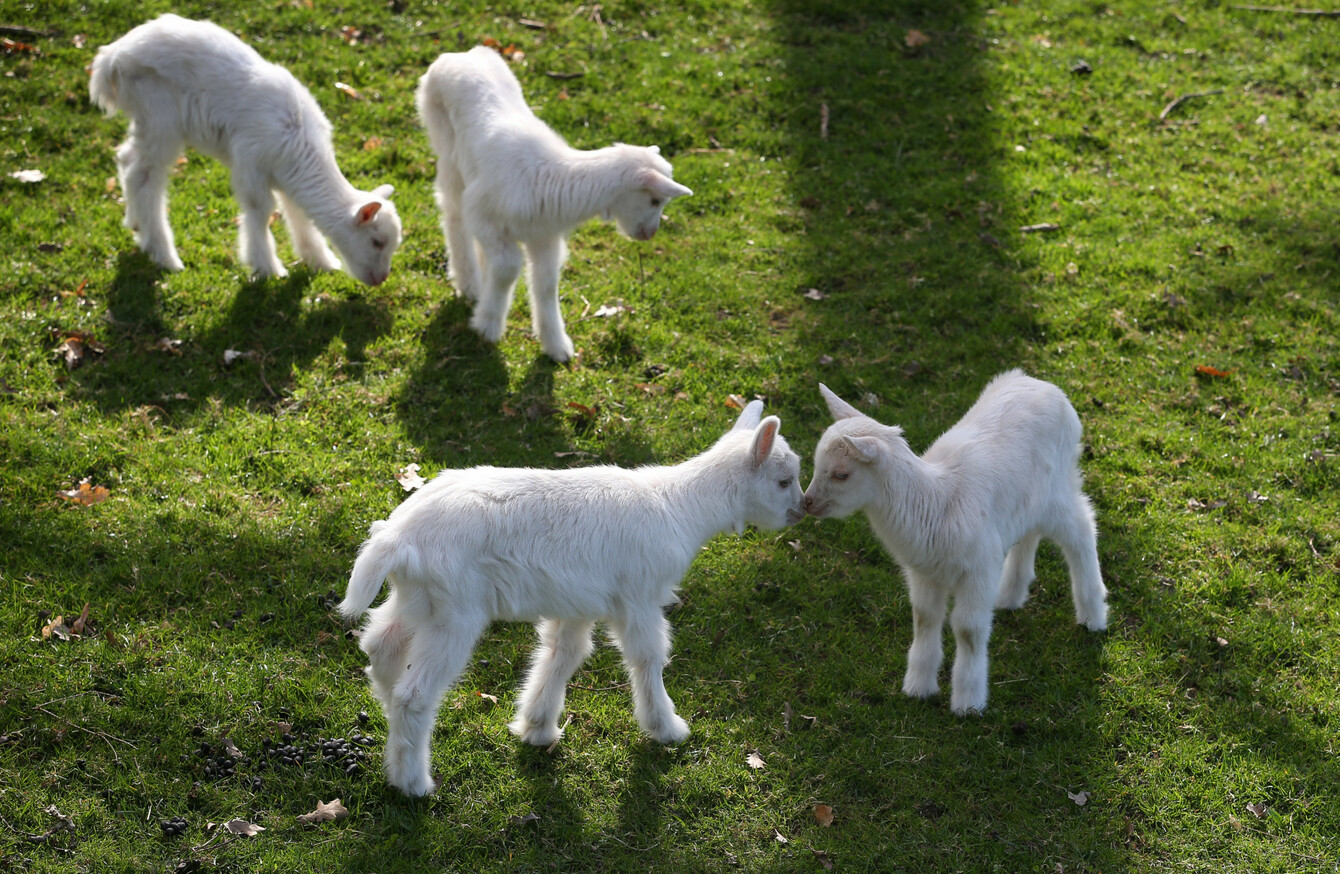 Goats.
Image: DPA/PA Images
Goats.
Image: DPA/PA Images
THE HERD OF wild goats that have been roaming free in residential and business areas in Ennis have found a new home – on the other side of the country.
This follows Clare County Council and others organising the transfer of the goats to a farmer in Co Louth.
Member of Clare Co Council, Councillor Mary Howard (FG) said today: "It is a fantastic result and a happy ending. We couldn't have asked for better."
Clare ISPCA Officer, Frankie Coote confirmed today that the goats were transferred to Co Louth on Wednesday evening.
He said: "It took nine of us to round up the 13 goats in the grounds of Mangan's Cash and Carry in Ennis on Tuesday evening. That is where they were staying at night-time."
The goats were fenced in until transferred by lorry to Co Louth.
Mr Coote said that he has been "besieged with calls from people looking to take the goats".
"I could have rehomed them in 200 homes with the amount of offers I received. There were calls from across the country."
Councillor Howard said that the goats will "thrive" at their new home. She said:
"Two kids [goats] were already electrocuted at an ESB sub-station here and a third got knocked down by a car more recently so this is the best possible outcome."
Councillor Howard told a meeting of the Ennis Municipal District last week that the goats "are procreating like there is no tomorrow" and castrating the male goats in the herd should be considered.
She said that today that she couldn't have stood over the herd being culled as the herd is healthy and full of life.
Councillor Howard said that it was only a matter of time before the goats and their kids caused a serious car accident in Ennis with them running out on the road and cars swerving to avoid.
Councillor Howard said that the goat population in Co Louth was decimated as a result of culling through the foot and mouth outbreak in 2001 and the transfer of the Ennis goats will go someway towards restoring the population there.
Mr Coote said that he was receiving a lot of complaints from locals in Ennis over the behaviour of the goats.
He said: "They were moving closer to the town centre all the time. They were eating up shrubs while the kid goats were jumping up on cars. One woman put down €100 worth of shrubs but they were gone within a couple of days after the goats got at them. A lot of people were upset by them."
The goats generated international headlines with one UK paper reporting that the goats were terrorising the town. However, Councillor Howard said that the goats "were not terrorising the town. I found them to be very friendly".