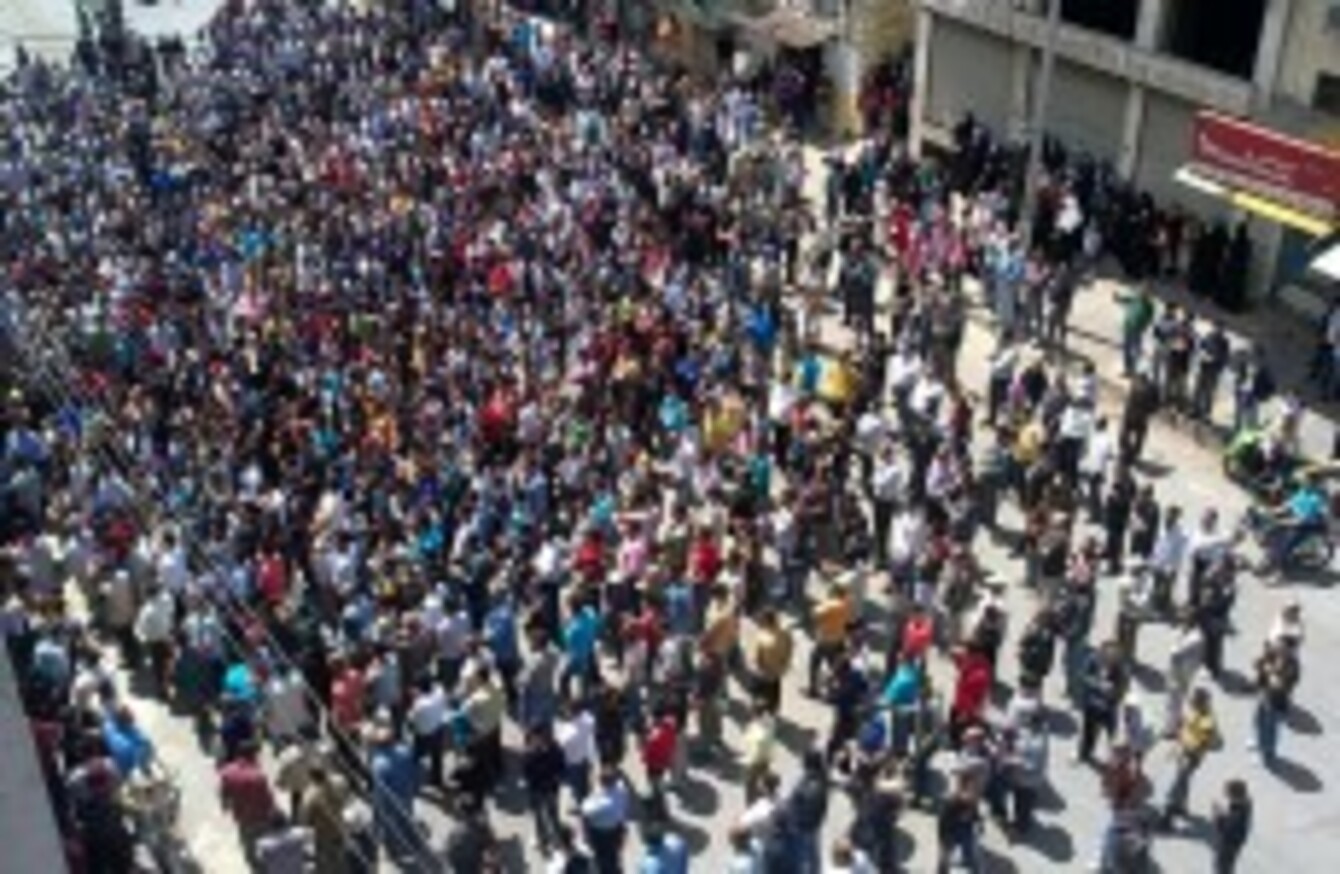 Syrian anti-government protesters gather in the coastal town of Banias on Friday.
Image: Citizen journalism/AP Photo
Syrian anti-government protesters gather in the coastal town of Banias on Friday.
Image: Citizen journalism/AP Photo
SYRIAN SECURITY FORCES opened fire on thousands of protesters demanding regime change and killing more than 30 people in a sign that President Bashar Assad is prepared to ride out a wave of rapidly escalating international outrage.
The UN is sending a team into Syria to investigate and the European Union is expected to place sanctions on Syrian officials next week — both significant blows to Assad, a British-educated, self-styled reformer who has tried to bring Syria back into the global mainstream over his 11 years in power.
Friday's protests spanned the nation of 23 million, from the capital to the Mediterranean coast and the arid northeast.
The bloodshed was the latest spasm in what has become a weekly cycle of mass protests followed by a swift and deadly crackdown. Earlier reports put the death toll at six but that has since risen.
Human Rights Watch counsel Reed Brody told AP:
What it looks like here is a systematic attack on a civilian population, a political decision to shoot to kill unarmed demonstrators and that could very well be a crime against humanity.
Thousands of protesters took to the streets Friday despite a security chokehold on the most volatile areas along with a stepped-up intimidation campaign.
Rallies were held in major areas including the capital, Damascus, and its suburbs, Banias on the coast and Qamishli in the northeast.
A prominent human rights activist told the Associated Press that 30 people were killed Friday, all of them protesters.
The toll included 15 people in Homs, six in Hama, five in the seaside city of Latakia and one in Deir El-Zour, the activist said.
A resident of Saqba, a suburb of Damascus, said security forces shot and killed a man riding a motorcycle as he approached a checkpoint:
They fired so many bullets, around seven … Then they took the body, put it in a van and washed away the blood on the street.
Footage posted on YouTube showed protesters in Hama frantically trying to resuscitate a man lying on the ground with a bloodied face and shirt, while people shouted "God is great!"
State-run television said an army officer and four policemen were shot dead by a "terrorist group" in Homs. It did not elaborate.
Syrian authorities also detained Riad Seif, a leading opposition figure and former lawmaker who has been an outspoken critic of the regime during the uprising, according to the Syrian Observatory for Human Rights.
Amnesty International said at least a dozen prominent rights and political activists in Syria ave been forced into hiding after receiving direct threats of violence and arrests from authorities.
In the Damascus suburb of Douma, scene of intense protests over recent weeks, security forces cordoned off the area to prevent anyone from entering or leaving.
A witness near Douma said he saw a train carrying about 15 army tanks heading north Thursday evening toward the central province of Homs.
Another activist in Damascus said hundreds of people marched in the central neighborhood of Midan. In Banias, witnesses said more than 5,000 people carrying olive branches and Syrian flags also were calling for regime change. One said:
Our morale is high, they cannot stop us no matter what they do and how many people they arrest.
In the southern city of Daraa, where the army announced the end to an 11-day military operation on Thursday, residents said troops were still in the streets, causing many to stay away from a protest there on Friday.
- AP