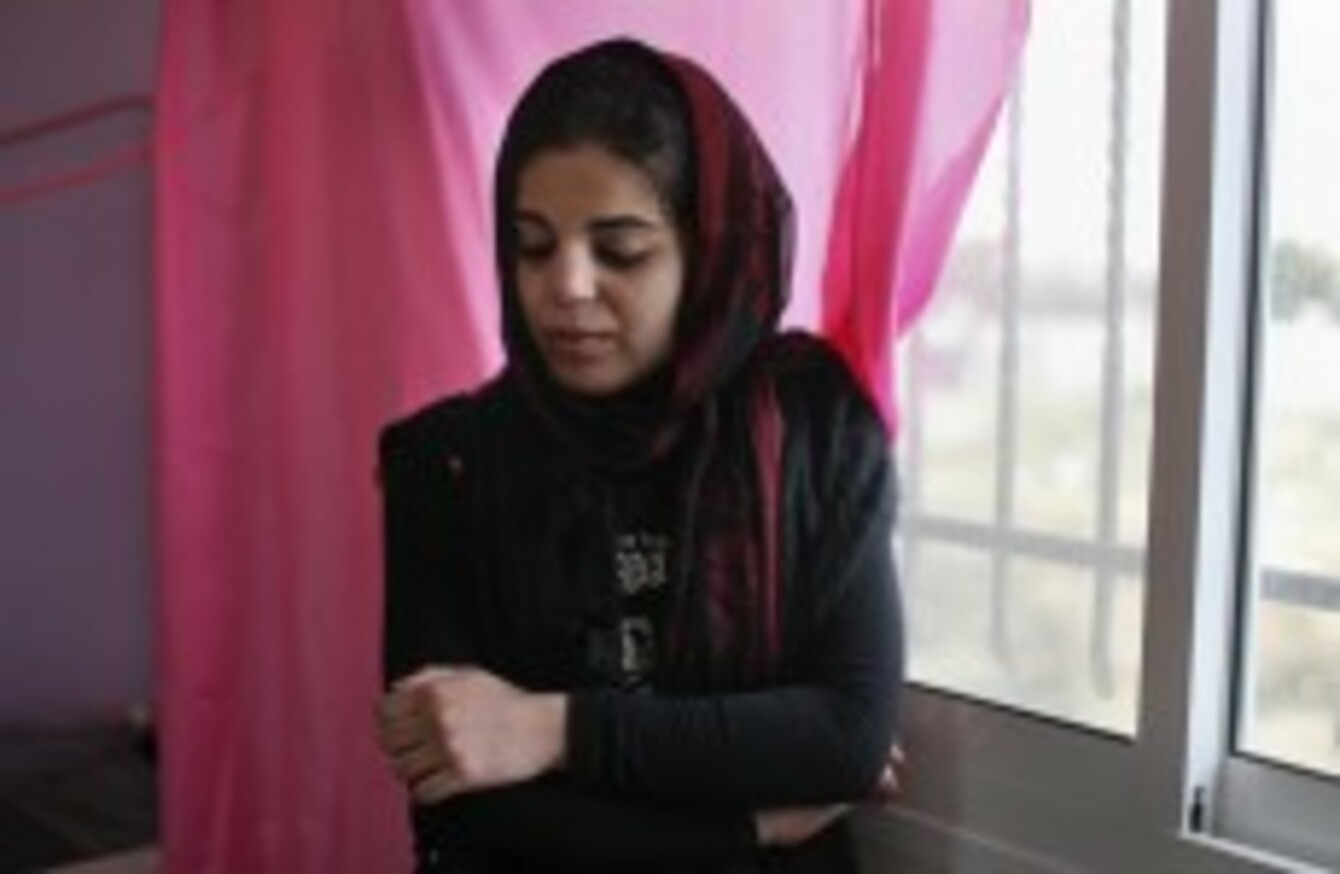 Baraa Melhem, 20, poses for a photograph at her mother's house in the West Bank village of Qalandia
Image: Maya Levin/AP/Press Association Images
Baraa Melhem, 20, poses for a photograph at her mother's house in the West Bank village of Qalandia
Image: Maya Levin/AP/Press Association Images
A YOUNG PALESTINIAN woman who was imprisoned for 10 years in a series of dark rooms by her father said Monday she survived the ordeal by listening to the radio, dreaming of seeing sunshine again and finding small pleasure in an apple she was fed each day.
Baraa Melhem, 20, said she was enjoying her first taste of freedom after a decade of isolation and threats of rape and abuse, and she hopes to use her experience to help others.
"I have joy now. My life has begun," the young woman, dressed in red sweat pants, white shoes, a black shawl for warmth and a headscarf, told The Associated Press.
Melhem was rescued by Palestinian security forces in the West Bank town of Qalqiliya on Saturday after an aunt notified police. Adnan Damiri, a Palestinian police spokesman, said she was in "deplorable" condition.
Her father and stepmother, both Arab citizens of Israel, were turned over to Israeli authorities. Locked up in Israel, neither could be reached for comment.
The father, Hassan Melhem, 49, is expected to appear in an Israeli court on Wednesday, said police spokesman Micky Rosenfeld.
Speaking softly but confidently, Baraa Melhem said she was beaten, barely fed and let out only in the middle of the night to do housework. She was given only a blanket, radio and a razor blade by her father and stepmother, and both of them encouraged her to kill herself.
I don't hate my father. But I hate what he did to me. Why did he do it? I don't understand.
Melhem said she was first locked up in a bathroom after she ran away from home when she was 10. Police brought her home, and her father forced her to sign a statement saying she didn't want to go back to school.Melhem's parents divorced when she was four years old, and her father received custody.
Melhem is now living with her mother, Maysoun, in an Arab neighborhood of Jerusalem.
Melhem she said she was finally happy in her new home — a shabby, purple-painted room with pink curtains, four mattresses on the ground and a red blanket. She clutched a large doll that her mother gave her as a gift.
This is heaven. Because you have always been free, you don't appreciate it. But for somebody like me, who has tasted the bitterness of a prison, this is heaven.
Maysoun, who has remarried, refused to give her last name or age. She said she was so eager to divorce her first husband that when he insisted on keeping their daughter, she agreed. She took their son because the father used to spray perfume into his eyes. She said he was not violent toward the daughter.
I was so young when I was getting a divorce. I didn't understand anything. I was just so desperate to be rid of that man.
Melhem described her father as a violent man who also terrified her half brother and half sister. Although their conditions were better, they, too, were not allowed to leave the house when the father wasn't home. She said the siblings, who are believed to be staying with relatives now, were mentally disabled and were not sent to school.
"Fear, fear, fear — that was the basis of my life," Melhem said.
Melhem said she kept sane by listening to a small transistor radio that her father gave her in the past five years. The young woman was up to date with news and current affairs and named her favorite radio hosts.
In one instance, she said, her spirits were lifted when she heard on her radio that her astrological sign was Leo, meaning she had a fiery personality.
Over the years the family moved twice more. Each time she was locked up. In her final home in Qalqiliya, she was kept in what she described as a bathroom that measured 3-by-3 feet (1-by-1m).
She dreamed of fleeing, but Melhem said her father threatened to rape her until she became pregnant if she tried to escape.
Then he warned he would kill her and justify the crime by saying that she had shamed the family — what is known in Arab society as "honour killing."
She said when he was angry, he regularly beat her with electric cables and sticks. He poured cold water on her when she asked for her mother, and sometimes shaved her head and eyebrows.
She was let out only late at night to clean the rest of the house. Before dawn, her father then locked her back inside. He gave her bread, oil and an apple every day.
At one point, her father gave her a razor blade, telling her it would be better if she killed herself. Melhem said her stepmother urged her to do it, telling her she was a nobody.
To cope, Melhem said she often jumped up and down for exercise, cleaned the bathroom, dusted off her blanket, washed her clothes and then listened to the radio all day.
Hala Shreim, a social worker who accompanied police on the rescue, said Melhem was found in the small bathroom with a tiny window. She said the woman was wrapped in a blanket and wore threadbare clothes so old that they were disintegrating.
When she was taken outside, Melhem said she was blinded by the pale winter sun. It was more sunlight than she had seen in 10 years.
"Is that the sun? Is that the sun I was dreaming of?" she said she asked police. Melhem said the sight of so many people startled her. "Are those the people I was hearing on the radio?" she asked the police.
Melhem said her first request, after she was released, was for hard candy — something she had been denied since she was a child. Then she asked to see her mother.
Melhem's mother, who remarried and moved to a different town, had asked about her daughter, but her ex-husband would make up excuses why the young woman wasn't around and sometimes told the mother to mind her own business, said social worker Shreim said.
Melhem said she paid special attention to mental health programs on Palestinian radio. She believes that listening to voices from the outside world, modest exercise and eating an apple each day saved her.
Although she has nothing more than an elementary school education, she said she hopes to study psychology and one day treat people who had similar fates.
There is no house in the world — look outside the window. In every house, somebody is suffering.
When asked if she hoped to marry, Melhem was visibly upset. "If the violence I experienced was between a father and a daughter, what happens between a man and a wife? No, I never want to marry," she said.
There have been a few similar known cases in the West Bank over the years.
In 2008, Palestinian police discovered two disabled siblings, a man and a woman, whose family had locked them in concrete rooms stinking of excrement and sweat for decades.
Shamed by their state, the family feared their conditions would ruin the marriage prospects of their healthy brother.
By Diaa Hadid
Captive daughter

Captive daughter

Captive daughter