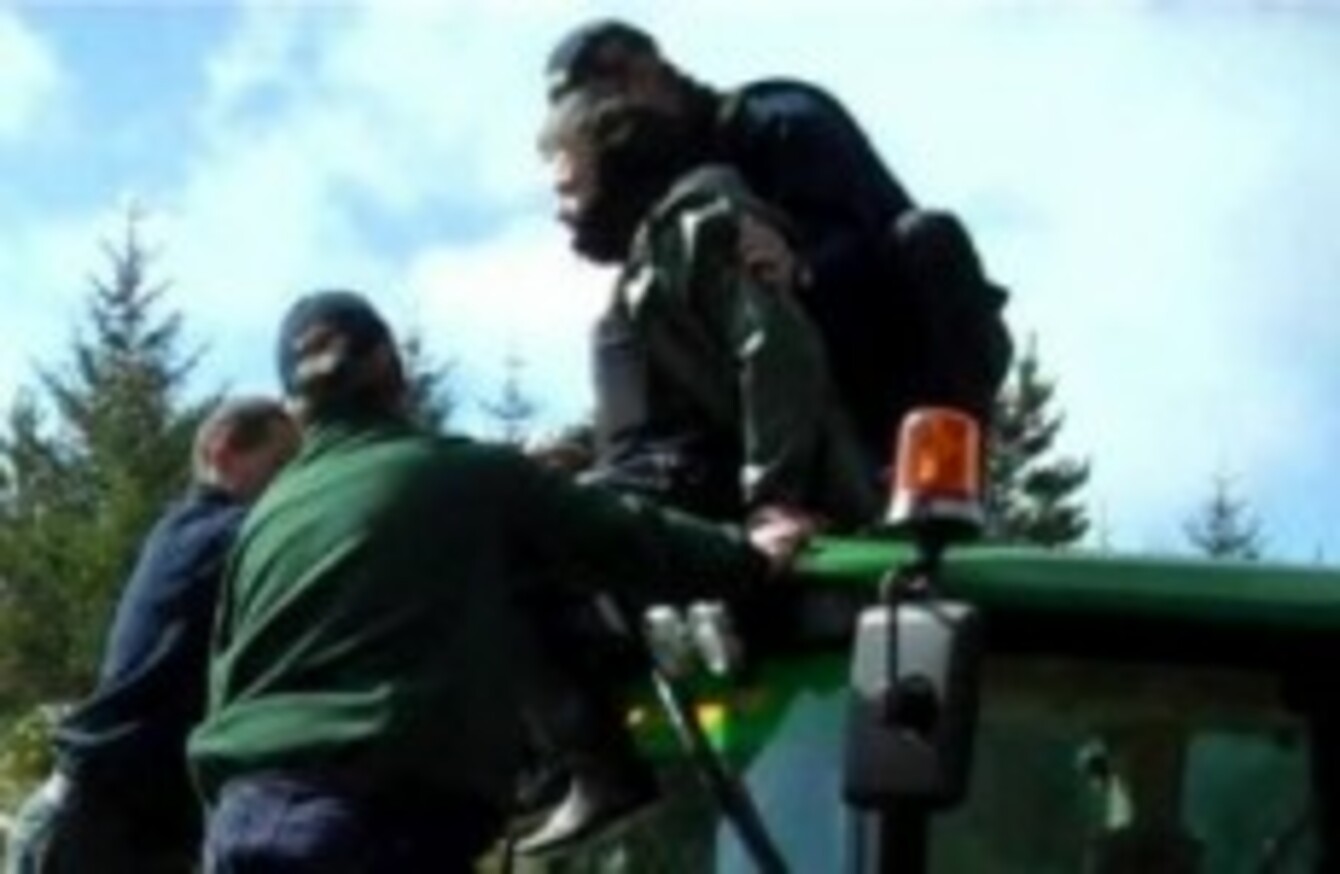 A picture of the incident last Thursday.
Image: Rossport Solidarity Camp
A picture of the incident last Thursday.
Image: Rossport Solidarity Camp
THE TWO FEMALE protesters at the centre of yesterday's garda controversy have spoken of the "shock and horror" they experienced upon hearing remarks inadvertently recorded on a video camera that had been confiscated by the authorities – during which gardaí allegedly made comments about raping and deporting one of them.
Both the women are in their early 20s and live in Dublin. They travelled to north Mayo last week to protest against the construction of the controversial Corrib gas pipeline.
One woman, a science graduate from UCD, told the Irish Independent: "I was just horrified – in complete shock. I couldn't believe it".
The woman explained that a protest had taken place and was broken up by gardaí, after which "we walked away and the gardai walked away". About half an hour later, she said, they women were stopped by eight or nine gardaí and arrested.
She said that the camera was switched on just before they were arrested, and complained about an "unnecessary" amount of physical force being used.  They were released about an hour later without charge.
When the camera was returned to them, they heard comments such as: "Give me your name and address or I'll rape you."
The woman said that the experience had rocked her faith in the gardaí: "These are the men we are supposed to turn to to report a rape to – these people are supposed to protect us," she told the Irish Daily Mail. "To hear the gardaí say that – there is something seriously wrong and dangerous about that. It is not acceptable."
The other woman at the centre of the controversy is a 25-year-old studying at NUI Maynooth. Neither of the women wished to be named in order to protect their identities.
The Irish Examiner quotes garda sources as saying that the gardaí involved in the incident intended "no malice" in what they said.
However, Ellen O'Malley-Dunlop of the Dublin Rape Crisis Centre said that making "suggestive comments about rape and sexual assault is not funny whatever the situation".
On RTÉ's Prime Time last night, one of the women said "we were just horrified to hear gardaí talking about raping us."
Speaking on Morning Ireland today, Minister for Justice Alan Shatter said that anyone who is a victim of a sexual crime should remain confident that they will be treated sensitively by the gardaí – and added that all gardaí needed to respect the people they interact with. When asked if he would rethink the policing of the Corrbi protests he said: "I have an open mind to that",  and said that he believed the construction of the pipeline is vital for Ireland.