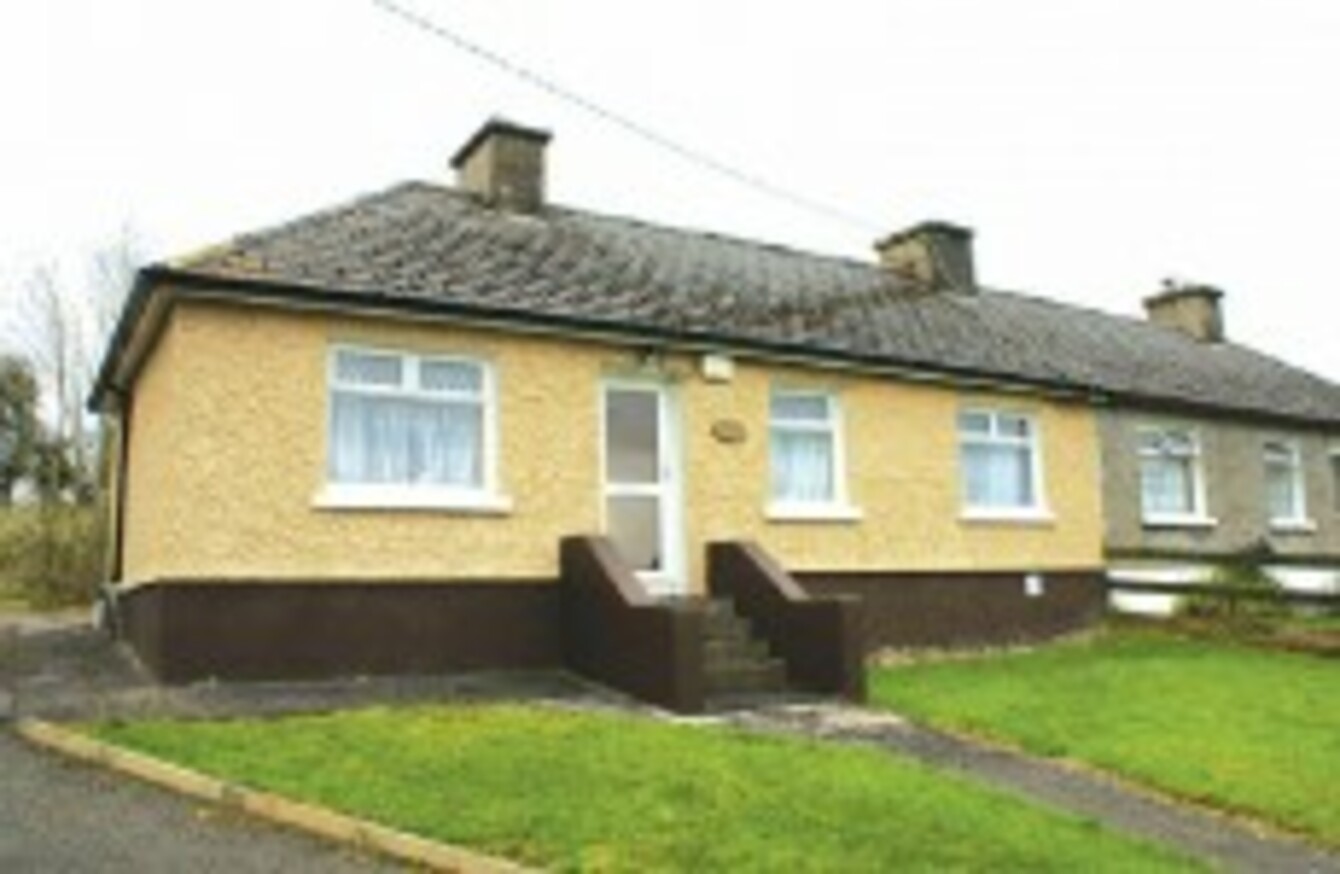 This house in Ballinagh, Co Cavan has a reserve of €15,000.
Image: Allsop Space
This house in Ballinagh, Co Cavan has a reserve of €15,000.
Image: Allsop Space
A TWO-BEDROOM semi-detached house in Co Cavan has a reserve price of just €15,000 on it at an upcoming auction of 'distressed' properties.
The next Allsop/Space auction will be held at the Shelbourne Hotel in Dublin on 3 May with a total of 106 properties going under the hammer. The most expensive of these is a large warehouse and two-storey office in an industrial estate on the Naas Road in Dublin, with a reserve of €590,000. The most expensive residential property in the sale is a €250,000 semi-detached five-bedroom house in Deansgrange, Dublin.
However, the reserves on other residential property go right down to €15,000 with 30 of these under €70,000. There is a mid-terrace two-bedroom house on Henry Street in Galway with a reserve of €20,000, for example (although it is occupied by a tenant who has a right to Life Tenancy, at a current rent of €138 per year).
Robert Hoban, Associate Director of Allsop Space, told TheJournal.ie that over 400 properties have been sold at their previous auctions. He said that the average – "and this is very much an across the board average" – sale price of the properties was 29-30 per cent above the reserve. "About one in four sell under reserve and about three in four sell over the reserve," he said.
Hoban stressed that the so-called 'distressed' properties are not repossessed houses. He said:
It says on the catalogue if there is a receiver involved – the rest are from private individuals.
Nobody has been evicted from any of the properties we have up for auction.
Over 50 per cent of the properties of the 3 May auction are being sold on behalf of private individuals. Hoban said that this proportion had increased steadily since the first such auction in April 2011. "It was 20 per cent, then 30 per cent and now it's 50 per cent. We're open to sell for anyone who approaches us."
#Open journalism No news is bad news Support The Journal

Your contributions will help us continue to deliver the stories that are important to you

Support us now
There seems to be interest in at least viewing the properties up for grabs. Over 100,000 people have accessed the online catalogue – Hoban says their analytics show that the audience includes people from some 130 countries. There are currently 45 overseas bidders registered for the next auction although, according to Allsop Space, they are "regularly outbid by people in the room on the day. A bit of emotion takes over".
The proposal to set up a new national register to record actual sale prices of properties is to be welcomed, Hoban said. "It's a good thing," he said, " It will bring transparency and I think that that is what auctions do already. Otherwise it's guesswork, opinion, a finger in the air."
Weir's Pub, Dun Laoghaire: Reserve €450k

Emly, Co Tipperary: Reserve €40k

Convoy, Co Donegal: Reserve €5k (1.06-acre site)

Castlrea, Co Roscommon: Reserve €20k (apartment)

The Bank pub, O'Connell Street, Limerick: Reserve €395k

Enniscrone, Co Sligo: Reserve €57.5k

Blessington, Co Wicklow: Reserve €75k