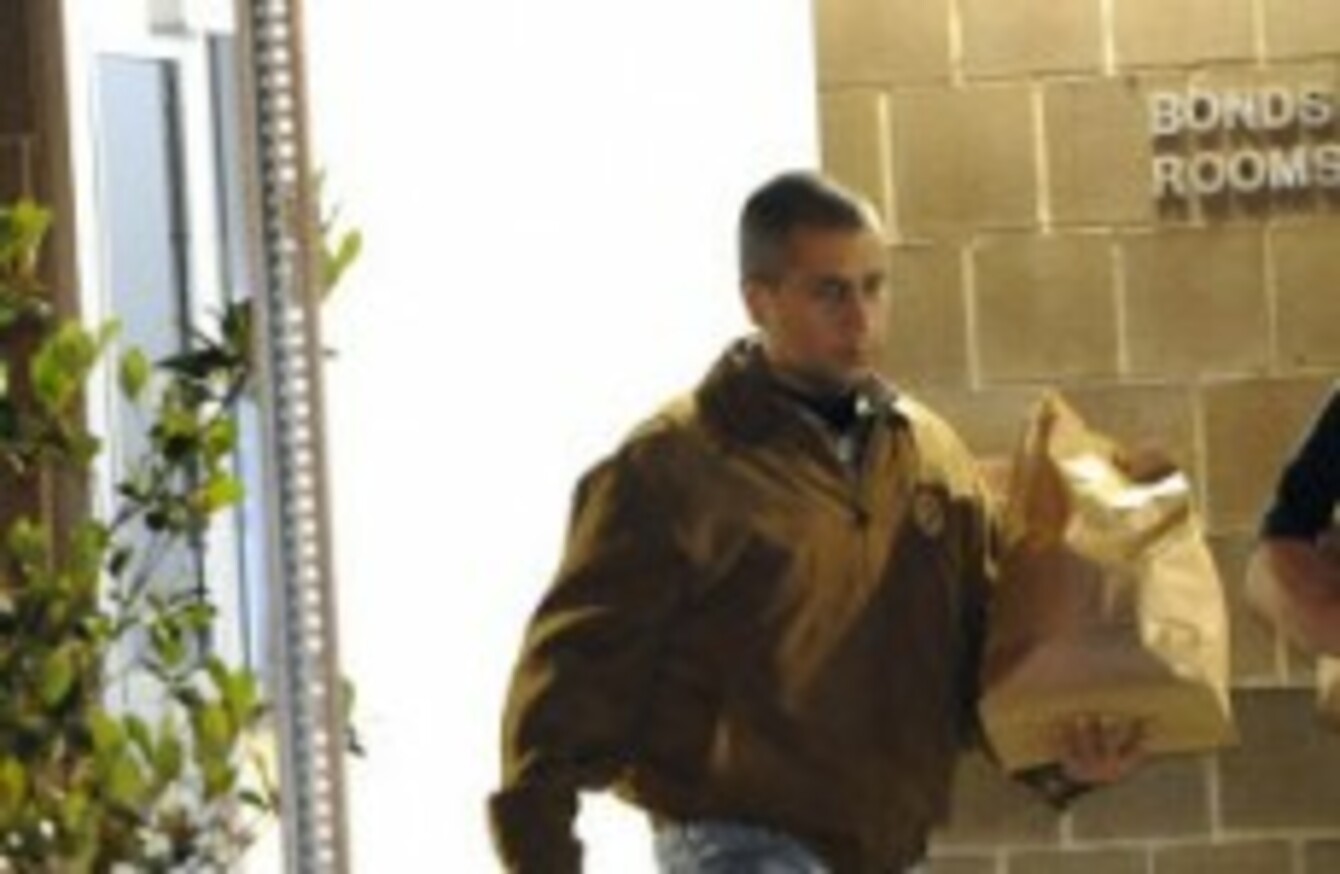 George Zimmerman being released from a Florida jail last night.
Image: Brian Blanco/AP/Press Association Images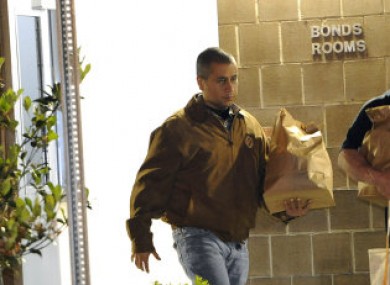 George Zimmerman being released from a Florida jail last night.
Image: Brian Blanco/AP/Press Association Images
IN A LOW-KEY even, George Zimmerman was released from a Florida jail on $150,000 bail as he awaits his second-degree murder trial in the fatal shooting of unarmed teen Trayvon Martin.
The neighbourhood watch volunteer was wearing a brown jacket and blue jeans and carrying a paper bag as he walked out of the jail around midnight Sunday. He was following another man and didn't look over at photographers gathered outside. The two then got into a white BMW car and drove away.
No questions were shouted at Zimmerman from members of the news media at the scene, and he gave no statement.
His destination is being kept secret for his safety and it could be outside Florida. He was fitted with an electronic device when he was released Sunday, according to a statement from the Seminole County Sheriff's Office.
Circuit Judge Kenneth Lester said at a hearing Friday that Zimmerman cannot have any guns and must observe a 7pm-to-6am curfew. Zimmerman also surrendered his passport.
Zimmerman had to put up 10 per cent, or $15,000, to make bail. His father had indicated he might take out a second mortgage.
Zimmerman worked at a mortgage risk-management company at the time of the shooting and his wife is in nursing school. A website was set up to collect donations for Zimmerman's defence fund. It is unclear how much has been raised.

(Video uploaded by AssociatedPress)
Shooting
Bail is not unheard of in second-degree murder cases, and legal experts had predicted it would be granted for Zimmerman because of his ties to the community, because he turned himself in after he was charged last week, and because he has never been convicted of a serious crime.
Prosecutors had asked for $1 million bail, citing two previous scrapes Zimmerman had with the law, neither of which resulted in charges. In 2005, he had to take anger management courses after he was accused of attacking an undercover officer who was trying to arrest Zimmerman's friend. In another incident, a girlfriend accused him of attacking her.
Zimmerman, 28, fatally shot Martin, 17, during an altercation on 26 February inside the gated community where Zimmerman lived. Martin was unarmed and was walking back to the home of his father's fiancée when Zimmerman saw him, called 911 and began following him. A fight broke out — investigators say it is unknown who started it.
A makeshift memorial for Martin outside the complex where he was shot. (AP Photo/Chris O'Meara/PA)
Zimmerman says Martin, who was visiting from Miami, attacked him. Zimmerman says he shot Martin in self-defence, citing Florida's "stand your ground" law, which gives broad legal protection to anyone who says they used deadly force because they feared death or great bodily harm.
Zimmerman was not charged for over six weeks, sparking national protests led by Martin's parents, civil rights groups and the Revs Jesse Jackson and Al Sharpton. Martin was black; Zimmerman's father is white and his mother is from Peru.
Earlier Sunday, Zimmerman's attorney was working to secure the money for bail and a safe place for Zimmerman to stay. But residents in Sanford, where Martin was killed, didn't expect a ruckus once Zimmerman was released.
City commissioners said they hadn't received calls from nervous residents. Protesters didn't show up outside the jail. And talk at one local coffee shop seldom focused on the case.
"It's just kind of a non-issue now," said Michele Church, a server at Mel's Family Diner. "That's pretty much all anybody in Sanford wanted, was an arrest, so it could be sorted out in the court system."
"The mood in Sanford has calmed down tremendously," said Sanford Commissioner Patty Mahany, whose district includes the neighbourhood where Martin was killed. "I think now that people are able to see the justice system taking place, even though they understand it's going to be quite slow, people are willing to just remain calm and really we're all getting back to our daily routines."
A spokeswoman for the Seminole County Sheriff's Office declined to release any information about whether they were increasing patrols or security.
Meanwhile, Martin's parents published a "Card of Thanks" in The Miami Herald obituary page Sunday. The note says Sybrina Fulton and Tracy Martin express their appreciation for all the public's support since their son's death. The notice includes a photograph of Trayvon Martin dressed in a hooded sweatshirt, similar to one he was wearing the evening he was killed.
"Words will never express how your love, support and prayers lifted our spirits and continue to give us the strength to march on," the letter says.