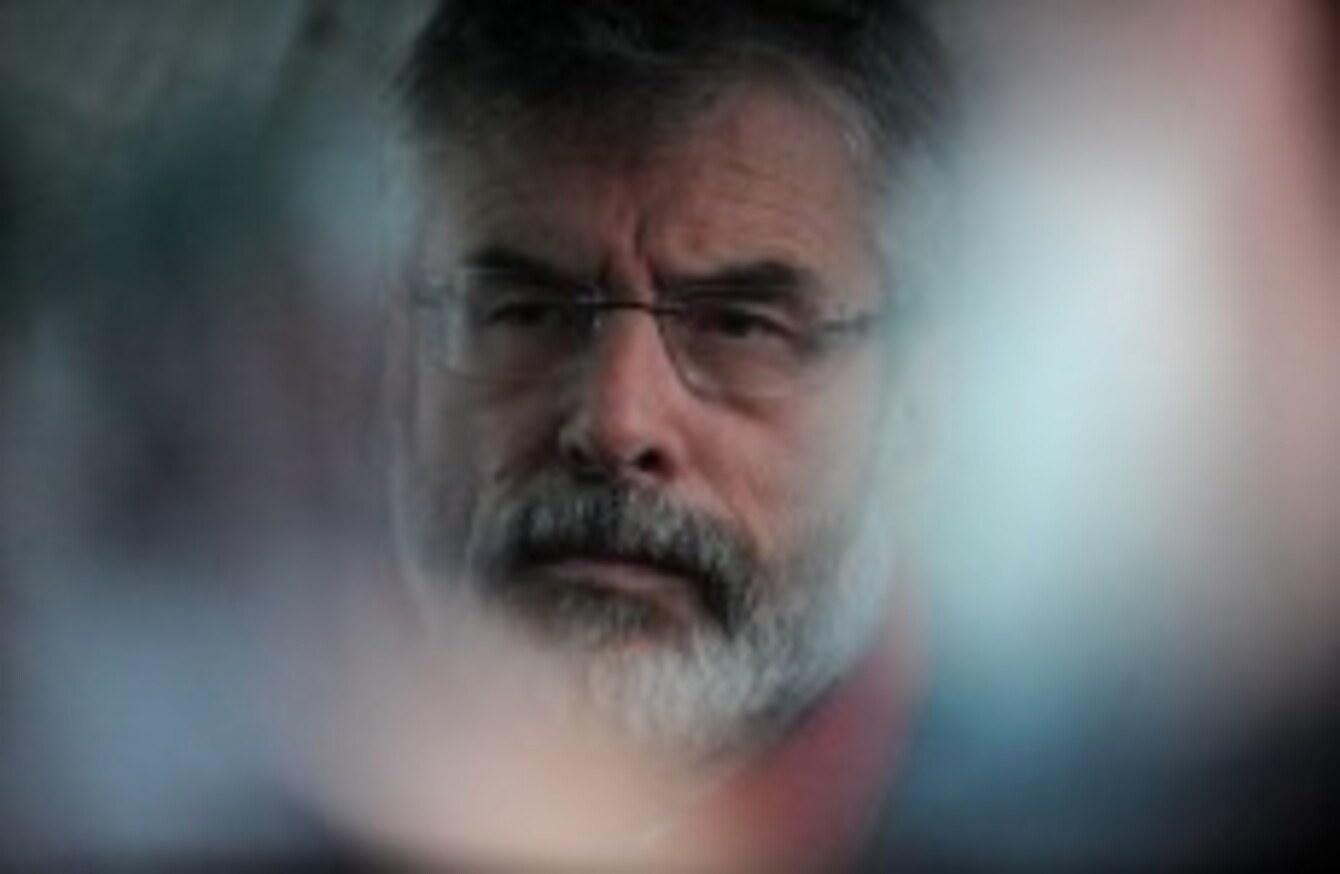 Image: Barry Cronin/PA Wire
Image: Barry Cronin/PA Wire
SINN FÉIN LEADER Gerry Adams has challenged other party leaders to a debate on the past in a bid to end speculation about his role during the Northern Ireland conflict.
Adams this evening said the leaders of the other parties were guilty of "contrived outrage" in recent days following his comments about the Smithwick Tribunal report.
In a strongly worded statement, Adams criticised political parties for praising people like Michael Collins or Éamon de Valera who were involved in violence but condemning Bobby Sands and other IRA volunteers.
Adams came under heavy attack after he said that two senior RUC officers killed by the IRA in 1989 had had a 'laissez faire' attitude towards their personal safety. His comments were interpreted as blaming the officers for their own deaths, although Adams has disputed this.
The officers had been travelling from Dundalk Garda Station and had just crossed the border in Northern Ireland when they were ambushed and shot dead. One of them waved a white handkerchief but was repeatedly shot at close-range by the IRA.
Adams said the IRA members who murdered the two officers were doing their duty 'as they saw it', and said the killings took place in the context of a war being fought in Northern Ireland.
"The issue of legitimacy is at the core of establishment outrage," he said. "Other political leaders refuse to accept the legitimacy of the recent phase of armed struggle which ended  with the [IRA] cessation of 1997″.
"Although I disagree with it I accept that this view is entirely valid".
He questioned the "inconsistency" of politicians who don't see the legitimacy of an armed struggle.
"If the right to armed actions is illegitimate for one generation then it is illegitimate for other generations," he said.
"The a la carte approach of establishment parties which praises the Volunteers of 1916, or of the Tan war; applauding Michael Collins or de Valera or Terrence MacSwiney while condemning Bobby Sands, Kieran Doherty or other Volunteers, is an entirely inconsistent position".
"All war is horrific. All deaths are regrettable. War is the result of the failure of politics, in the case of the Irish conflict this includes the failure of partition. A debate on all these issues is overdue".
It is not yet known whether any party leaders will take Adams up on the offer to debate.