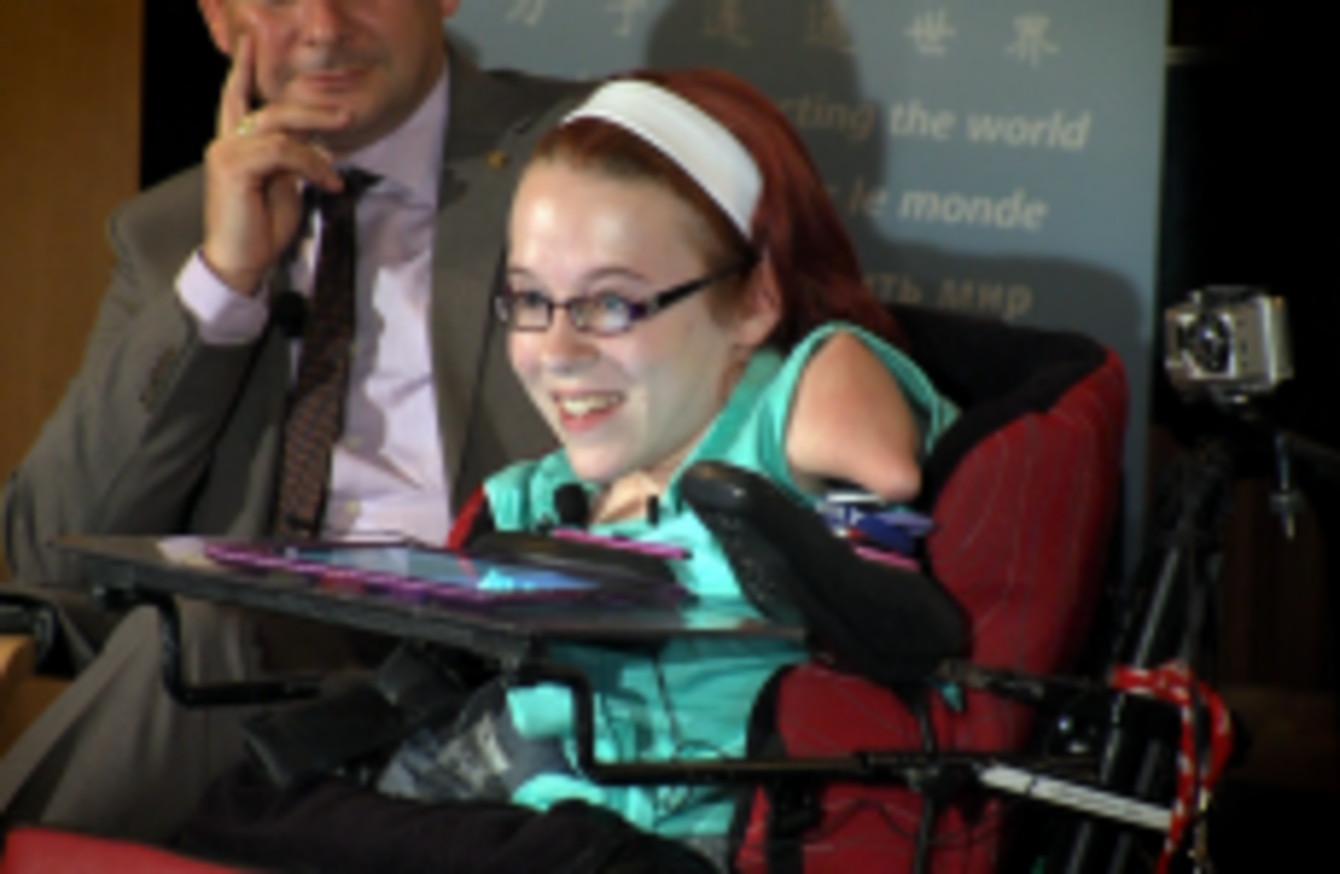 BECAUSE SHE'S SUCH an inspirational speaker, it can be hard to forget that Joanne O'Riordan is only a teenager.
Joanne is one of seven people in the world born with a condition known as Total Amelia, which means she was born without limbs.
Her humour and good-nature, coupled with how she has taken her condition in her stride, have made her a national figure.
Just recently, her challenge to the scientific robot to build a robot capable of picking up objects was met by Trinity College and backed by a €50,000 pledge by the president of Rwanda.
She has spoken at UN and appeared on The Late, Late Show as well as having met world leaders.
Now, she is taking to the big screen.
Joanne's brother, Stephen, tracked the O'Riordan family's lives for two years and the result is No Limbs, No Limits, a heartwarming look at how life has changed for Joanne.
The film hits cinemas on Friday, but Leaving Cert student Joanne has more pressing concerns.
"I actually have my French oral exam on Monday!"
Joanne says that the film is inspired by Stephen "acting the eejit" with cameras and a desire to follow her speech at the UN.
Seeing herself on screen, she says, can be an odd experience.
"Well I hate watching myself regardless so I look at everything like "why did I say that? Why don't I look good there?
"But I think the story gives a positive vibe off of: If I can achieve, so can you."
Keeping a normal teenage life going can be tough what with films and speeches to world bodies, but it is something that Joanne is comfortable with.
"I don't mind and the school are very supportive.
"Obviously I do get stressed and whatever, but I threw myself into this. It's not like someone just made a documentary about me and I didn't know."
On the day we meet in Dublin, Joanne has just been snapped by a photographer who was staking out the hotel in the hopes of seeing Michael Fassbender, an experience she says was "pretty cool".
"I think if I had thousands of fans and bodyguards pushing me through, then I'd feel different!"
For anyone, the weight of being any kind of public figure can be tough, but Joanne doesn't see herself as an inspiration.
I can see why people see me as an inspiration, but I don't see it myself.
"When I watch the documentary and see myself texting and stuff I can see why people get amazed, but I don't get amazed because it's just normal to me."

Joanne hopes to study journalism or criminology when she finishes school and lights up discussing Barcelona FC, but she has high hopes for the film.
"I'm an overachiever, so I want an Oscar!
"I want at least one award!
"So far, it's achieved what it was supposed to do, so I'm happy with that."
No Limbs, No Limits is released this Friday.