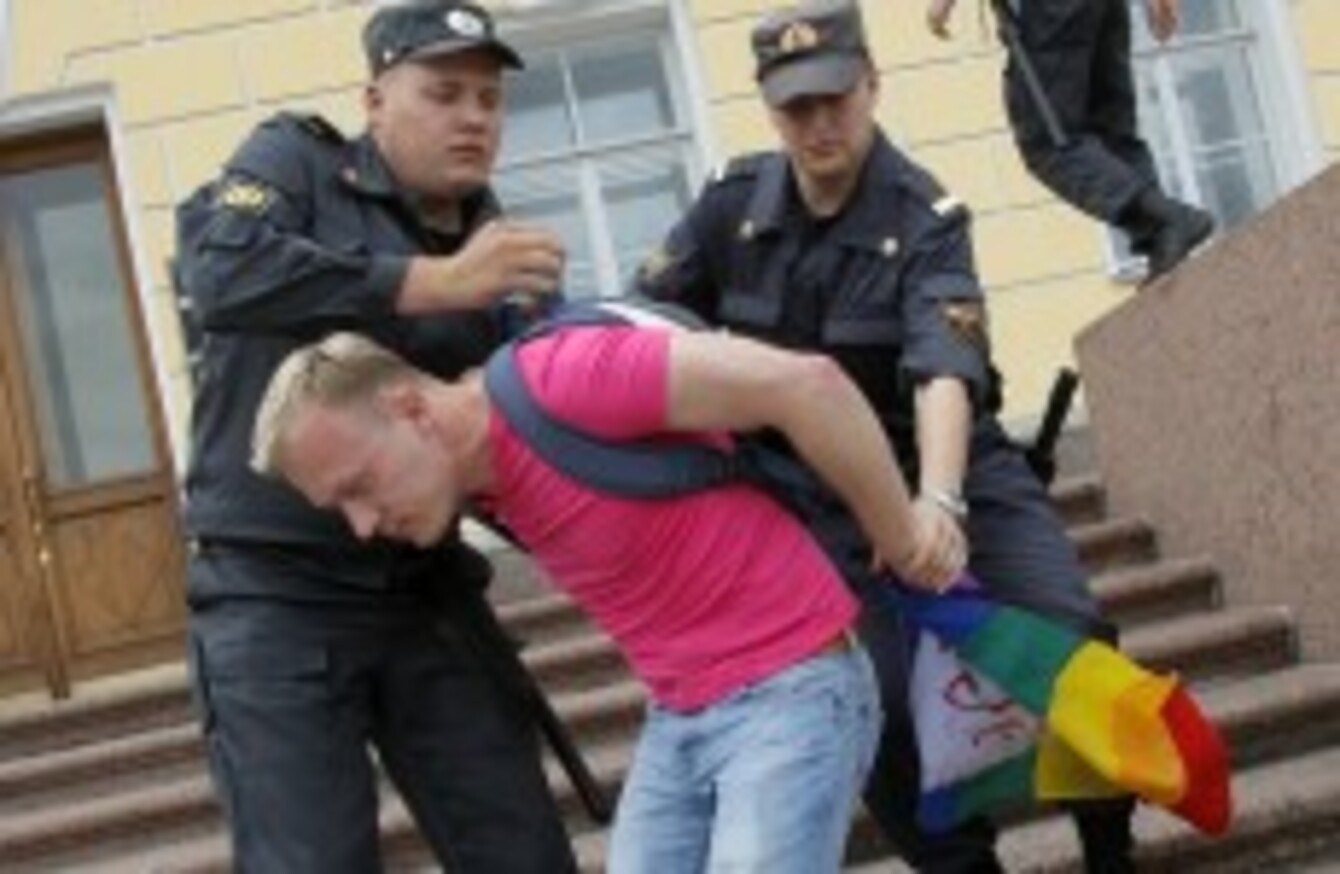 An LGBT activist is detained during protests in St Petersburg earlier this month
Image: Dmitry Lovetsky/AP/Press Association Images
An LGBT activist is detained during protests in St Petersburg earlier this month
Image: Dmitry Lovetsky/AP/Press Association Images
A PROPOSED LAW banning 'gay propaganda' in the Russian city of St Petersburg has sparked reaction across the world.
Legislators in the city have temporarily shelved the bill, which would impose possible fines of more than €1,000 on all "public activities promoting sodomy, lesbianism, bisexuality and transgender identity", RIA Novosti reports.
The US State Department is among those who have protested at the legislation. A spokesperson said the department was "deeply concerned" at the developments, adding: "As Secretary Clinton has said, gay rights are human rights and human rights are gay rights."
"We have called on Russian officials to safeguard these freedoms, and to foster an environment which promotes respect for the rights of all citizens," the spokesperson continued.
The speaker of Russia's upper house of parliament has said the law could be rolled out across the country after its adoption in St Petersburg, Russia Today reports.
One St Petersburg deputy said recently that the promotion of homosexuality "puts the Russian people under threat of extinction", according to RIA Novosti, while the bill's author insisted: "The rising popularity of sexual deviations negatively affects our children."
The leader of a Russian LGBT group said the bill was part of a cynical campaign to boost popularity of the United Russia party associated with president Vladimir Putin, whose popularity has been sliding recently.
City politicians will now reword the bill before it is presented again. Its first reading sparked street protests in the city, and galvanised international LGBT groups to launch an online petition against the proposed law.
More than 190,000 people have signed the petition so far.