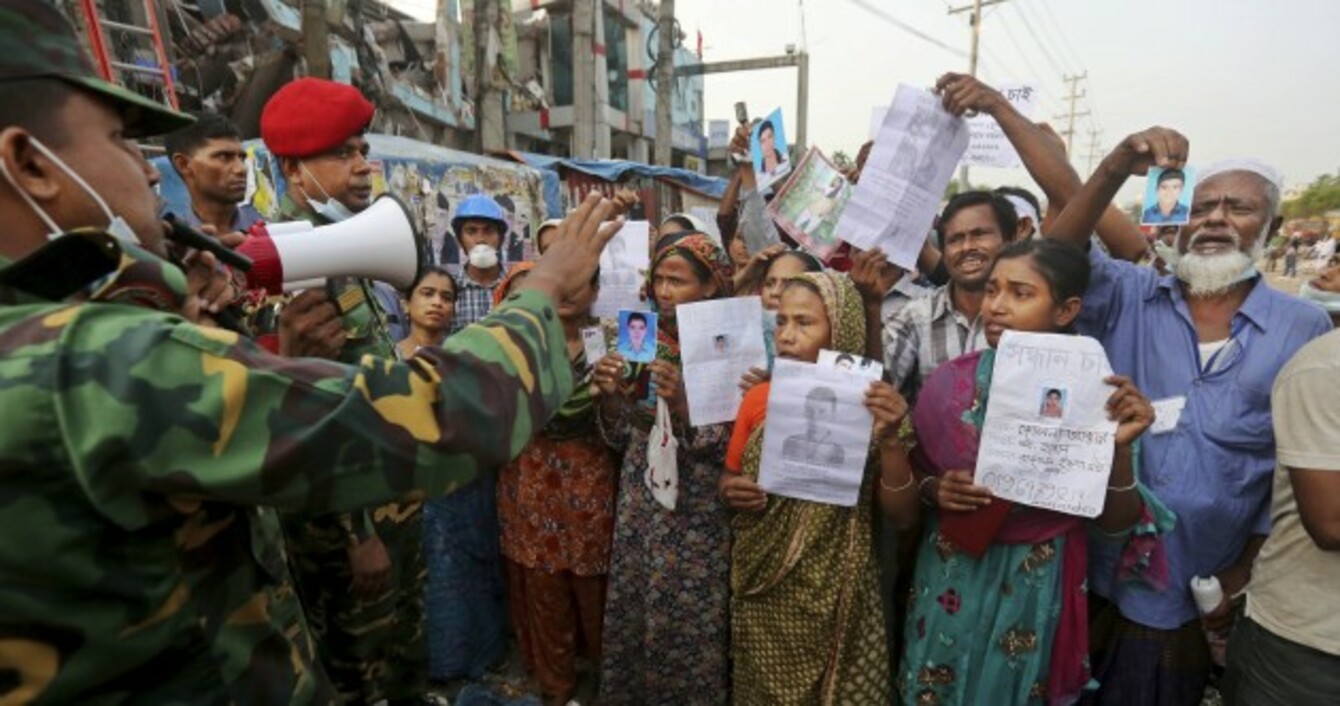 Relatives of missing workers seek assistance at the scene.
Image: AP Photo/Kevin Frayer
Relatives of missing workers seek assistance at the scene.
Image: AP Photo/Kevin Frayer
MORE THAN 100 hours after a garment factory block collapsed, rescuers in Bangladesh tunnelled into the rubble to find a woman whose feeble cries for help raised hopes of more miracles.
"We can hear her noises," shouted a firefighter, who said the woman had given her name as Sakhina Begum. "But three others are in a semi-conscious state."
By Sunday afternoon, her fight for survival after more than four days under the debris was being broadcast live on private television channels as the operation to free her continued.
The team on hand to pull her to safety included rescuers armed with cutters and drills using air freshener to stifle the smell of decaying bodies, while two doctors were on standby in case an amputation was required.
Many such operations have been performed at the site over the past five days as hundreds of workers from the garment factories inside the collapsed building found themselves pinned down by huge slabs of reinforced concrete.
"Sometimes these survivors are found in such a stage that you need to amputate their limbs to free them from the rubble," Arif Hossain, a surgeon from the National Orthopaedic Hospital who is at the scene, told AFP.
"And instead of using an orthopaedic saw, sometimes you have to use a normal saw," he added.
The team also includes a psychologist to counsel survivors who face immense mental trauma after spending days under the rubble.
The collapse of the eight-storey Rana Plaza on Wednesday killed more than 375 people, with hopes fading of finding many more survivors.
About 2,500 people have been rescued from the site of the worst industrial accident to strike the $20 billion Bangladesh clothing industry, which produces clothes for Western brands.
As a minister announced the arrest of the owner of the building, Sohel Rana, on Sunday, thousands of garment workers and relatives of missing people cheered and began shouting "Hang Rana, Hang the killer!"
One of the people in the crowd was Malina Begum, a 21-year-old mother of a two-year-old, who has lost her garment worker husband.
#Open journalism No news is bad news Support The Journal

Your contributions will help us continue to deliver the stories that are important to you

Support us now
"I want my husband back. I loved him so much," she said wailing, showing the name of her spouse, Helal, which she had cut into her left hand with a knife.
"We worked at different factories. But we used go to lunch together. On the day of the disaster, something just happened to me and I went to the roof of a nearby building from where I saw Helal's building caving in a minute," she said.
There is no official figure of the number of people still missing.
Bangladesh Building Collapse

Bangladesh Building Collapse

Bangladesh Building Collapse

Bangladesh Building Collapse

Bangladesh Building Collapse

Bangladesh Building Collapse

Bangladesh Building Collapse

Bangladesh Building Collapse

Bangladesh Building Collapse