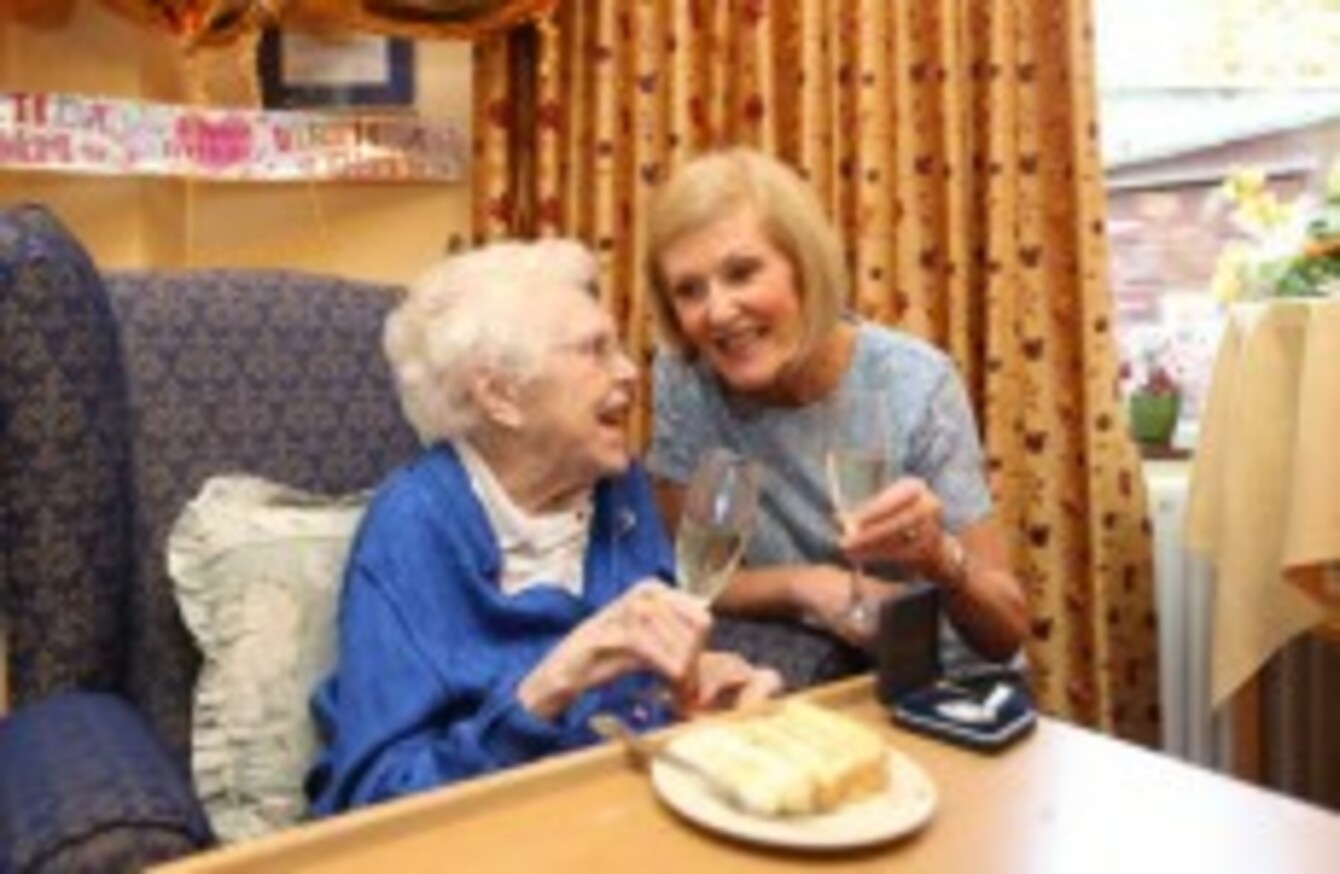 Elizabeth Dempsey with family member Miriam Scott
Elizabeth Dempsey with family member Miriam Scott
ELIZABETH DEMPSEY CELEBRATED her 105th birthday this week surrounded by her family at Ailesbury Nursing Home in Sandymount.
The Dublin woman says the secret to living such a long and healthy life is, "plenty of fresh air, good food and the odd glass of sherry".
She also spoke about her memories of growing up in Dublin and what it was like during the 1916 Rising and the world wars.
Elizabeth, better known as Lizzy, worked in a solicitors office from the age of 18-75.
Speaking about her social life she said the Metropole and the Gresham were the best places for dress dances, but she prefered go to to the theatre at the Gaiety, Abbey and Olympia.
She described it as an "awfully" expensive hobby costing 10 shillings a performance, so she often opted for the gallery viewing which was a cheaper alternative.
Lizzy said sometimes the people queueing would busk for a few bob to get "two shows for the price of one".
'Gunmen were everywhere'
Lizzy was born and reared in Dublin and her family were living on Mespil Road during the 1916 Rising.
She recalls how they were warned to stay away from the windows as the soldiers were on the bridge.
She remembers a young girl who was moving near a window being shot and killed. 
The gunmen were everywhere and all too ready to shoot.
She also remembers England having a lot of soldiers in Ireland during WW1.
Her nephew Kevin Costello added that his aunt is still up to date with what's happening in the world:
She's very with it, ask her about Enda Kenny and she'll have an answer for you there.
Prior to WW2 Elizabeth had holidayed in London. She recalls the shops being beautiful and cheap.
You could buy a silky cotton dress in Selfridges or M&S for one pound.
"The shopping in London before the war was terribly cheap but after that it became very dear."
Lizzy's birthday celebration at Ailesbury Nursing Home coincides with Nursing Homes Week 2015. Nearly 23,000 residents across Ireland receive care from private and voluntary nursing homes.