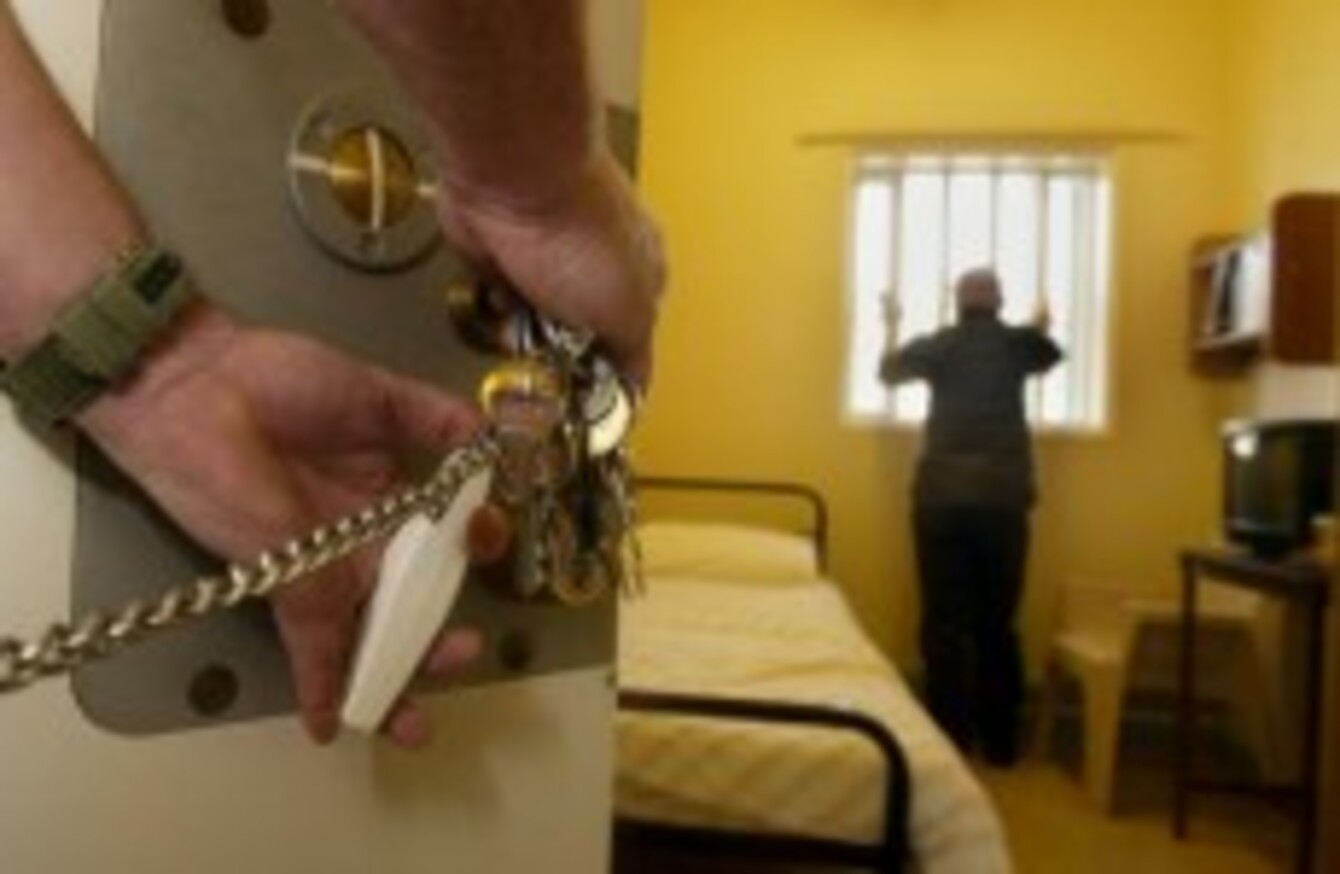 Image: Paul Faith/PA Wire
Image: Paul Faith/PA Wire
THE NUMBER of people being sent to prison in Ireland increased further last year, putting additional pressure on prison services, according to the latest annual report from the Irish Prison Service.
Irish prisons operated at an average over-capacity level of 87 prisoners per day last year.
Chairman of the Prisons Authority Interim Board Brian McCarthy said in the report that "the most pressing issue facing the Irish Prison Service and the Board was the ever-increasing number of prisoners in our institutions and the high number of prisoners on temporary release, due to lack of prison spaces".
Fines
The number of prison committals for sentences of under three months increased by over a quarter last year on 2009′s figures – up from 5,750 to 7,356. Most of these sentences were for the non-payment of court-ordered fines.
IPS Director General Brian Purcell said that he expects the numbers committed for not paying fines will fall with the commencement of the Fines Act 2010. Under this legislation, people can apply to pay court-ordered fines in instalments over a 12-month period. In some cases, this can be extended to a two-year period.
However, Liam Herrick of the Irish Penal Reform Trust (IRPT) told TheJournal.ie that it's "depressing that even when the Dáil did act with the Fines Act, the administrative system hasn't followed suit" in setting up the system to support the legislation.
Overcrowding
Minister for Justice Alan Shatter said the recent enactment of the Criminal Justice (Community Service) (Amendment) Act 2011 places on obligation on judges who are considering sentencing someone to less than a year to instead look at the alternative of community service.
He also said that he agreed with the Thornton Hall Review Group that prison overcrowding would be alleviated with the provision of more spaces combined with courts imposing non-custodial sentences. "This obviously cannot be achieved overnight," Shatter said.
Earlier this summer, the minister was reportedly considering introducing early release for long-term prisoners as a measure to ease overcrowding. The group Advocates for Victims of Homicide (AdVIC) called on the minister to provide assurances that violent prisoners would not qualify for early release.
Conditions at Irish prisons were criticised by the UN Committee Against Torture in June. The body said that the continuing practice of 'slopping out' is inhumane and degrading. It also called for the introduction of an "independent and effective" mechanism for investigating complaints made by prisoners.
Herrick of the IPRT said that prison overcrowding cannot be tackled by the prison services, but that it's up to the minister and department of justice to alleviate the situation. He added that Shatter's acknowledgement of the impact of measures other than building more prisons is "hugely significant".
Here are the main findings of the IPS 2010 annual report in numbers:
17,179 – the number of committals to prison last year (up 11.4 per cent on 2009)
13,758 - the number of people sent to prison in Ireland in 2010 (up 11.5 per cent)
87.6 - the percentage of those sent to prison last year who were male
157 – the average daily number of women in prison
4,290 – the average daily number of prisoners in custody overall
4,203 – the average bed capacity of Irish prisons in 2010
731 – the average daily number of prisoners on temporary release
39 - the percentage increase of people sent to prison for non-payment of a court-ordered fine
6,688 – the total number sent to prison for not paying such fines
70,514 – the average cost in euros of an available staffed prison space in 2010 (down 8.7 per cent on 2009)
20.7 – the amount, in millions of euros, cut from total prison expenditure in 2010 compared with 2009
7,356 – the number committed for sentences less than three months (up 27.9 per cent)
420 – the number sent to prison for sentences of between three and five years (down 10.4 per cent)
44 - the number of people committed for sentences of ten years or more (down 37.1 per cent)
459 – the number detained under immigration laws
200 – number of new spaces created at Wheatfield prison
5.6 – the percentage increase in staff working days lost to illness