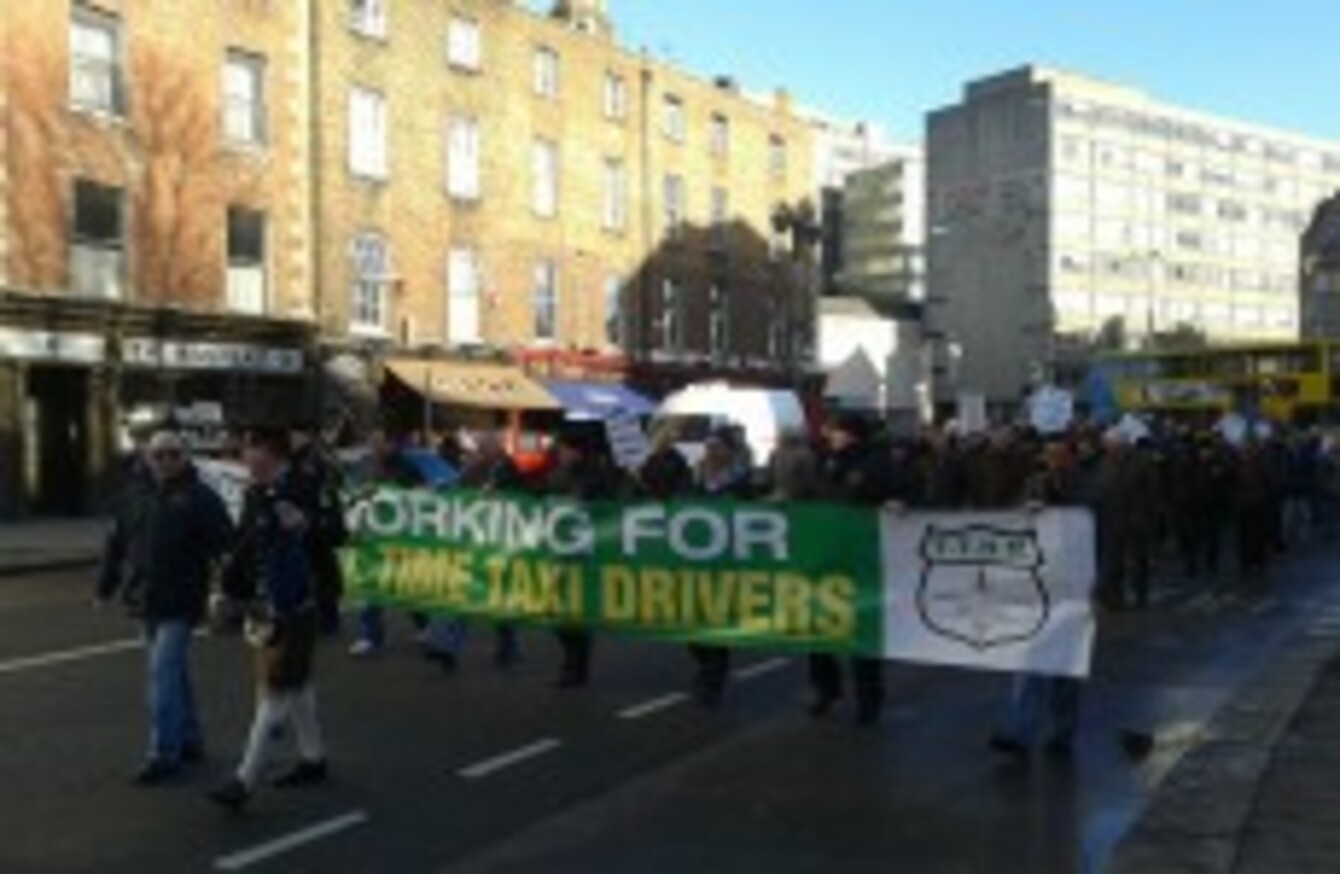 The taxi drivers protesting in Dublin today.
Image: Tiomanai Tacsai Na HEireann
The taxi drivers protesting in Dublin today.
Image: Tiomanai Tacsai Na HEireann
AROUND 500 TAXI drivers protested in Dublin city centre earlier today.
The group, representing taxi drivers Tiomanai Tacsai Na HEireann (TTnH), said around 300 people in cars and 200 others walking made their way from the Garden of Remembrance to the Transport Ministry on Kildare Street.
Gardaí warned motorists of traffic congestion in the area while the demonstration took place from 11am to 12.30pm.
The group is calling on the government to enter into discussion with them before they implement their key actions on the future of taxi regulation.
Speaking to TheJournal.ie, Chairperson of TTnH David McGuinness said they marched because they feel that they're being ignored by the government as they have been in the past:
We handed in a petition signed by around 500 people to Alan Kelly the Junior Minister for Transport to enter into negotiations with full-time taxi drivers before they implement their recommendations that are expected in January.

We have sent umpteen requests to Alan Kelly and the National Transport Authority to meet with us but we were not satisfied with their response, so that is why we marched today.
The group want to speak with the relevant bodies about trying to reduce the numbers of taxi drivers in the industry by buying back back taxi licences and supplying drivers, who do leave, with more training schemes so they can find work elsewhere.
They also want drivers who double-job to be taken out of the industry and so it can be left to full-time drivers, because "there is too much competition", said McGuinness.