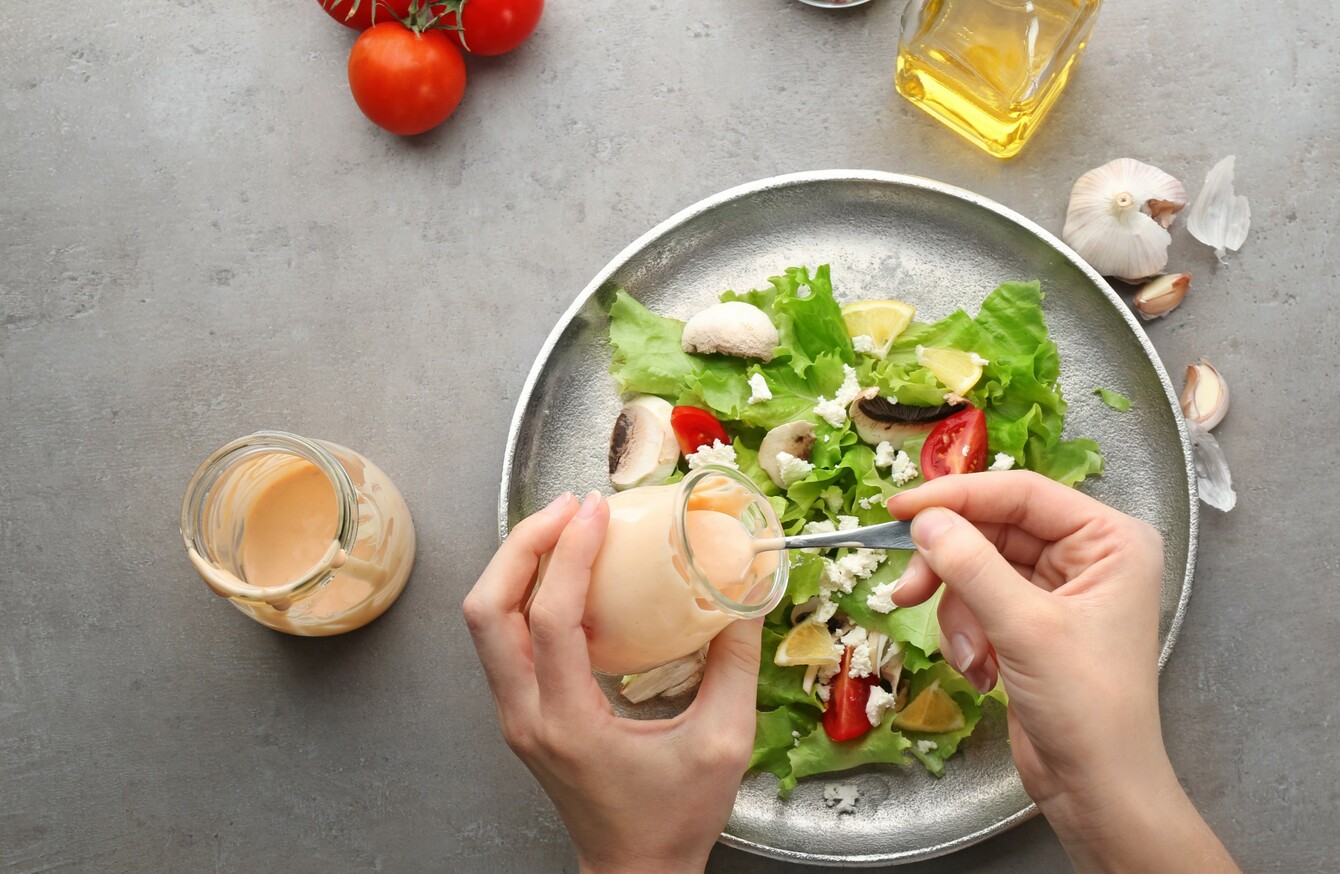 Image: Shutterstock/Africa Studio
Image: Shutterstock/Africa Studio
HOMEMADE SALAD DRESSINGS don't need to be tricky. With a simple whisking of ingredients, a delicious dressing can be made without any fuss.
A good dressing will have the right balance of flavours and can transform any bag of leaves you have in the fridge. With some simple toppings and extras like salmon, chicken, some sort of cheese and red onion, a delicious and healthy meal can be turned around in minutes. 
When it comes to balancing texture and flavour, dressing should contain a combination of oil, vinegar or something acidic, and a binding agent. So, when thinking about a classic French dressing, the main ingredients would be olive oil, balsamic vinegar and Dijon mustard.
Keeping things simple is key, so if you're really in a hurry, simply throw your ingredients into a clean, re-used jar and shake it to mix everything together. I love to keep a few jars in the house to use for homemade dressings – it's a great way to store them and keep dressing fresh for a bit longer. 
Next time you have a bag of leaves that's looking limp in the fridge, try making your own dressing rather than reaching for one from the shelf.
1. Lemon and Rocket Dressing, from Cantillon Kitchen: 
This simple, four-ingredient salad dressing seriously packs a punch when it comes to flavour – and all it involves is whizzing rocket, oil, salt and lemon juice in the blender. It would be a delicious accompaniment to a chicken salad, and a great way to use up any leftover rocket in the fridge. 
2. Easy Ranch Dressing, from I Love Cooking: 
Ranch goes with just about any salad, and this homemade version can be made in just 10 minutes, then stored in a jar in the fridge to use as a dressing or dip. If you don't have buttermilk, you could substitute sour cream and just add a dash of water instead.  This would really liven up a simple chicken and red onion salad. 
3. Asian Tahini Dressing, from Healthy Living James: 
This zingy Asian inspired recipe is so versatile, and could be used in noodle salads, coleslaw or a simple green salad. Using just four ingredients, this creamy dressing is dairy and gluten free, and packed with flavour. You could even add some chili flakes if you like things extra spicy. 
4. Creamy Cucumber and Dill Dressing, from Natural Born Feeder: 
With a delicious creamy texture and the fresh taste of dill, this dressing can be made in just five minutes, and will last up to three weeks in the fridge. Apple cider vinegar and salt draw the liquid out of the cucumber here. Some rocket leaves would be delicious tossed in this dressing, along with some smoked salmon and goats cheese, which would be a great flavour match with the fresh dill. 
5. Spicy Lemon Pepper Dressing, from Made by Luci: 
Spicy lemon pepper dressing would make a perfect accompaniment to a steak and salad supper. With a great balance of sweet and spicy flavours, this would liven up almost any salad. I'd love to add some extra ginger to this, for an extra kick. 
6. Paleo Salad Dressing, from the Wonky Spatula: 
With a classic combination of ingredients like balsamic, garlic, oil and wholegrain mustard, a dressing like this should be a staple recipe to have on hand as it can compliment so many meals. This dressing is totally fuss-free; it's just a case of just throwing all of the ingredients into a jar and shaking it until it's ready.