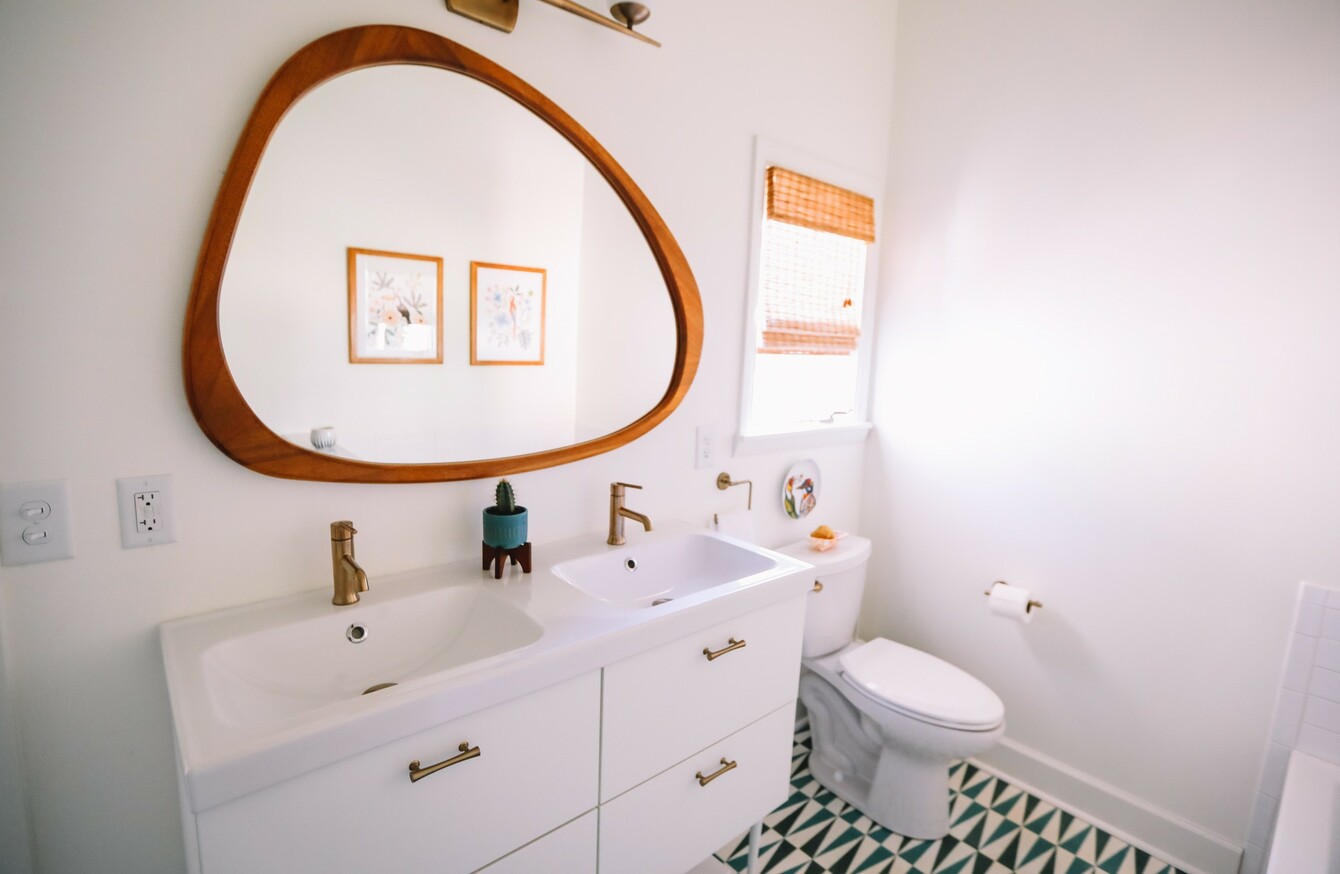 WHEN IT COMES to bathroom design, a good mirror is key to completing the look.
Today's new mirror models are modern and will always create a great focal point.
This week, we've rounded up some mirrors that are a far cry from your normal, run-of-the-mill rectangle vanities. From lights and storage to vintage vibes and contemporary shapes, here are six we found online. 
Circular set up: @sarahakwisombe is ahead of the curve with this statement-making mirror that adds elegance to this warm toned bathroom. We love how the pale pink doesn't overwhelm this small space thanks to the mirror that gives the eyes a rest.
See Woo Design for a lookalike circular design.
Go wide: @sohohome ensures that there'll be no arguments over who's hogging this vanity unit. This wide, oval mirror spans the two basins and adds to the symmetry of this beautiful bathroom's design.
Update your mirror with one from Fruugo.ie for a look that's similar.
Hexagon hangout: Make shapes and look to designs that move away from the traditional. Hexagons, octagons and polygons are all up for grabs. It's clear that @gingerwooddesign put some thought into this space to create symmetry by matching the wallpaper to the shape, along with the dark-rimmed windows and picture frames.
Visit Lisa Angel for a similar geometric mirror.
Leading light: Handy for applying makeup and for ensuring your skin is squeaky clean each evening, a mirror with a surrounding light adds stage-show vibes to the bathroom. @oskars.photography also creates ambience and draws attention to this large rectangular design.
See Firstbathrooms.ie for a range of illuminated bathroom mirrors.
Sleek storage: With varying shades of green laid out in a loud chevron pattern, @hunkerhome does the right thing by adding a double mirror to break up the space. Storage behind the doors keep the space sleeker, too.
Find a similar mirror with storage at IKEA.
Ornate finishes: @_vanitybydesign doesn't hold back on introducing a focal point with this gold framed mirror that definitely anchors the space. Matching the tapware, handles and vintage towel rack in the process, this look exudes Victorian vibes but keeps things modern.
Check out the French Bedroom Company for a selection of interesting frames.