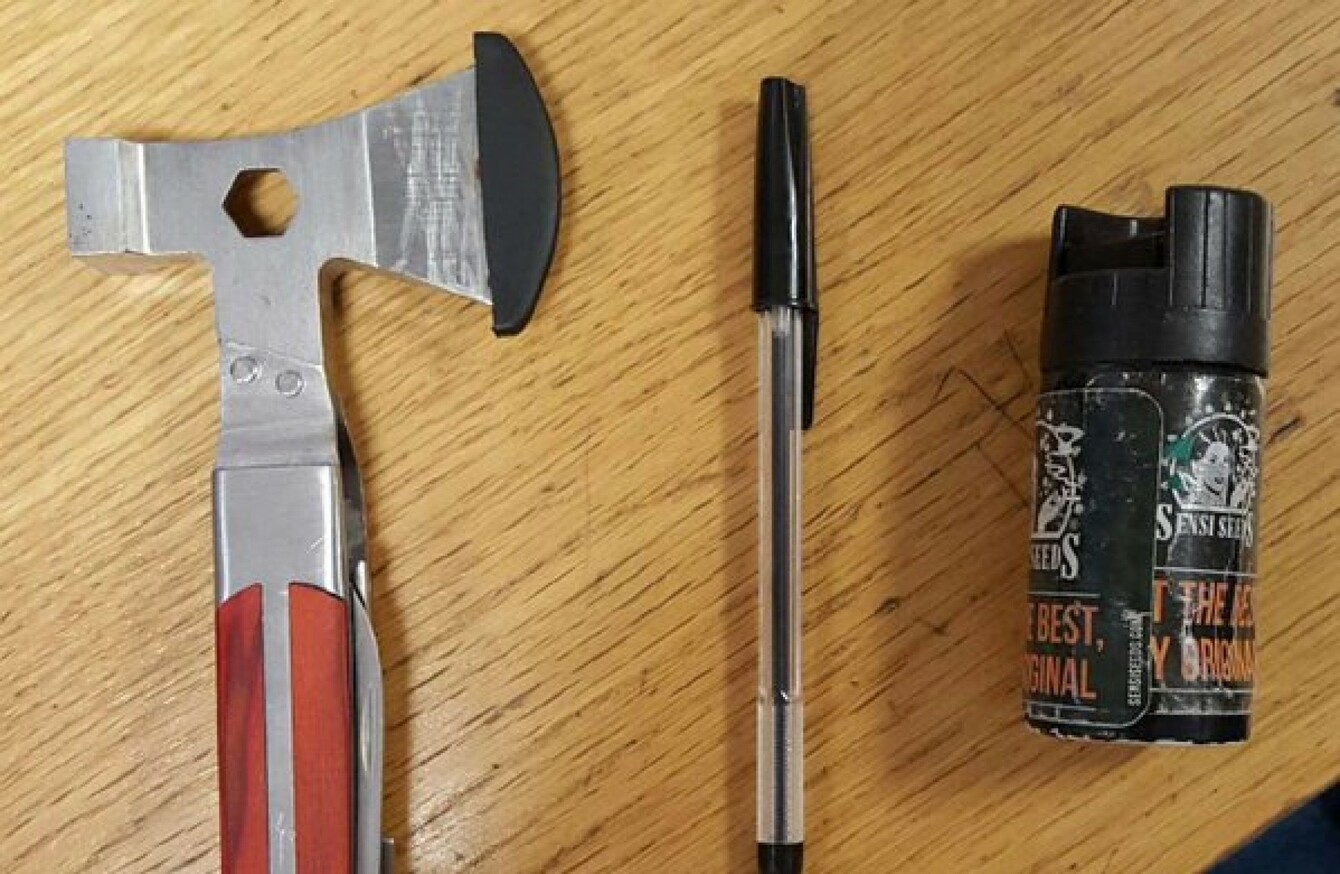 A knife and pepper spray recovered by gardaí as part of Operation Trivium
Image: An Garda Síochána
A knife and pepper spray recovered by gardaí as part of Operation Trivium
Image: An Garda Síochána
GARDAÍ HAVE ARRESTED eight people as part of an operation targeting foreign criminals that was launched today.
Operation Trivium is a European policing operation that involves Gardaí disrupting organised crime and criminals from foreign countries who are using Ireland's road network to target local communities.
It's being led by TISPOL, the European traffic police network, and is taking place over 24-hours from today until tomorrow.
By this afternoon, gardaí had arrested eight people as part of the operation, including one driver with a knife and pepper spray on board. They had also seized 13 vehicles.
There are numerous checkpoints being held around the country and gardaí say that they are using the operation to detect, disrupt and deter the criminals who are using Ireland's roads, a lot of whom are part of organised gangs.
The operation has four main objectives:
Disrupting criminals by denying them the use of the roads
Increasing understanding and intelligence of foreign national offenders from a crime and counter-terrorism perspective
Increasing the level of trust with local communities through an approach that is designed to 'tackle criminality and not the community'.
Making sure all criminal and civil laws are considered in order to tackle people breaking the law.
The TISPOL General Secretary, Ruth Purdie, said that the operation was launched to tackle the mobile criminal groups responsible for a lot of Europe's crimes.
"Many European Member States… have been affected by high levels of crimes committed by members of mobile networks," she said.
"Trivium 5 builds on previous operations to use real-time intelligence combined with leading-edge enforcement technology to identify and dismantle sophisticated mobile criminal groups responsible for so many crimes."
Criminal driving
As part of the operation, Gardaí have been tweeting some of the results of their efforts:
As well as examples of some people who were asking to get caught:
The operation will continue across the country into the evening, and will take place in other countries across Europe until Friday.