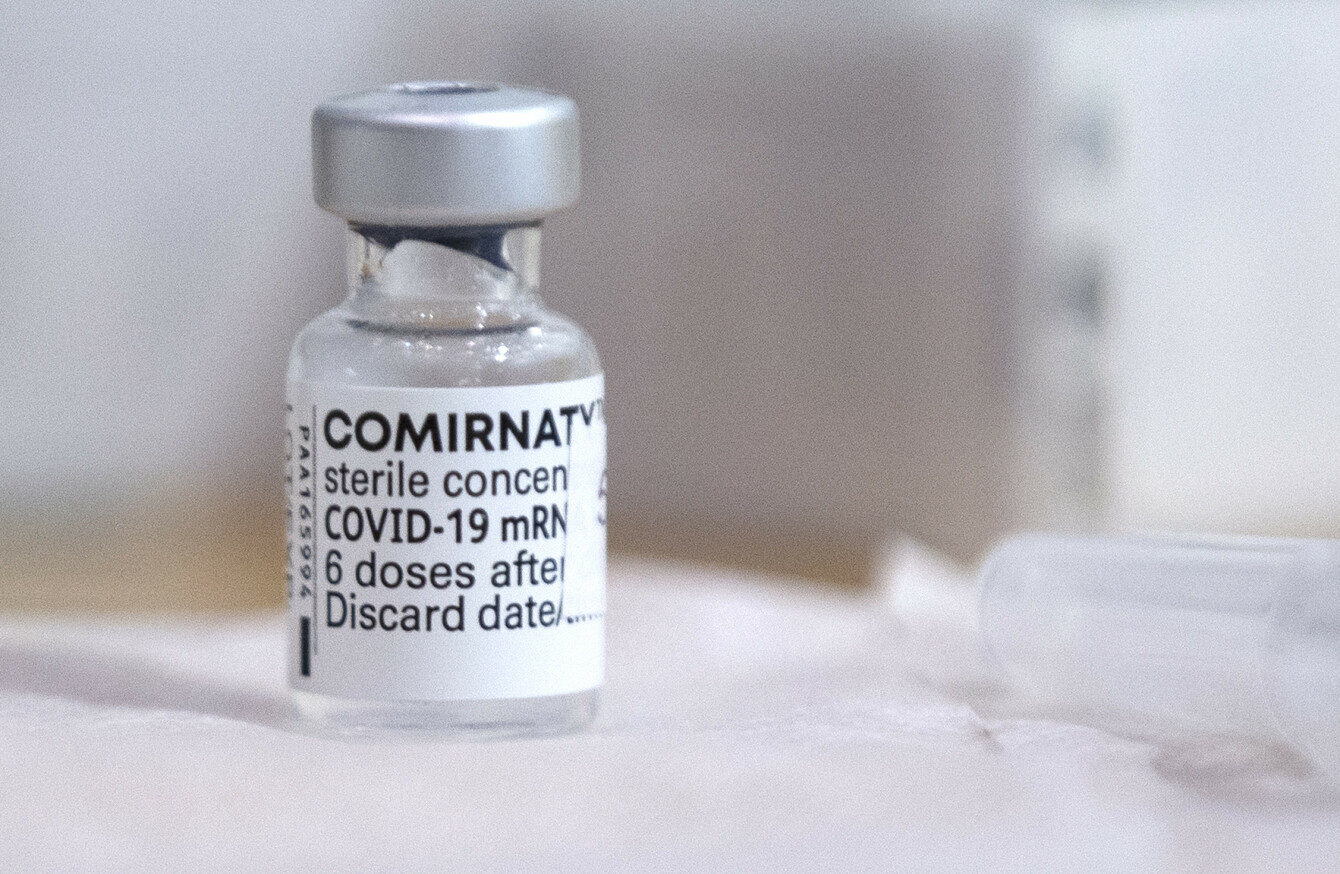 A vial of the Pfizer-BioNTech vaccine waiting to be administered in the now-closed vaccination centre at the Helix in Dublin.
Image: Sam Boal/RollingNews.ie
A vial of the Pfizer-BioNTech vaccine waiting to be administered in the now-closed vaccination centre at the Helix in Dublin.
Image: Sam Boal/RollingNews.ie
MORE THAN 80% of adults in Ireland now have at least one dose of a Covid-19 vaccine.
Hitting the figure before the end of June was a key government target in the early stages of the rollout, however it was conceded in late May that it would be missed due to earlier supply problems with the Janssen and AstraZeneca vaccines.
It has now been reached three weeks behind schedule. As of 21 July, 3,026,154 people have at least one dose of a Covid vaccine, equal to 80.7% of the adult population.
2,490,646 have received both doses of the Pfizer, AstraZeneca, and Moderna vaccines or the single-shot Janssen vaccine, meaning two out of every three adults are fully vaccinated (66.42%).
The 'at least one dose' target has become less crucial in recent weeks as the Delta variant of the coronavirus became dominant. In contrast to earlier variants, the first dose of the two-shot vaccines provides less protection against Delta, and both doses are required for adequate protection.
This primarily relates to infection with the coronavirus. One dose will still provide a significant level of protection against severe disease. 
None of the Covid-19 vaccines provide complete protection from infection even amongst those fully vaccinated, but they are highly effective in preventing serious illness. 
Speaking to Newstalk Pat Kenny, Tánaiste Leo Varadkar said given the Delta wave, Government will be taking a pause before easing restrictions any further.
While he had hoped for a phased return to the office for some workers, he said it is more likely now that will happen in the September/October period.
Varadkar also says the Cabinet will continue to meet through August and won't be taking its usual break for the summer.
The latest hospital figures from the HSE have shown that there are currently 18 Covid-positive people in hospital who are fully vaccinated, with eight new fully vaccinated cases over the past 24 hours. 
In total there are 86 persons in hospital with Covid-19, down two on yesterday, with 22 people with Covid-19 in ICU. 
Varadkar said the "Delta wave is different", as in previous waves, 1,000 cases would have resulted in 20 deaths. Now 1,000 cases will result in one death or two. 
"It's a tenths as serious in terms of mortality," he added.
In terms of hospitalisations, Varadkar said evidence from Scotland – which he says is also borne out in Ireland – is the hospitalisation rate is about 1.5%.
Case numbers of 2,000 a day "now means something very different to what it would have meant prior to the vaccination program". 
There are around 900 more hospital beds in the health system than before the pandemic started, added Varadkar.
The Tánaiste clarified that of the 96 people in hospital with Covid-19, that includes people "who aren't being treated for Covid"
"They might be in with a burst appendix or in for a knee op, and they happen to be Covid  positive. We're trying to get a bit better data from the HSE on that, so we can distinguish between those who are in treatment for Covid, as opposed to those who happen to be Covid positive, but that's not why they're in hospital and they wouldn't be in hospital but for their other complaint," said Varadkar.
#Open journalism No news is bad news Support The Journal

Your contributions will help us continue to deliver the stories that are important to you

Support us now
That 80% of adults now have at least one dose of a Covid vaccine, the revised government target to have 70% of adults fully vaccinated by the end of July will almost certainly be reached.
Even with more than 80% of adults with a first dose, it still leaves Ireland a significant way to go in reaching herd immunity, as experts believe this will require something in the region of 80% of the total population.
Including people of all ages, 50.04% are fully vaccinated, 7.3% are partially vaccinated, and 42.66% are unvaccinated as 21 July.
These figures would place Ireland need the top of the leader board compared to other EU/EEA countries, ahead of the United States (48% fully vaccinated, 7.4% partially) and close behind the United Kingdom (53% fully vaccinated, 15% partially).
As of this week, all adults are over the age of 18 can now register for a Covid vaccine through the HSE portal.
Varadkar said "quite soon" the government will open it up to vaccinate 16 and 17 year olds.
"There's an issue around parental consent, but we should be able to sort that out," he said.
For those aged 12 to 15 inclusive, "that's a bit more complicated", he added, stating that NIAC will develop recommendations for that age cohort.
- With reporting by Rónán Duffy and Christina Finn