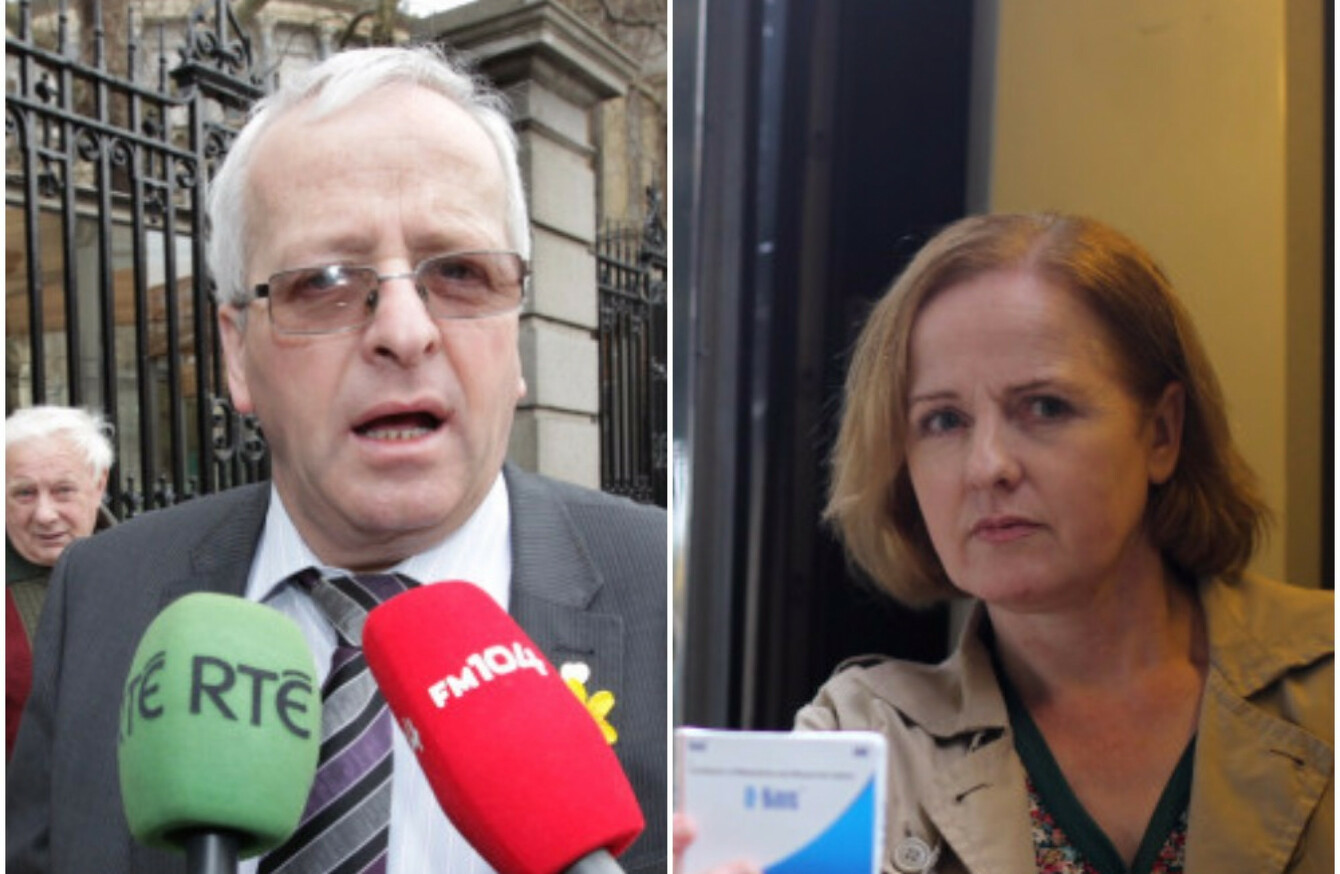 Mattie McGrath and Ruth Coppinger are of opposing views and are both on the committee.
Image: Rollingnews.ie
Mattie McGrath and Ruth Coppinger are of opposing views and are both on the committee.
Image: Rollingnews.ie
NINE MEMBERS OF the cross-party committee on the Eighth Amendment have said they want greater access to abortion, while just two have said they do not.
Eleven members have declined to give an opinion or did not respond to queries.
TDs and senators sitting on the Joint Committee on the Eighth Amendment of the Constitution will meet today to begin deliberating the Citizens' Assembly's recommendations.
In April of this year, the Citizens' Assembly voted to recommend radical changes to Ireland's abortion regime.
Crucially, they voted to replace or amend the Eighth Amendment to the Constitution which, except in very limited cases, effectively bans abortion in Ireland.
In its place, the assembly's members recommended that the constitution makes it clear that Ireland's abortion regime should be decided by legislation – decided by Ireland's elected public representatives.
The committee has until Christmas to complete its work and deliver a report to the Oireachtas, with a June/July date for a referendum flagged by Taoiseach Leo Varadkar.
TheJournal.ie asked the 22 committee members the following question:
Do you think Ireland should change its laws to allow abortion in more circumstances than is currently permitted? Yes or no?
Members were also given the opportunity to elaborate on their answer.
Of the 22 members, half did not reply or refused to answer the question but 11 made their views known and have put them on the record.
The members have been grouped by their position and alphabetically. Their answers, where they provided them, have been given in full.
TDs
James Browne – Fianna Fáil TD
James Browne failed to respond to the question.
Lisa Chambers – Fianna Fáil TD
Chambers said it is her view that the committee members should be allowed to do their job, adding that a yes or no answer doesn't do the debate or the issue justice and runs the risk of undermining the committee's work and will make dealing with the issue all the more difficult for members.
She said all committee members should attend each meeting with an open mind and be ready to hear all the evidence put before it.
Chambers is on the record with her views on abortion, telling TheJournal.ie last year that she wants to repeal the Eighth Amendment and is in favour of abortion in circumstances of fatal foetal abnormality, rape and incest.
Ruth Coppinger – Solidarity-People Before Profit TD
Yes, I think the Eighth Amendment should be fully repealed and abortion legalised at the request of the woman. It should be the right of the pregnant person themselves to make this decision and have autonomy over their own body. The Citizens' Assembly recommended abortion for fatal foetal abnormality, for health, upon request up to 12 weeks; and for socioeconomic reasons up to 22 weeks. I fully support that and now the repeal/pro-choice movement should demand nothing less than what the Citizens' Assembly recommended. This will require massive political pressure on the ultra-conservative Dáil and particularly for the next three months on the Committee.
Clare Daly – Independents 4 Change TD
My views on abortion are well-known so, yes we should change our laws to provide access to safe legal abortion in Ireland as part of the health service in order to protect women's health and be human rights-compliant.
Bernard Durkan – Fine Gael TD 
Durkan did not respond to the question. Speaking to the Irish Times earlier this year upon his appointment to the committee, Durkan said:
I couldn't be relied upon to be snugly in either camp.
Peter Fitzpatrick – Fine Gael TD
Fitzpatrick answered 'no' to the question and described himself as pro-life but said that he had "a completely open mind" going into the committee.
"There's no point going into the committee if you're not of an open mind," he said.
Billy Kelleher – Fianna Fáil TD
"I don't believe it would be right to give my position on this question in advance of the committee concluding its deliberations," he said.
Mattie McGrath – Independent TD 
No.
Contributions from the repeal campaign have made one thing abundantly clear: It is not a matter of allowing abortion in "more" circumstances. The stated outcome that is being pursued is the introduction of abortion in "all" circumstances.
The repeal campaign has made it clear that no regard to gestational age of the child, its viability, its health, lack of any mental or physical threat to the life of the mother must interfere with the right to access a termination.
In light of that, the question of allowing abortion in 'more circumstances' is entirely misleading since this is not what is being sought.
Again, it is not a question of allowing abortion in 'more' circumstances. Removing the Eighth Amendment not only opens the way to unrestricted access to abortion through all nine months of pregnancy, it makes it inevitable. The repeal campaign will not be satisfied with 'more'.
Catherine Murphy – Social Democrats TD
Murphy was to the point with her reply, simply stating 'yes' – she is in favour of changing the law to allow abortion in more circumstances.
Hildegarde Naughton – Fine Gael TD
Naughton did not respond to the question. In a survey of TDs carried out by TheJournal.ie on the Eighth Amendment last year, she similarly did not respond.
Jonathan O'Brien – Sinn Féin TD
O'Brien said that he supports his party's position on the matter, which would be a 'yes' on the question.
He said the law needs to be changed to allow abortion in more circumstances, adding that this is what the committee will be looking at.
Kate O'Connell – Fine Gael TD
O'Connell has been vocal in pushing for greater reproductive choices for Irish women.
She confirmed that she favours the greater availability of abortion in Ireland, stating:
I do believe that Ireland should allow abortion in more circumstances than are currently permitted. The law as it stands fails to provide women and girls with adequate care and support and as such it is not fit for purpose. I believe the Irish people have come a long way towards a liberalisation or change in our abortion laws and I hope that their elected representatives can come as far in the months ahead.
Louise O'Reilly – Sinn Féin TD
Elected for the first time last year, O'Reilly wears a Repeal the Eighth badge while in the Dáil so her views on the matter are well-known.
She said she favours a greater access to abortion and added:
The Eighth Amendment should be repealed and removed from the constitution and we intend on campaigning for its repeal.
Jan O'Sullivan – Labour TD
Yes, I do think it should be permitted in more circumstances than currently [available] and should not be a matter for the Constitution.
Anne Rabbitte – Fianna Fáil TD
Anne Rabbitte failed to respond to the question. In a survey of TDs carried out by TheJournal.ie last year she said she was against repealing the Eighth Amendment.
Senators
Jerry Buttimer – Fine Gael Senator
Buttimer chaired the Oireachtas committee on the Protection of Life During Pregnancy Bill and said that he would prefer not to comment publicly on the question put to him.
"As a member of the committee I feel it would be more appropriate to allow the work of the committee to progress without having to make public comments on the issue," he said.
Paul Gavan – Sinn Féin Senator
Gavan said that he is in favour of repealing the Eighth Amendment and therefore answered 'yes' on the first question.
He cited Sinn Féin party policy on the second question.
Sinn Féin is in favour of allowing the termination of pregnancy where a woman's life is at risk or in grave danger and in cases of rape or incest as well as in cases of fatal foetal abnormalities.
Rónán Mullen – Independent Senator
Mullen did not reply to the question, but has said repeatedly that he is pro-life.
Catherine Noone – Fine Gael Senator (Committee chair)
Noone said that as chairperson of the committee she would rather not comment on the question asked to "protect the integrity of the process".
In 2013 the Senator voted in support of the Protection of Life During Pregnancy Bill, which legislated for the X case, saying that the issue was one she "struggled with and agonised over".
In supporting the bill, Noone said that she "did not come to the conclusion lightly" but that she felt it would "protect the lives of women".
Ned O'Sullivan – Fianna Fáil Senator 
O'Sullivan said he would not be making a comment prior to the committee meeting. However, he told The Irish Times in May that he did not think labels are helpful.
"I'm a pragmatist, generally speaking. I'm very conscious of the need for sensitivity on the issue and I don't intend to comment further at this stage," he said.
Lynn Ruane – Independent Senator
Ruane said that she is in favour of greater access to abortion and said that she supports the recommendations of the Citizens' Assembly.
I will be advocating for our committee report to call for the repeal of the Eighth Amendment from the constitution and the introduction of abortion legislation in line with the assembly's recommendations and that respects the reproductive rights and bodily autonomy of women in Ireland. We also need to recognise that the Eighth Amendment isn't just about abortion. It affects the maternal healthcare of every woman in this country by removing a woman's ability to make fully informed decisions about her own pregnancy and it does not belong in our constitution.
Ruane added that she felt it was important in considering the issue to think about marginalised and poorer women who may be unable to travel abroad to have an abortion.
"If these women need a termination outside of the grounds of rape, incest, risk to health or fatal foetal abnormality under such a regime, we force them into an impossible situation," she said.
"I would call on all committee members and political parties represented, especially those who consider themselves representatives of the disadvantaged and marginalised, to be cognisant of this and let it set the context of the work of the committee."