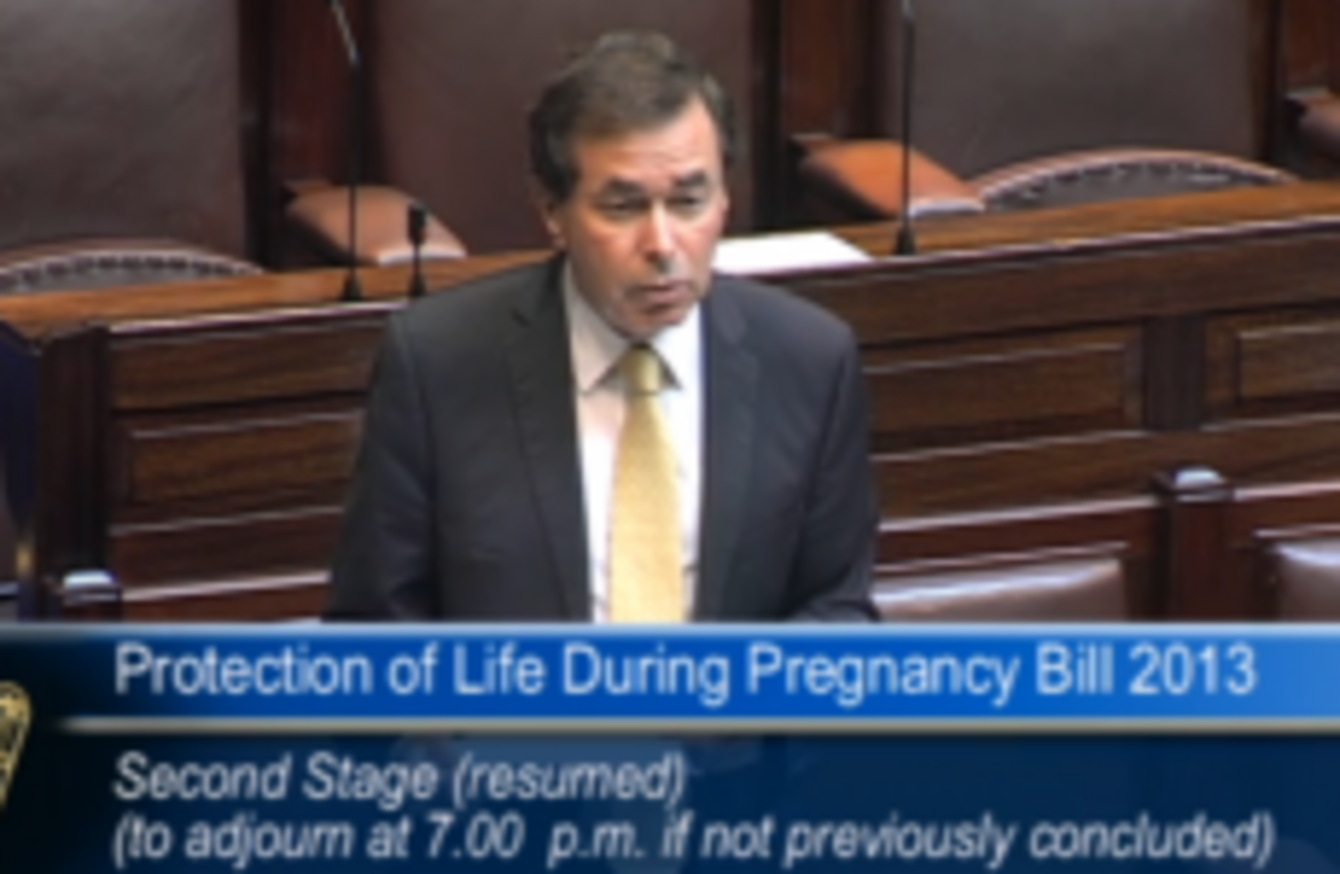 JUSTICE MINISTER ALAN Shatter launched a strongly-worded defence of the government's Protection of Life during Pregnancy Bill in the Dáil today as the marathon debate on the legislation continues.
Shatter said that suggestions by some that multiple numbers of women will seek abortions by pretending to be suicidal is "a slur on the women of Irleand"
"Irish women who become pregnant are concerned for the health and well-being of the baby and themselves," he told the Dáil this afternoon.
The Fine Gael TD insisted that not legislating for abortion in circumstances where there is a real and substantial risk to the life of a woman, including suicide, would present a greater risk of the current system being "abused" and described the new law as a "very careful and simple architecture".
He also criticised protests outside his house recently, describing how two young people carried a picture of a "very bloodied foetus on a very large poster" outside his home at 8am one morning.
"I think that was an appalling way to conduct themselves," he said noting that parents and their children would have seen the images on the way to school.
His party colleague James Bannon has given a strong indication he will not support the legislation. The Longford-Westmeath TD told the Dáil that "suicidal intent is impossible to predict" but insisted that abortion is not a Catholic or religious issue for him.
Fianna Fáil opposition
Meanwhile it appears likely that the majority of Fianna Fáil TDs now look set to oppose the bill. The party has allowed a free vote on the legislation with six already confirming recently to TheJournal.ie that they would oppose the bill.
Today in the Dáil, the party's education spokesperson and Donegal North-East deputy Charlie McConalogue confirmed his opposition to the bill as did its whip and Kildare South TD Seán Ó Fearghail.
Longford-Westmeath TD Robert Troy (above) gave a strong indication that he would not support the bill, telling deputies: "I remain to be convinced for the need to include the threat of suicide as real and substantial threat to the life of the mother."
He said that he does "trust the women of Ireland" but said that there needed to be far better supports and resources for dealing with suicidal ideation in women "that will help them deal with any unwanted or unplanned pregnancies.