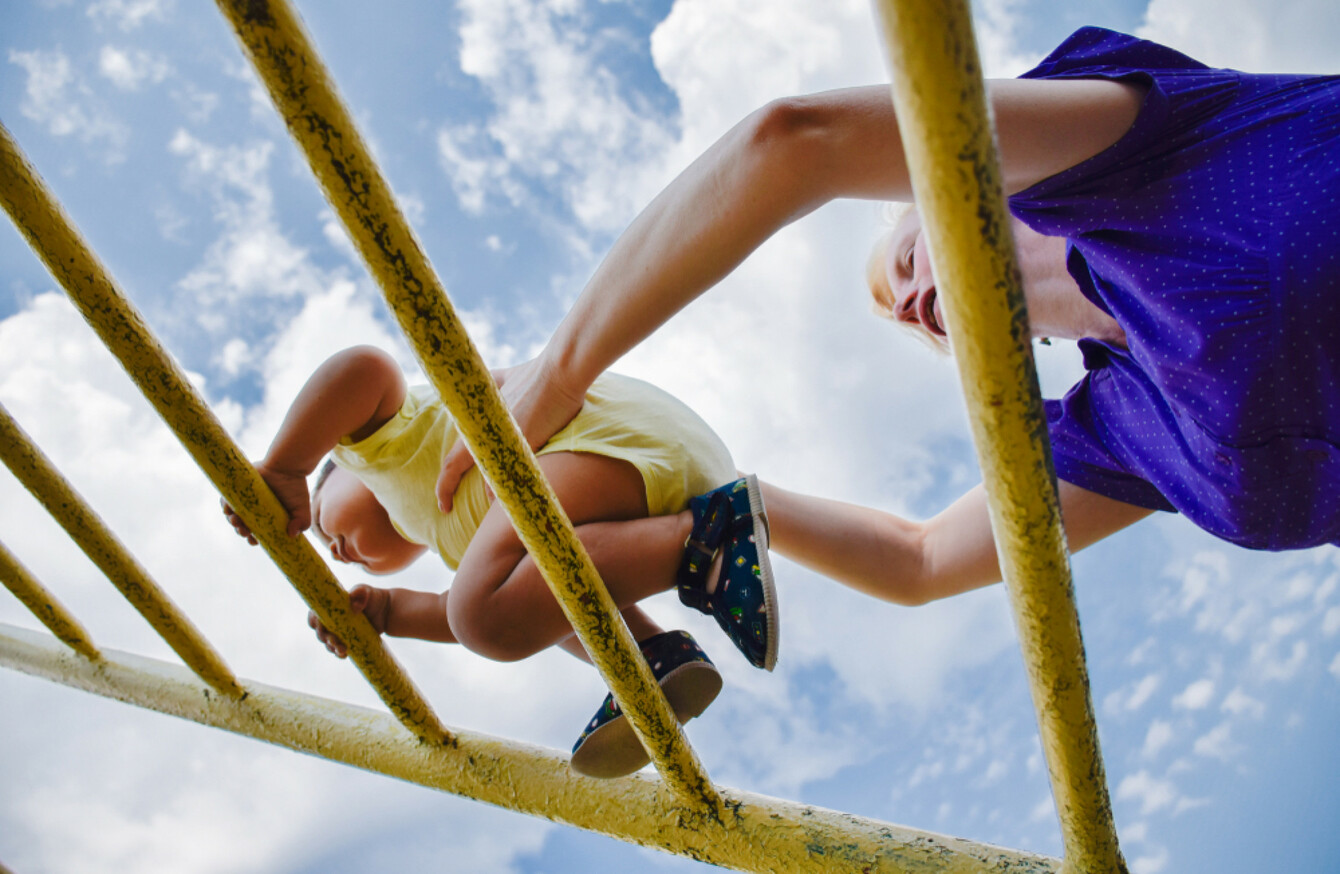 Next stop, the Olympics.
Image: Shutterstock/Ruslana Iurchenko
Next stop, the Olympics.
Image: Shutterstock/Ruslana Iurchenko
LOCAL PLAYGROUNDS ARE great places to entertain the kids, for sure, but they're also rife with people-watching opportunities.
Aside from the many types of Small Child you'll come across (the Swing Hog, the Tantrum Thrower, the Freerunner, the Autocrat and the One With Zero Boundaries), there are many varieties of parents and guardians you'll meet too.
Let's kick things off with the most well-known creatures in this habitat…
1. The helicopter parent
You've spotted them or may even be one yourself (I know I am). Foreseeing danger at every turn, the helicopter parent's ideal scenario would involve the children wearing bubblewrap onesies in a playground made entirely of foam.
2. The jibber-jabber
Jibber-jabbers don't stop talking and often come in pairs. When jibber jabbers are not laughing uproariously and talking over each other, they're conversing too loudly to hear little Sorcha repeatedly saying "Mummy, watch this, Mummy! Daddy, look at me, Daddy! DADDY!"
3. Adventure Dad
This enthusiastic specimen spends most of his time shouting encouragement to his 18-month-old from the precipice of the climbing frame. "COME ON, FIONAN, DON'T GIVE UP! JUST 18 RUNGS TO GO."
4. The competitive parent
From the Adventure Dad family, this particular species seeks out kids of a similar age for their child to compete with. Most often heard saying such things as "Who wants to go higher?!" and "Let's see who hang off this for longer!"
5. The remote parent
This caregiver happily sits in their car with a smartphone or book while their little pirates plunder the playground. Sightings are rare due but on occasion you may spot a remote parent rolling down the window to shout something out the window.
6. The screen addicts
I definitely fall into this category at times. The screen addict opens their phone to check a work email or a family WhatsApp, but once he or she has addressed whatever is pinging, decides to check Twitter "just for a minute", coming to 15 minutes later as someone roars, "Sorry, is this YOUR child?!"
7. The Insta-parent
A subspecies of Screen Addicts, this offshoot dedicates their smartphone use to getting the best Boomerang of their offspring on the seesaw. Often heard saying "Can you do that again, Saoirse?! Just one more time!"
8. The disinterested au pair/nanny
This caregiver is generally 100% detached, and is often found sitting on the sidelines. Avec headphones. Its sister species is the over-enthusiastic au pair/nanny, usually found flinging themselves down the slide.
9. The 'gung-ho…ld on there!' grandparent
A distant relative of both Adventure Dad and the helicopter parent, this species spends most of their time encouraging their charges to have fun while simultaneously coaxing them down; shouting "CAREFUL NOW!". They'll often get into such a flap that they wind up spooking several children in close proximity.
Help! Am I being unreasonable? We're looking for parenting dilemmas from our readers for our Am I Being A Bad Parent? feature. Drop us a line with your reader dilemma on family@thejournal.ie.
Want to win a two-night family getaway with a day out at Dublin Zoo or Tayto Park? Enter here!