Image: Niall Carson/PA Wire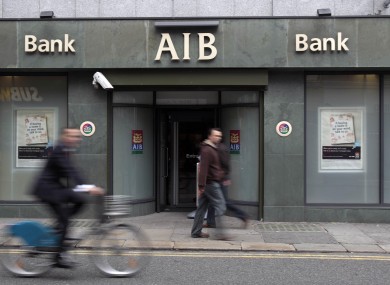 Image: Niall Carson/PA Wire
STATE-OWNED BANKING institutions will return €100 million after they "systematically" overcharged customers during the last years of the Celtic Tiger.
AIB, Bank of Ireland and at least two other state-owned institutions are under new overcharging investigations after a whistleblower gave evidence to the Financial Regulator, reports the Sunday Tribune.
Fianna Fáil TD for Cork North West Michael Moynihan, who heads the Oireachtas Economic Regulatory Affairs Committee, says that the Financial Regulator has received "a huge amount" of new information and is now investigating the allegations of overcharging.
"I understand that the regulator is going to examine files of overcharging in all the financial institutions. And I believe that there are also far more serious issues involving overcharging than have come to light at present.

I believe there will be further repayments by the financial institutions. I believe that there will be further substantial repayments which have not come to light when the institutions are fully investigated and I believe the repayments could be as much as €100m."
Anglo-Irish Bank admitted last month that it overcharged its customers by as much as $130 million. The investigation into overcharging at Anglo continues, with chief executive Mike Aynsley saying that the figure which must be repayed by the taxpayer could be between $38m and $64m.
"Bear in mind when this happened, this was pre-2004. So this is a long time ago, so it's going to take us a little while to get to the bottom of the full scale, if there is a full scale. We don't think that this is a very widely spread thing."