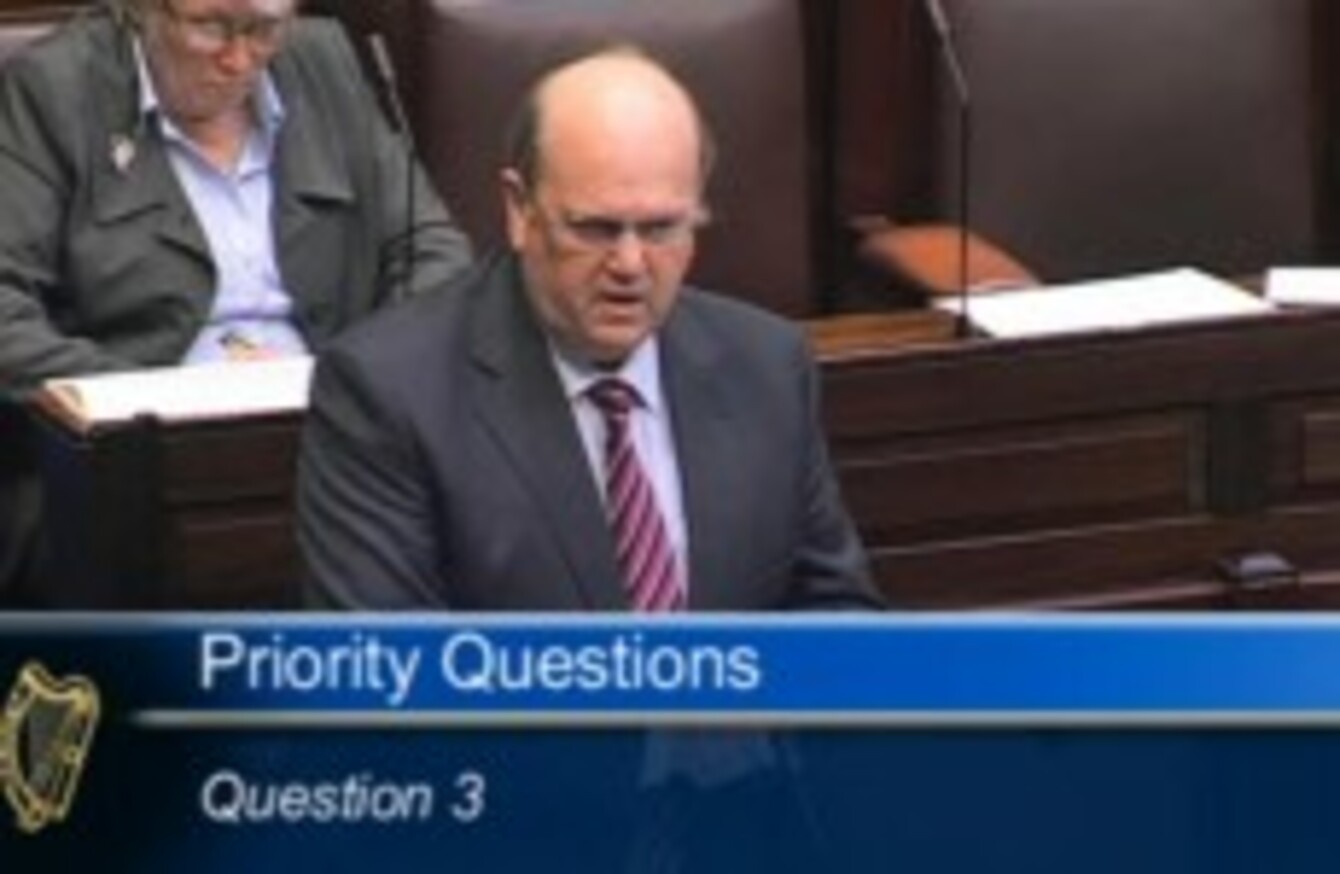 Michael Noonan speaking in the Dáil this evening
Image: Screengrab
Michael Noonan speaking in the Dáil this evening
Image: Screengrab
FINANCE MINISTER MICHAEL Noonan has said that an attempt to determine a full list identifying bondholders in Allied Irish Banks (AIB) to who €1 billion of a bond was paid this week would be a step towards a default.
Noonan said that a list of bondholders circulating on the internet since 2010 may have a "very large degree of accuracy" but he said that there was no way of verifying the list other than calling a creditors meeting which would be an "irretrievable step of going towards default".
He was responding to questions in the Dáil from the independent TD Stephen Donnelly who has been heavily critical of bondholder payments and suggested that a creditors meeting would establish their identity.
Donnelly pointed to websites referenced by Noonan when he was in opposition in late 2010 during parliamentary exchanges with the late former finance minister Brian Lenihan.
Donnelly said that Greece, the US and Iceland had all identified bondholders and said it would be the "right thing to do for the people of Ireland" to identify them.
On the list of bondholders he referred to in 2010, Noonan said that while he did reference them, they were not a complete list.
He told the Dáil this evening: "Maybe there was a very large degree of accuracy on that website as to the identity of the bondholders and I have no doubt that some of the names that were mentioned in the newspapers recently about the AIB bondholders, some of them were probably correct.
But there is no way of verifying a complete list of bondholders other than the method you say of calling a creditors meeting but as soon as you've done that you've taken the irretrievable step of going towards default, if you are bringing the creditors together.
He said that because bonds are in some cases sold on there was no way of identifying their owners, he said that it was a "ridiculous proposition" to call a creditors meeting, indicating it would be a step towards AIB defaulting on loans.
Donnelly rejected this, shouting across the chamber as his mic was cut off and prompting Noonan to criticise the Wicklow TD's issuing of '€1 billion euro banknotes' earlier this week.
He said: "The bogus bonds that you issued were not guaranteed. A publicity stunt is what you were involved in, a populist publicity stunt on the pretence that your knowledgeable on these matters."