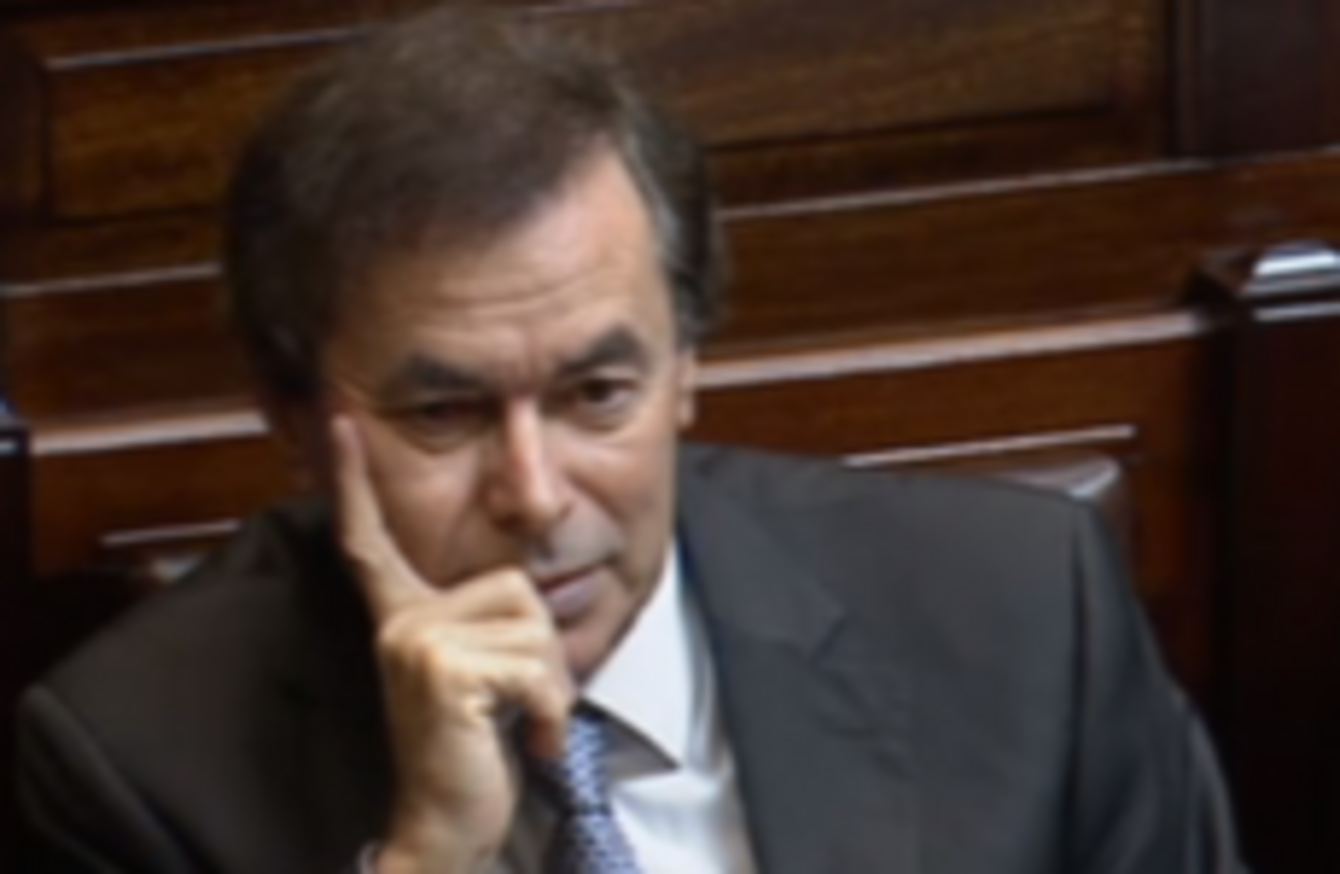 Alan Shatter in the Dáil this morning
Image: Screengrab via Oireachtas TV
Alan Shatter in the Dáil this morning
Image: Screengrab via Oireachtas TV
Updated 10:15pm
"MY CONCERN IS as always that the full truth is known," Alan Shatter told the Dáil in a lengthy and detailed statement today in which, for the first time, he addressed a series of allegations made against him and the gardaí in recent days.
It was a robust and deeply politically response to the claims made principally by the Fianna Fáil leader Micheál Martin on foot of a dossier given to him by garda whistleblower Maurice McCabe.
Yesterday, the government announced that a barrister will examine the claims being made by McCabe with a view to seeing if there is a need for a full Commission of Inquiry.
But today Shatter put forward his response to the controversy which has engulfed him and the government for weeks, and here's what we learned…
1. Allegations are not facts, and it's complicated
From the outset, Shatter stated that in addressing this whole issue he could not proceed on the basis that one garda claims, in this case McCabe's, could be correct and "ignore the rights of those against whom allegations are made".
"I have no doubt that many people outside this House must find the twists and turns in relation to what, by any standards, is a complex set of circumstances bewildering," the Minister said to nods of acknowledgement from literally everyone following – or trying to follow – this story.
He sought to underline that while allegations can be proven true or partially true, they can also be proven false and where that happens "the original allegation need not in any way be malicious but may derive from a mistaken perception or understanding of events".
"Life is complicated, not everything is simply black and white," he added.
2. This was political. Deeply, deeply political…
Shatter went right for Micheál Martin and the manner in which he brought forward the allegations last week. He said: "The Deputy came into this House last Thursday brandishing a document which he said was in my possession for two years.
"What the Deputy's allegations amounted to was this: very serious allegations against the Gardaí had not been addressed, I had done nothing about them and I had not responded to correspondence from Sergeant McCabe," he summarised.
This was not the case, Shatter insisted.
The Minister consistently returned to Martin and Fianna Fáil throughout his speech. Of Sinn Féin, he said only that "old habits die hard" in that the party undermined the gardaí in seeking a "political advantage".
Of Martin, he said: "I think many of the former statesmen in his party would be appalled by the cavalier attitude he has taken to An Garda Síochána against whom he has made the most serious allegations without waiting to establish the truth or otherwise of them."
3. … and so Shatter shifted blame to Fianna Fáil, and Dermot Ahern
The Minister pointed out that the cases in the McCabe dossier occurred during 2007 and 2008 and were dealt with under the arrangements put in place by the Fianna Fáil-led government of that time in light of the findings of the Morris Tribunal into garda corruption in Donegal.
But one of the more intriguing revelations was that far from his claim that he was not aware of McCabe's grievances, former justice minister Dermot Ahern (below) was, according to Shatter, told about them in 2009.
According to Shatter, McCabe wrote to Ahern asking for an independent investigation into his claims, saying in his letter that "although a preliminary report into his complaint had revealed bad practice and procedure, the Chief Superintendent for the Division had publicly rubbished the complaint".
Shatter said Ahern replied, through his private secretary, that it was a matter for the Garda Commissioner and he had no role in directing such operational matters.
"I doubt, that Deputy Martin would have come into the Dail Chamber in 2009 or 2010 and made such charge against former Minister Dermot Ahern and accused him of undermining the administration of justice in the State," Shatter said in another political-motivated attack.
4. McCabe's concerns were first raised in 2008 – and addressed
Shatter said that McCabe alleged neglect of duty and other malpractice at Bailieboro Garda Station as far back as 2008. He said that on foot of complaints to Garda HQ and the Garda Commissioner – through the confidential recipient – both a a chief superintendent and an assistant commissioner investigated McCabe's claims.
Shatter told the Dáil that the allegations covered cases including:
failure to notify a court in a child abduction case that the accused was already on bail facing serious charge
failure to properly investigate several cases
failure to forward a report relating to poor standards at Bailieboro Station
falsification of records
failure to deal with sexual harassment of a female Garda
the giving of a direction to Sergeant McCabe to cease assessing and monitoring probationer Gardaí.
In 2009, when McCabe complained of being harassed and victimised, the same chief superintendent and assistant commissioner were asked to investigate these allegations.
Later, the assistant commissioner produced 10 volumes of evidence which were sent to the DPP who decided that no prosecutions were warranted. But the investigation did result in disciplinary action against "a number of gardaí" according to Shatter.
5. If McCabe wasn't happy, then that's too bad
Shatter again said that while the whistleblower may not have accepted the outcome of the investigations "there is no mechanism that can guarantee all complainants will be at all times fully satisfied with the outcome of all investigations".
The Minister said that the systems put in place – by the previous government- were followed and the allegations the whistleblower raised were dealt with.
6. Shatter said he acted on McCabe's grievances…
One of the chief allegations from Micheál Martin was that Shatter did nothing when McCabe informed him – via the confidential recipient – of serious allegations of garda malpractice two years ago.
Not so, said Shatter who told the Dáil that when he received an anonymous letter (from McCabe) on 23 January 2012 it included 12 allegations against a named superintendent.
The letter included "accusations of malpractice but also of corruption in that Gardai were generally accused of engaging in falsifying records, erasing officials records, erasing reported incidents, destroying and altering official records, covering up serious investigations and 'gross dereliction of duty on a massive scale.'"
The Minister emphasised that these were anonymous allegations, but he took them seriously, and asked his Secretary General the following day to write to the Garda Commissioner for a full report.
Six days later, Shatter said he received a response from Martin Callinana that 11 of the 12 allegations had already been dealt with in the aforementioned investigation. The 12th allegation related to a case of 'child pornography and rape of a minor in September, 2007 where the offender was a priest in the District'.
Shatter said he was told by the Commissioner that "this investigation centred on offensive and inappropriate behaviour with a 14 year old boy, and that it was apparent that the investigation was efficiently and speedily carried out, resulting in the priest being convicted and sentenced to 5 year concurrent sentences".
"The assurances which I received were essentially to the effect that these matters had been fully investigated in accordance with the law in place at the time," Shatter said.
He added that he informed the confidential recipient of such on 7 February 2012.
7. … and insisted he was doing anything but ignoring him
Shatter also said that McCabe wrote to him in September 2012 with three booklets of documentation alleging "multiple allegations of garda wrongdoing".
He said that as the correspondence was marked 'confidential and private' the Department of Justice wrote to McCabe's solicitors three times asking if the information could be passed to the Garda Commissioner for his observations, but received no response.
"I think it is clear that if I was intent on ignoring allegations by Sergeant McCabe I wouldn't have been so assiduous in trying to elicit responses from his solicitors," Shatter insisted.
He returned to the politics again, suggesting that had Martin been aware of his contact with McCabe "the charge he made against me would not have been made".
8. The Roche Kelly and Mary Lynch cases
By far the most high-profile case in the dossier is that of the serious assault on taxi driver Mary Lynch and subsequent killing of Sylvia Roche Kelly in 2007 and 2008 by the convicted Jerry McGrath. Shatter said the State had been aware of the Roche Kelly case since 2009 as her husband Lorcan Roche Kelly initiated High Court proceedings.
Shatter said that Roche Kelly complained to the Garda Ombudsman in June 2009, alleging that there was a neglect of duty by gardaí in failing to ensure that the court was aware that McGrath was on bail for "other very serious offences" when he murdered Sylvia Roche Kelly.
GSOC referred the matter to gardaí but they found that there was no breach of discipline on the part of either of the garda officers concerned.
"While I do not wish to underestimate in any way the seriousness of what happened, the judgement of an independent body, GSOC, was that what was at issue was a less serious breach of discipline and I am advised GSOC did not make any finding under its statutory provisions of Garda misconduct," Shatter said.
Of the failure to allow Mary Lynch – the victim of an assault by McGrath months before he killed Sylvia Roche Kelly – to be present in the court at the sentencing the gardáí "addressed this failure internally", according to Shatter.
9. On McCabe, Shatter is not for turning
"I want to make it clear that I have no animosity towards Sergeant McCabe," Shatter told TDs at the beginning of his speech, saying the whistleblower's concerns had led to important changes being made to the administration of the penalty points system.
But the Minister maintained that he had not misled the Dáil in stating last October that McCabe had not cooperated with the internal garda investigation into alleged malpractice in the penalty points system.
He said there was a "difference of views and perception" on the matter. Shatter said his department told McCabe in December 2012 to bring his concerns to the attention of gardaí, and said that the whistleblower declined to meet Assistant Commissioner John O'Mahoney, who was investigating the matter, in the period between the finalisation of the penalty points report and its publication.
Shatter there was no basis for assertion that he was misled by the Garda Commissioner or that he in turn misled the Dáil.
And then he returned to the politics: "I appreciate that different Members of the House may perceive these matters differently. It is unfortunate that perceptions are coloured on occasion by political differences."
Interestingly, while Shatter's prepared statement read: "I hope Sgt. McCabe will engage in this process, his input will be an important element" but the Minister did not say these words in his speech to the Dáil this morning.
Later, answering questions from TDs, Shatter admitted that McCabe "clearly wasn't directed to engage, but he was invited to engage" with the penalty points probe and went as far as to say there was "fault on both sides" of the issue. But he resisted attempts to correct the Dáil record, giving no ground on that issue.
10. Shatter explained why he sacked Oliver Connolly
The Justice Minister claimed he did not "recall or remember" that Oliver Connolly donated €1,000 to his election effort in 2007 when he appointed him as garda confidential recipient in 2011.
Addressing the issue of Connolly's recent sacking for the first time – there was no reference in his earlier statement – during a Q&A with TDs, Shatter said he found it "quite extraordinary" and "highly inappropriate" that Connolly was reported to have told garda whistleblower Maurice McCabe: "If Shatter thinks you're screwing him, you're finished".
"Under no circumstances would I take that approach to any individual," the minister insisted.
It's little surprise then that when Connolly could not repudiate those remarks attributed to him, Shatter sacked him.
11. Shatter did well, but the opposition aren't pleased
It's hard to escape from the fact that Shatter, whose position was somewhat precarious last week, came out swinging today and comprehensively addressed the allegations directed at him, while ensuring there were plenty of political potshots directed at Fianna Fáil.
It was a strong performance. But that did nothing to appease the opposition.
"You are snide, frequently partisan and dismissive," Micheál Martin told Shatter, saying the minister's behaviour had been "appalling".
Plenty of others took aim, most notably Mick Wallace who was passionate, angry and a bit emotional:

But of all the opposition TDs' remarks today, perhaps the most pertinent were those from Sinn Féin's Padraig Mac Lochlainn. He compared the failure of Assistant Commissioner John O'Mahoney to engage with McCabe during his inquiry into the penalty points system as akin to gardaí investigating an alleged crime without interviewing the victim.
This goes to the heart of the whole issue in that the failure to engage sufficiently with McCabe has led to him approaching, in the first instance, Wallace and other independent TDs and then Fianna Fáil who in turn made this into a massive political row which asked serious questions of Shatter's position.
With the senior counsel Seán Guerin now charged with getting to the bottom of it all, and the possibility of a Commission of Inquiry being set up, Shatter may have won today, but this is far from over.
First published 12.36pm
Pics: Oireachtas TV and Photocall Ireland