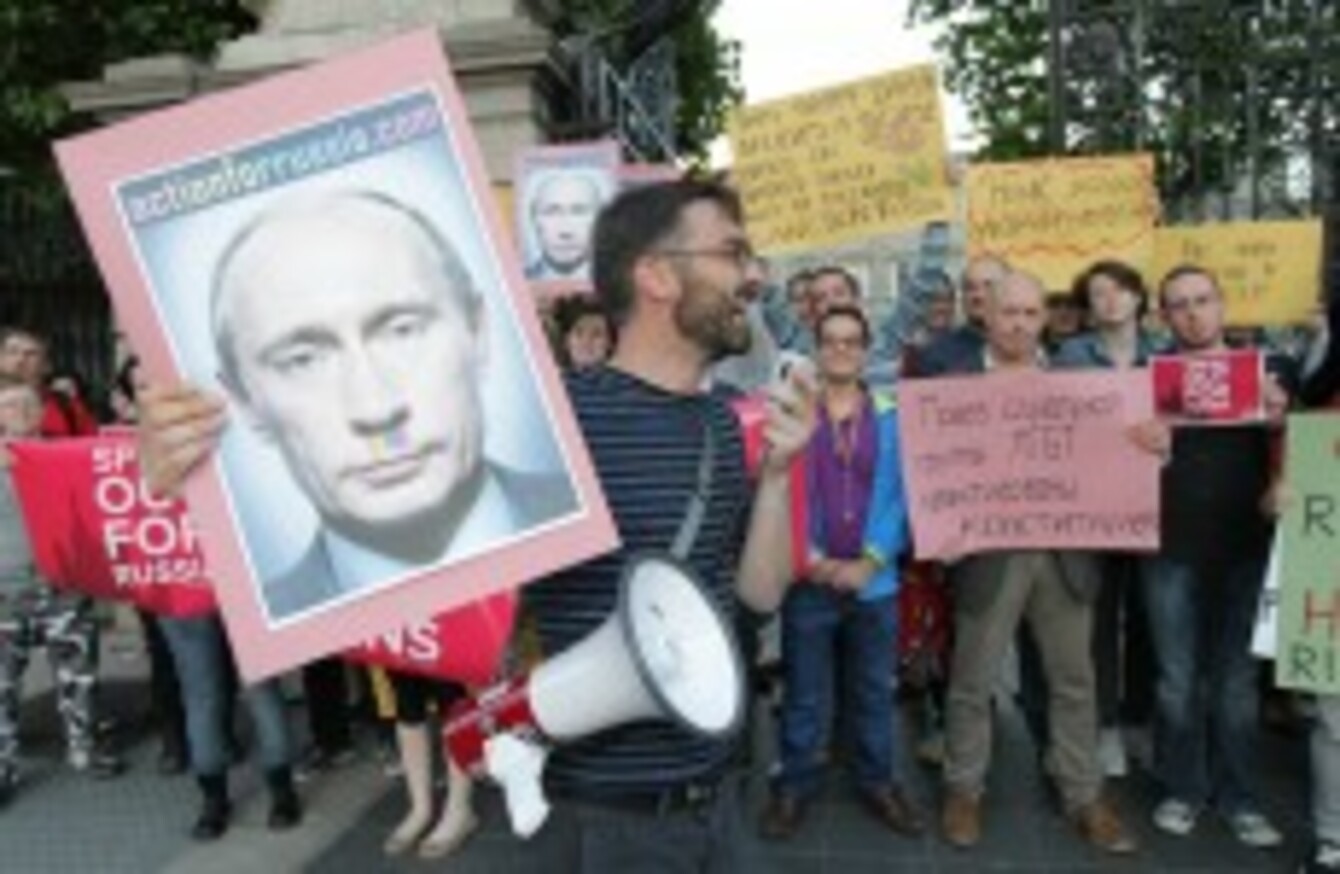 'Action for Russia' protest against anti-gay laws.
Image: Mark Stedman via Photocall Ireland
'Action for Russia' protest against anti-gay laws.
Image: Mark Stedman via Photocall Ireland
JUNIOR HEALTH MINISTER Alex White is likely to discuss Russia's anti-gay laws with civil society organisations during a trip to Moscow this weekend.
The Department of Foreign Affairs confirmed that White would host a breakfast meeting on Monday with a number of civil society groups and NGOs, at which human rights issues would be discussed, including topics related to the lesbian, gay, bisexual, transgender and intersex community in Russia.
The Department did not comment on whether or not White would bring up the current situation in Crimea, ahead of Sunday's referendum on joining Russia.
Last year Russian President Vladimir Putin signed into law an Act that criminalises the dissemination of information about homosexuality to minors. Anyone found to be in breach of the law will receive a fine. The move was widely criticised by Western leaders and cast a shadow over the recent Winter Olympics in Sochi.
White said that the law was "likely to result in the further stigmatisation and, indeed, criminalisation of Lesbian, Gay, Bisexual, Transgender and Intersex young people".
He noted that Tánaiste Eamon Gilmore "raised concerns over the Russian legislation at a meeting with Foreign Minister Sergei Lavrov over lunch at the December EU Foreign Affairs Council".
"Ireland has made LGBTI rights a human rights priority and is firmly committed to combating discrimination on the grounds of sexual orientation or gender identity," he added.
White will be in Moscow from 14 to 18 March as part of the government's St Patrick's Day "Promote Ireland" programme.
He will participate in a range of events aimed at promoting Irish culture in Russia and fostering business links, including a Bord Bia food-tasting event.
Today he will attend the 22nd annual St Patrick's Day parade in Moscow's Sokolniki Park and the Emerald Ball, an event hosted by the Irish Business Club that will attract members of the Irish diaspora living in Russia.
Over the course of the trip, White will meet representatives from the Russian Ministry of Health, the Global Irish Network and the Enterprise Ireland team based in Moscow.
White is one of 28 ministers and junior ministers visiting 23 different countries over the St. Patrick's weekend. Social Protection Minister Joan Burton will be travelling to New York, but has said she will not take part in the city's official parade as it bans marchers from holding gay rights signs.
Read: Here's where 28 government ministers are going for St Patrick's Day
Background: Protest to take place at Russian embassy in Dublin over 'anti-gay laws'