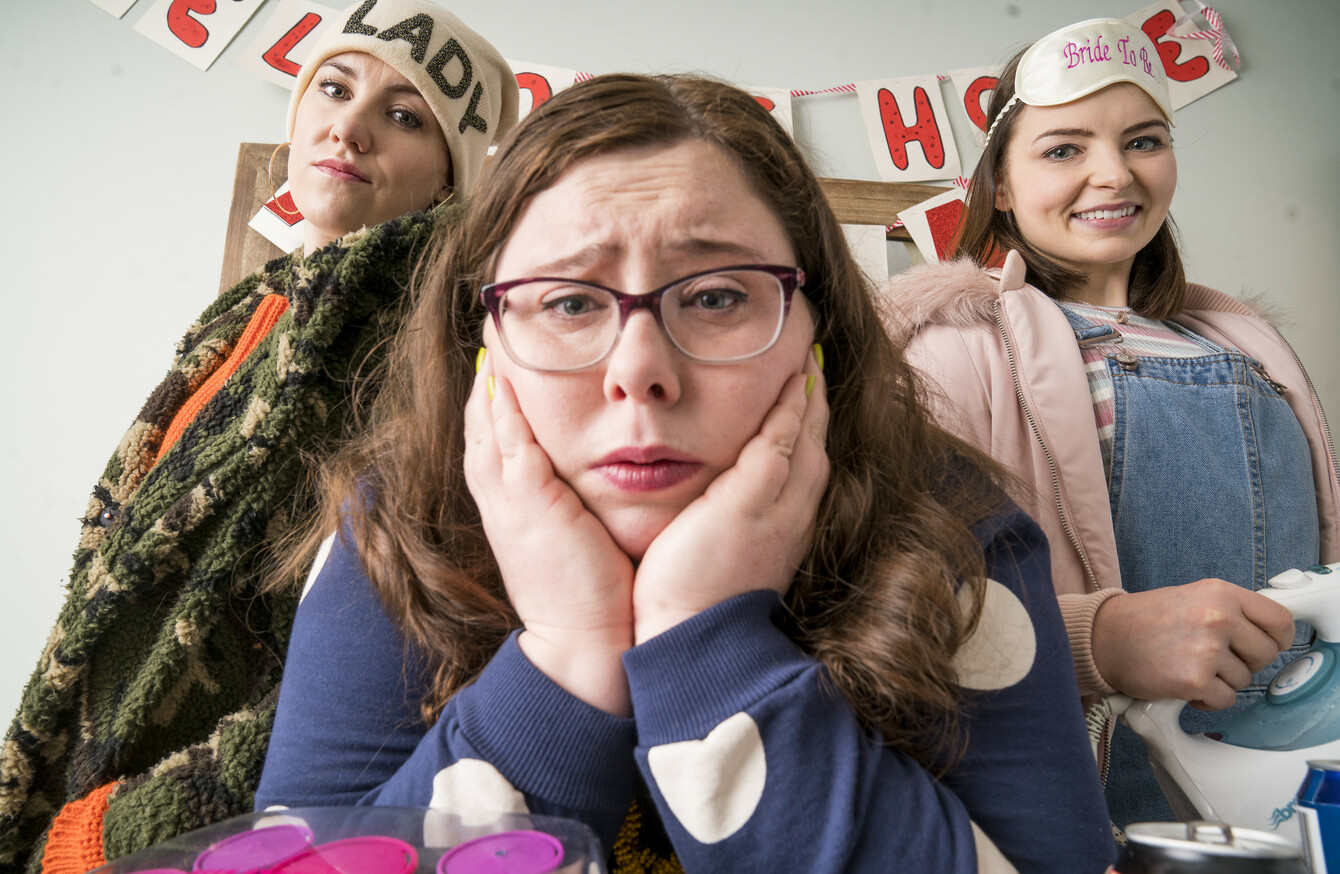 Image: RTÉ
Image: RTÉ
WHEN COMEDIAN ALISON Spittle was in college, a lecturer told her that "women hate listening to other women's voices, and that's not sexist – that's women".
"So we were told if you want to do radio, why don't you try production or do the news, and stuff like that," she recalls. "And I took that as gospel because that's an adult and I was 19. He must know what he's talking about."
But his words thankfully didn't stick, and Spittle went on to become one of Ireland's most prominent young female voices. She's a stand-up comedian who's now written her first TV series, Nowhere Fast, set in the midlands where she grew up, which debuts on RTÉ One tonight.
She doesn't have to give a second thought to the sexist advice doled out to her a decade ago.
"So I'm 28 now and I just think back on that and 'janey mack, he was talking a load of hoop'" she laughs. "And I feel that when I first started doing stand-up comedy there were a few women doing stand-up comedy and there are way more women doing it now, and there will be more and more in the future because they see people doing it and then they go 'I can do it too'."
Last year, we saw RTÉ give Stefanie Preissner her first TV show (Can't Cope, Won't Cope has just started filming its second season), and there's finally more light being shone on Ireland's female TV writers.
It's something Spittle is particularly happy to see:
I am really happy that there is more television for women because women are 51% of the population.
'I couldn't afford to live in Dublin anymore'
In Nowhere Fast, Spittle plays a young woman called Angela who loses her job and has to go back home to her parents in the midlands.
It's inspired by Spittle's own move home a few years ago.
"I had to move back to Westmeath in my mid-20s because I couldn't afford to intern anymore in Dublin," she says. "So I had to move back and I felt so trapped. I think that's what the show is about, being trapped and trying to escape. And it's 'what are you actually escaping from, and what do you want?'"
The fact that Nowhere Fast is set in the midlands is notable because it shows how few shows are set there. One of the last times it was on telly in a big way was in the black comedy series Pure Mule, which starred the late Tom Murphy.
Source: Element Pictures Distribution/YouTube
Spittle remembers the impact seeing their hometown on TV had on her and her friends.
"Pure Mule came out when I was a teenager and my local nightclub was used as one of the locations. And just the chatter in my secondary school about 'Pure Mule's coming out, it's going to be about the midlands, it's going to be great'," she says.
"And I just feel there are so many great people from the midlands – Edwin Sammon, Bernard O'Shea, Kevin McGahern who's in my programme. There is a movement of the midlands that's coming out and people are just representing. Because I feel people feel we don't have an identity, 'cos Cork has an identity 'cos they're full of themselves." She laughs as this Corkonian shifts a bit uncomfortably.
"Galway, the west has its own identity, the whole Wild Atlantic Way – we don't have a Wild Atlantic Way. We have two canals," she says. "Everyone just passes through and stops at petrol stations."
Is there a certain Midlands humour? "I think so," she says. "I grew up in Westmeath and I think it's what made me funny. There's a lot of let's call it begrudgery and keeping people down in a nice way and I like it like that – don't be getting notions."
'I felt like a blow-in'
But her hometown has been nothing short of supportive to Spittle as her star has started to rise.
"My village has been amazing. Because to be honest with you I felt like a blow-in everywhere – because I'm originally from England, so I had an English accent until I was about six, janey mac I did," says Spittle. "I used to get called Protestant – which was really funny on my Communion day."
"I used to feel like I wasn't at home anywhere and since I moved away people have been so lovely, because everyone moved away from my village and everyone emigrated, but the love and support I've got from my village is just incredible.
That's why I wanted to make the show as well, because I wanted to make a show about people living in the rural Irish countryside, people that have personalities, people that are fun.
Nowhere Fast has three women at the front of the show. "I didn't do it out of 'I'm going to make the Destiny's Child of TV shows and have three women in it'," says Spittle. "It was just writing it and I fell in love with these three characters… and they just happened to be women."
She says her favourite comedians are mostly women – such as Fern Brady, Sophie Hagen, and Maria Bamford – and that "the more they do well, the more it lifts me up".
She's collaborated a lot with men, and on this show worked with her boyfriend Simon Mulholland. "He really makes me laugh so much," she says of her co-writer. "And he cares about programme making and structure and it's a good partnership."
Overall, Spittle wants to see more women doing things, and will cheerlead them along.
"I'm delighted more women are doing stuff, it just makes me feel more confident to look around and see so many women here just chatting. I think it's great, I don't think it's a threat on anybody or anything like that."
Spittle also paid tribute to the positive male forces in her life.
"Fair play to men as well, I've never had any direct problems off men that matter – I've had problems off egotistical men that don't really have any power and they just want to put someone down. But real successful and strong and intellectual and funny men don't have to worry about that sort of thing, they seem to be grand."
Overall, Nowhere Fast is all about the bonds that bring friends together.
"There's a lot of love in it because it's all about connecting with friends and your mid-20s feeling different from what they were when you were teenagers," says Spittle.
"Also women friendship groups, because I feel like a lot of TV shows are about romantic relationships and 'will they, won't they' and this is about friends, will they, won't they stay friends – but they have to stay friends as they live in a village. They've no choice because, you know, who are you going to talk to?"
You have to make do and be pals and put up with people's weird idiosyncrasies. It's like you have to put up with the bad transport system – you have to put up with that mad friend.
Nowhere Fast debuts on RTÉ Two at 10pm tonight.