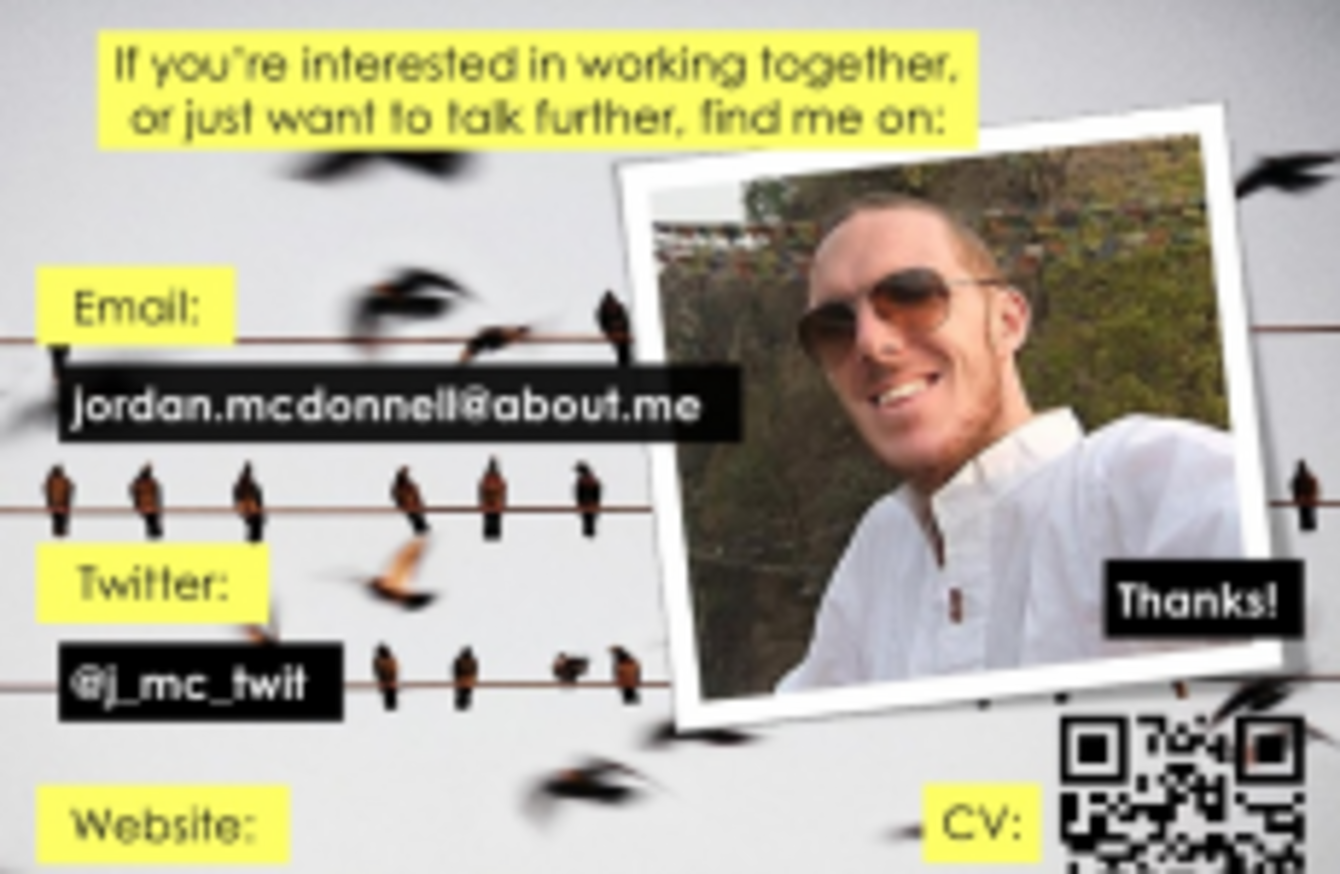 Image: Jordan McDonnell via Slideshare
Image: Jordan McDonnell via Slideshare
A UCD GRADUATE whose 'alternative CV' went viral and collected over 115,000 views around the world has landed him a job with Twitter.
Jordan McDonnell attracted interest from employers around the world after his slideshow resumé went global – but ultimately resulted in him receiving three jobs offers in his home town of Dublin.
Having received job offers from all over the world – which are still coming in – Jordan will start a new role as an account manager with Twitter in its Dublin office next Monday.
"I'll be in charge of the portfolio of clients that use Twitter for advertising," McDonnell told TheJournal.ie, "helping them on their needs and how they can optimise their usage of Twitter."
26-year-old McDonnell had uploaded his alternative CV while working as a financial analyst in the Netherlands, hoping to change career as his contract with his previous employer was ending.
Not having any experience in more creative fields like marketing, he decided the best way to showcase his abilities was by giving his CV a new lease of life.
And rather than needing to send his alternative CV to prospective employers, the employers came to him – with McDonnell admitting that he had not actually applied for any jobs since the slideshow resumé had taken off.
In fact, the recruiters who ultimately gave him his job didn't even see the CV themselves – but rather had someone else send it on when they quipped about how CVs had become staid and boring.
My manager was sitting in a room, going through CVs, and went on Twitter to say, 'Guys, get your act together – stop sending me four-page CVs with spelling mistakes!'

One of his followers sent him back to me saying, 'I don't suppose this guy has any hope so!', because  my CV had 33 pages altogether.

He laughed, liked it, and then sent me a DM saying, 'Expect an email'. Within a few hours he had made contact and I was invited back to meet him.
McDonnell – who has both Bachelors and Masters degrees from UCD – said he had also been contacted by recruiters from the US and Australia, but that ultimately he had to choose between three roles with three major online companies, each of which has offices in Dublin.
"It's been a whirlwind," he admitted, saying he was looking forward to his first day.
McDonnell admitted he was "baffled" by how his presentation had taken off, and says contact has also come from other job-hunters expressing their admiration.