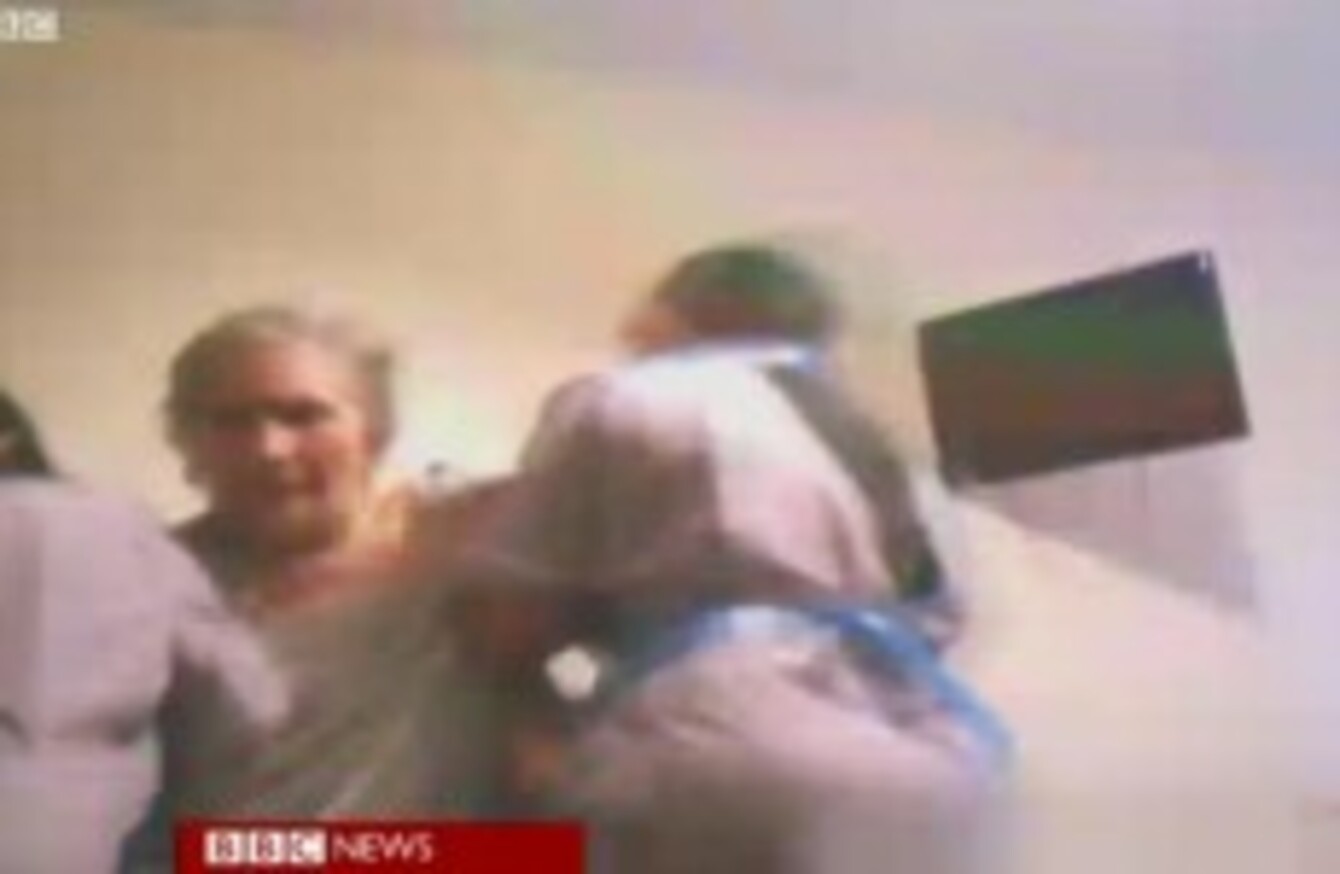 Care workers with Maria Worroll in footage secretly filmed last year
Image: Screengrab via BBC
Care workers with Maria Worroll in footage secretly filmed last year
Image: Screengrab via BBC
A PATIENT WHO suffers from Alzheimer's was repeatedly beaten by a member of staff at a care home in London last year according to a programme to be broadcast on BBC television tonight.
A BBC Panorma programme will tonight screen footage of the care worker Jonathan Aquino slapping 80-year-old Maria Worroll at the Ash Court Care Centre in Kentish Town, London last year.
The footage was recorded by Maria's daughter Jane Worroll who hid a camera in her mother's room after becoming suspicious that she was being mistreated.
Worroll suffers from Alzheimer's and arthritis and requires daily care.
According to BBC News, the filming, which took place in June of last year, shows care workers feeding the 80-year-old too quickly and manually rolling her over and hauling her onto a bed when a hoist should have been used.
In the most shocking footage, Aquino slaps Worroll's mother six times. He was later convicted of assault and sentenced to 18 months in prison while other care workers were sacked.
The programme comes as the the UK's Care Quality Commission is criticised for failing to take sufficient action after the undercover filming highlighted the abuse.
In a report subsequent to visits after the assault, the CQC said the rights of patients were "respected and upheld".
Worroll told the BBC she felt let down by the report: "I just felt like they'd basically given it a clean bill of health again."
While other interest groups criticised said that the CGC report was not "a helpful document". Responding, the CQC said that it had acted "quickly and appropriately".
Panorama: Undercover Elderly Care is on BBC One tonight at 8.30pm