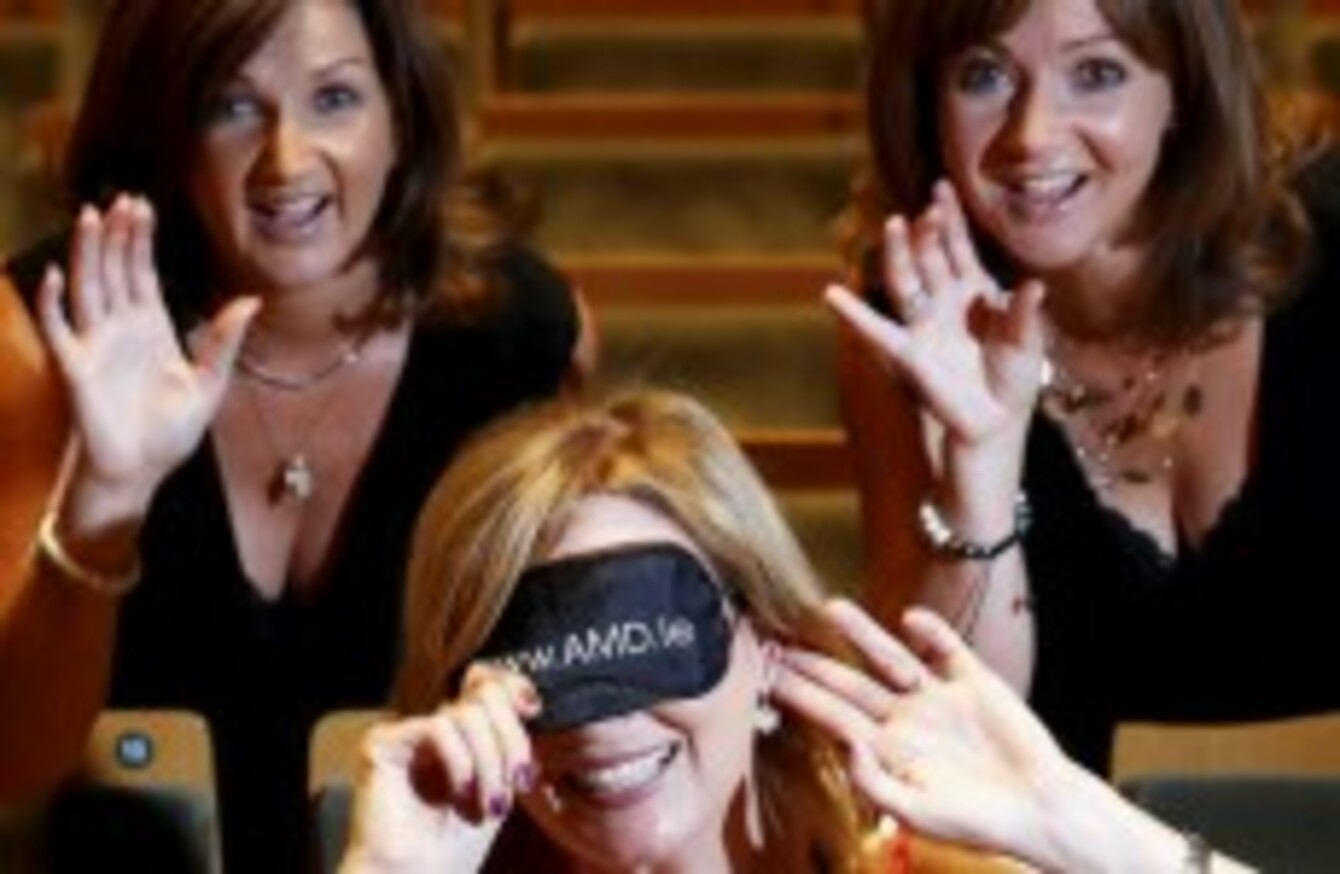 The Vard Sisters and Marry Kennedy launch the event
The Vard Sisters and Marry Kennedy launch the event
AN UNUSUAL EVENT will take place in Dublin later this month, during which 250 people will be blindfolded while they enjoy music, comedy and storytelling.
The sensory entertainment event is being held to raise money for AMD Awareness Week, which is running from 22 – 30 September. AMD is Age-related Macular Degeneration, and is the most common cause of registered blindness in Ireland.
It is also the main cause of sight loss for people over the age of 50 in the Western World, and is thought to affect one in 10 Irish people over the age of 50.
Sensory Entertainment
The sensory event will take place on Wednesday, 26 September, and will take the form of a lunchtime performance in the National Concert Hall (NCH) in Dublin, with proceeds going to raise funds for Fighting Blindness and the NCBI.
The organisers promise surprise guests, including triple-platinum musicians, an international bestselling author and one of Ireland's best loved actors. Together, they will entertain up to 250 blindfolded audience members with a selection of music, story-telling, comedy and chat.
Tickets cost €10 and if you would like to book tickets you can do so on the NCH.ie wbsite.
There will also be mobile testing units around the country at participating independent opticians/optometrists that week to help detect the early signs of AMD.
AMD
The most obvious symptoms of AMD are distortion and blurring in the centre of vision and the earlier a person identifies that they have a problem with their sight, the sooner they can make the adjustments which will help them maintain a full and independent life.
Lynda McGivney-Nolan, Optometric Advisor with the Association of Optometrists Ireland, said that the aim of the blindfolds is "to highlight the diffiulties that somebody who is blind might face in not being able to identify what they are looking at".
In a world without sight, it highlights you have other senses which come back up and help out. Your hearing will become more tuned to the music and entertainment.
Describing the event as a "really, really novel idea", McGivney Nolan said it will give some insight into what life is like without sight.
She explained that the macula is part of the retina most sensitive to vision, and the lutein in the macula helps us to see. Food such as green vegetables and eggs are great for getting lutein in our diet, but people with AMD often are genetically predisposed to the degeneration of their sight.
There are two types of AMD, wet or dry – the latter is a slower process.
Risk factors include smoking, blood pressure, hypertension, and exposure to UV light.
McGivney-Nolan concluded:
The good news is these days we really need people to get regular eye tests with their optometrist. We can pick it up early and there are ways to slow it down or prevent it from happening.