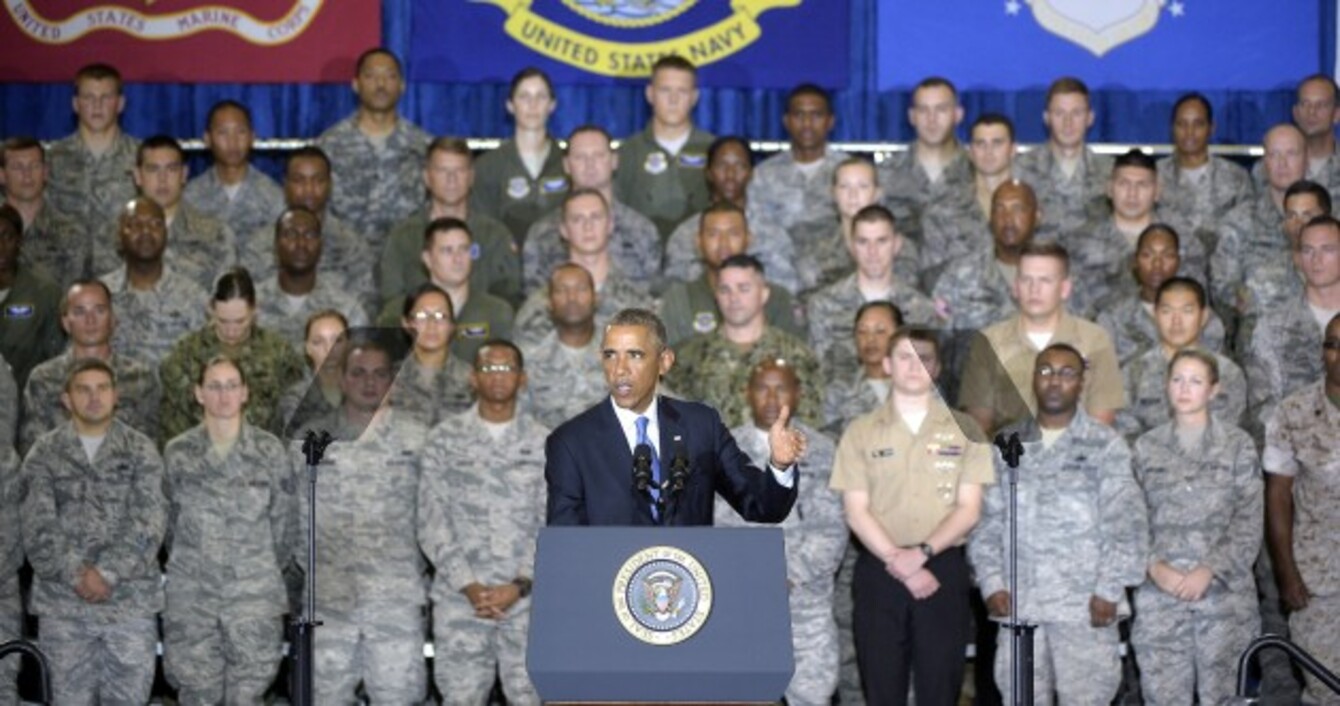 Image: AP/Press Association Images
Image: AP/Press Association Images
Updated 10.55pm
US PRESIDENT BARACK Obama has received the backing of the House of Representatives in his drive to arm and train Syrian rebels in their fight against Islamic State.
The Democrat president needed the support of Republicans, however, who yesterday voted for the proposal by a bigger margin than his own party colleagues.
Obama won support from staunch Republicans who are normally reflexively against him and lost the votes from some of his most loyal Democratic allies in the 273-156 House tally.
Republicans backed Obama by a more than two-to-one margin (159-71). Democrats backed him as well, but only by 114-85.
Top leaders of both parties stood with Obama despite reservations that his strategy of arming moderate rebel groups could backfire, or won't be enough to stop the advance of Islamic State forces.
Obama has promised airstrikes as well but is adamant that he won't send U.S. combat troops to battle the Islamic extremists:
We must pursue a comprehensive and sustained counterterrorism strategy, and a bipartisan coalition in the House voted to support a critical component of that strategy.
American warplanes began airstrikes on Islamic State targets in Iraq earlier this week.
The Senate will vote today on the measure.
The new authority is part of $500 million that Obama requested in May to train and equip rebels.
Testifying before a Senate committee yesterday, Secretary of State John Kerry said the forces seeking to create an Islamic caliphate "must be defeated. Period. End of story."
Republican hawks called Obama's approach too little, too late, even though many of them supported it as a first step in a broader campaign against Islamic State extremists.
"Committing insufficient force in any conflict is self-defeating, and airstrikes alone cannot win a war," said Representative Tom McClintock from California, who voted No.
Despite their doubts, top House Republicans saw little choice but to back Obama.
"I am not convinced this train-and-equip effort will change the balance of power on the ground anytime soon, and I believe this approach comes with great risks," said House leader Kevin McCarthy.
But he also said "voting against this request would send a terrible message" about America's determination and willingness to stand with its allies.
Many from Obama's own party, however, thought the plan could backfire, and voted against it.
"We simply don't know if somewhere down the line it will turn our guns back against us," said Representatvie Loretta Sanchez from California, giving voice to a fear that rebels seeking the removal of Syrian President Bashar Assad would prove unreliable allies.
"It's hard to see how putting weapons in the hands of folks whose primary objective is to defeat Assad advances the cause of defeating ISIS," said Representative Chris Van Hollen, who is usually a reliable Obama ally.
In the Senate, backing from the top Democratic and Republican leaders should ensure swift passage of the plan.