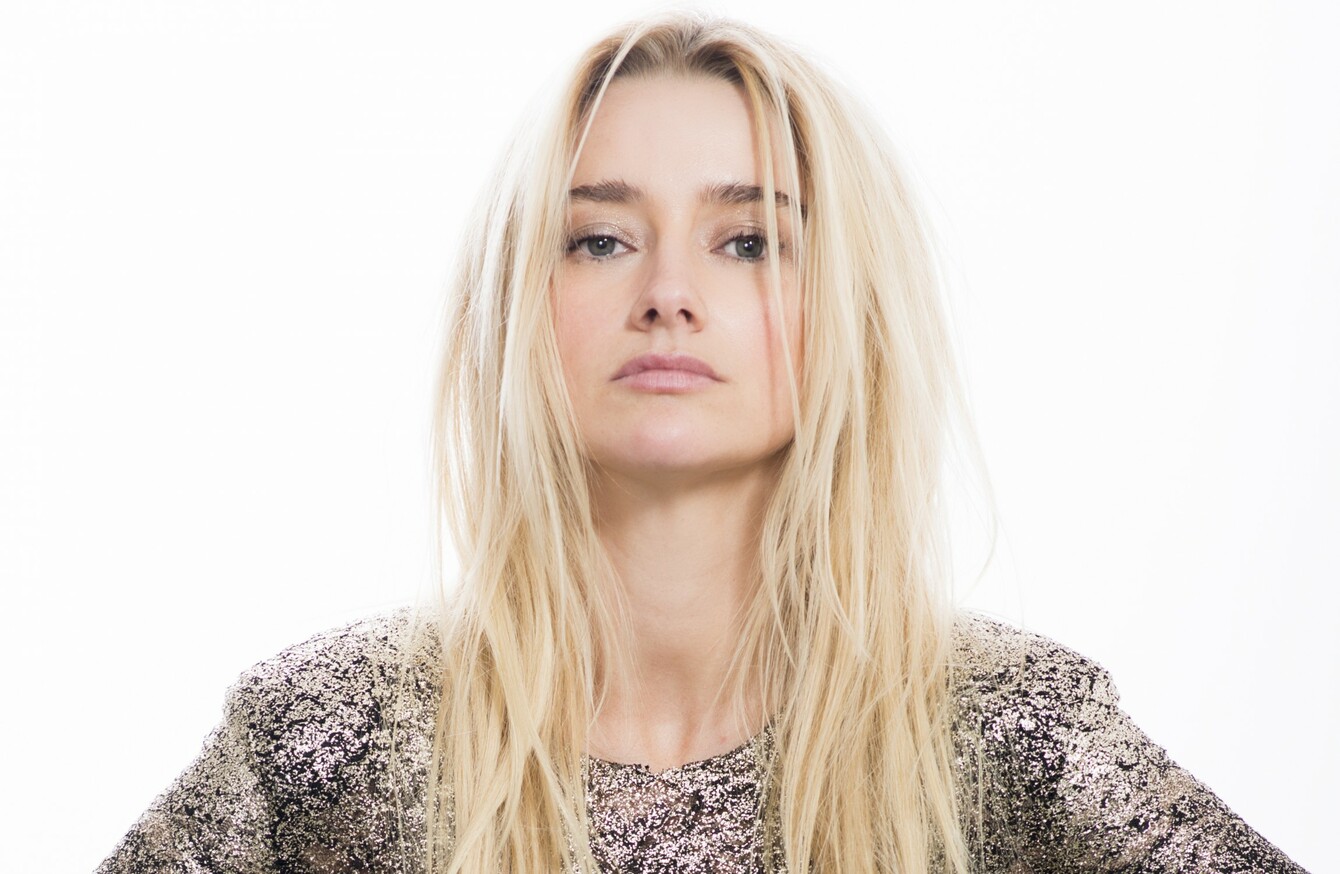 Image: Glenn Nutley
Image: Glenn Nutley
"I DIDN'T SEE a script, I just saw my scenes. I would just be told what the scene was and the lines whispered in my ear, so I had to just remember it and go from it."
Malahide native Amy Shiels knew she'd have a unique experience working on Series 3 of one of the most celebrated television shows of all time, Twin Peaks.
But it turned out to be even more interesting that that. And with days to go before the new season is aired, she was still wondering just how much of her role would end up on screen.
Down the phone from West Hollywood this week, where she's been living for two years, Shiels herself tells TheJournal.ie she is "going in with very little information". The show is as much of a mystery to her as it is you or I.
I was on a text exchange with a friend and I suddenly thought 'oh my God, I'm in Twin Peaks, what?! It hit me that I'm in that world. When you shoot it, it's different.
At the time we speak, she's not even clear how many episodes she's in, or for how long. A premiere screening three days later clears things up a bit for her, but audiences won't get to see the first episode of the David Lynch-directed series until Sunday night.
The role is the culmination of years of hard work for Shiels, who is about to make her major breakthrough after starring in the likes of Love/Hate, Cowboys and Angels and The Detour, as well as providing voiceover work to Final Fantasy and Call of Duty.
"I am excited to see the show myself as a fan of the show," she says of Twin Peaks.
I am not taking any of this personally, I am out of body. I feel zero pressure from anybody else. I just hope that I get all of my work onto the screen. When I shot it, it was the happiest time of my life. I was praying for time to stand still every day, and that's a magical feeling.
"People have been really supportive, the Twin Peaks fans have been so welcoming to me," she adds of being a newcomer to the series. "The community is lovely – I feel like I've met my fellow outsiders. I have great banter with them."
Hollywood life
Shiels had long harboured a desire to move to LA, but says anxiety stood in the way. Once she worked up the mental strength to move – her anxiety having been dealt with – she embraced the process fully.
"It's a lot of hard work," says Shiels of Hollywood life. "But it's all good."
"My goal was always to work on American TV and film – that's always what I wanted to do."
She moved to the USA on her own, at first living in a grim flat, while searching for an agent and manager and setting up auditions. It wasn't the most glamorous of starts.
"A friend of mine stayed with me for a while. She moved out – she couldn't take it, and then I moved on from there a couple of months later," she recalls, laughing.
Helping hands
Her connection to David Lynch was strong from the get-go, thanks to his casting director Johanna Ray. A few years ago, Ray was shown footage of Shiels from a project with Randall Wallace (writer of Braveheart) which didn't end up getting off the ground.
"Years later he showed her my screen test, because he really liked it. She watched it and liked me, and without me knowing she had reached out to my agent in London," recalls Shiels. Ray told her she had a "big star beside your name" and thought she would be perfect for a role in a Lynch project.
"She told me 'If you ever come to America I would like to help'," says Shiels. "So when I got to America I said, 'hey Joanna I'm here, help me out'."
That Ray got back in touch with Shiels and helped nurture her burgeoning Hollywood career is testament to Ray's character in an industry where things like this don't happen often.
"She's not someone who would do that lightly," says Shiels. "I know she did something similar with Naomi Watts. She is incredible, the talent that she nursed and helped and the people she worked with. She's the best independent movie casting director of her time."
'People are fascinated'
Twin Peaks debuted on US TV in 1990. It told the story of the murder of teenager Laura Palmer, while exploring the dark side to the small Washington town she lived in.
It's a crime drama, but not as you know it, with lingering shots of misty mountains, declarations about 'damn fine coffee', stand-up members of the community turning out to be nefarious criminals, and an aesthetic that robs from the supernatural, with a retro touch straight from the 1950s.
Its charms were many, its wry humour and eccentricities making it feel like nothing else on TV at the time – and there's been nothing like it since.
Talk of a third series (the first being ranked as incredible, the second not always up to scratch) had been rumbling since 2014, but it wasn't until 2016 that people knew series three was absolutely going to be a real thing.
As you'd expect with director David Lynch – if you've seen any of his movies, like Blue Velvet or Lost Highway – the audition process wasn't exactly straightforward. Johanna Ray interviewed Shiels, then showed the footage to Lynch, and a character was constructed around that.
We've been told in advance that Shiels cannot, under any circumstance, mention anything about the content of the new series. It is shrouded in so much secrecy that all we know is that it's 25 years on from the first series, stars a lot of the same characters (Kyle Maclachlan is back) as well as newer people.
But that doesn't stop people from asking Shiels what to expect. "People are fascinated.
It's either they want to ask you spoilers or people who absolutely don't want to hear anything."
She didn't catch Twin Peaks first time around, but was introduced to it by her Cowboys and Angels co-star Michael Legge in the early 2000s. "I watched it with him and it was terrifying and hilarious all at once. I was hooked. I watched it all in one week."
Shiels is effusive in her praise for Lynch, particularly in how he depicts the dark underbelly to seemingly 'normal' homes and communities.
"What I love about David's work is I love the artiness of it. I feel art is something that makes you want to share and that's something I've only realised in recent years," she says. "When you are looking at art you want to say 'look at this' and talk about it and that's what I feel his work is."
She's also taken by how Lynch creates his female characters – far from being ciphers, she says "he always makes very fully rounded women and they're imperfect".
"He doesn't go for the perfect bodies either," something that's rare in Hollywood, she says. "It's always real people. The way he shoots it too, it's not like there are these wonderful filters making everyone look great."
Especially with Twin Peaks, he's looking at very normal things but you realise under the surface things are not what they seem. People are having affairs left, right and centre, the homecoming queen is taking a lot of drugs and working in a strip club. I love not knowing what's going on behind closed doors.
She poses the question: what would a David Lynch film about Irish society be like? "He highlights the weird that lives within normal society – what is America? It's not just America – Ireland has been to one of the darkest places in the world, the things we have revealed in recent years."
Source: helenevienna/YouTube
'I'm an all-or-nothing person'
The experience of moving to Hollywood and attempting to start a career in Tinseltown varies from person to person, says Shiels.
#Open journalism No news is bad news Support The Journal

Your contributions will help us continue to deliver the stories that are important to you

Support us now
"Everyone's different – it's easier if you have a lot of finances for sure," she says. "But it's always a struggle, it's a huge culture difference which you don't naturally expect."
Little things like getting your social security number, work permits, visas, a manager – they can take up a lot of settling-in time. You have to resit your driving licence to get a California licence, and build up a credit rating so that you can rent a house.
"There are so many boring things, administration, that you are not even thinking about," says Shiels. "For me I wanted to live in America always, whether I was an actor or not."
She describes herself as an "all or nothing" person, who had originally wanted to work with horses. But after seeing an acting showcase, she changed her mind and pursued that career.
A quote her mother once wrote down for her shows the sort of tenacity Shiels has. "She'd heard a female jockey say on the TV that in order to obtain something you must throw your heart over the fence and jump after it," says Shiels. "I've always lived that way."
Source: Twin Peaks/YouTube
Post-Twin Peaks, Shiels isn't resting on her laurels – she's producing a documentary called The Dark Dollar, has an Irish-based project with Stephen Dorff in the works ("it's a dark, dark, movie"), and is also awaiting the launch of a more lighthearted animation project with the BBC.
She still works as a voice-over artist for Final Fantasy. "I love doing voice-over work – it's a whole different type of acting," she says.
'You sacrifice a lot'
The younger Shiels probably couldn't have imagined being at this stage in her career.
"I had always enjoyed watching any form of storytelling and wanted to be involved in it, but it just wasn't something I felt was an option – like being an astronaut wasn't an option," she says.
She had no way of knowing how to get into the business until she attended the showcase and realised she could study acting. But though she's totally secure in her career choice, she laughs when she says that "every single day I think I should quit".
"It's a ridiculous business, it's so hard," she says. "You need to tolerate the craziness and not take anything personally, because there's no decided route, there is no path that someone has done before. There's no questions and answers, there's question and discussions."
I am just following what I want to do and you sacrifice a lot to do it. But right now there is no other choice but to do that, for me.
Working as a producer and trying to get networks to pick up her pilot has been "an interesting experience", she says. "Many times I've ended up in a ball crying 'I can't do this, I can't deal with these people'."
She says that the show Entourage "was quite true in how it depicted some of the business" in Hollywood.
"I'm a peace-loving hippy so I'd find it difficult," says Shiels. "I am good at not taking things personally but also not good with verbal attacks, but that seems to be a way of communicating here or dealing with things. But they seem to forget straight away."
But back to a more positive experience. On Sunday night, cast and crew will gather with close friends and family to watch the premiere,  most of them seeing for the first time what season three of Twin Peaks is all about.
"We meet up quite often, the cast and crew. They are all really lovely – I don't hear anybody shouting on that set," says Shiels of her memorable time working with them.
While her Irish family won't be there, Shiels is due a trip back to Ireland – and some pampering. "I can't wait to hit Lemons beauty salon and have facials with my mum," she says as we say goodbye. She might be in Hollywood, but her heart lies back home.
Twin Peaks season three premieres in the US on Showtime on Sunday evening.