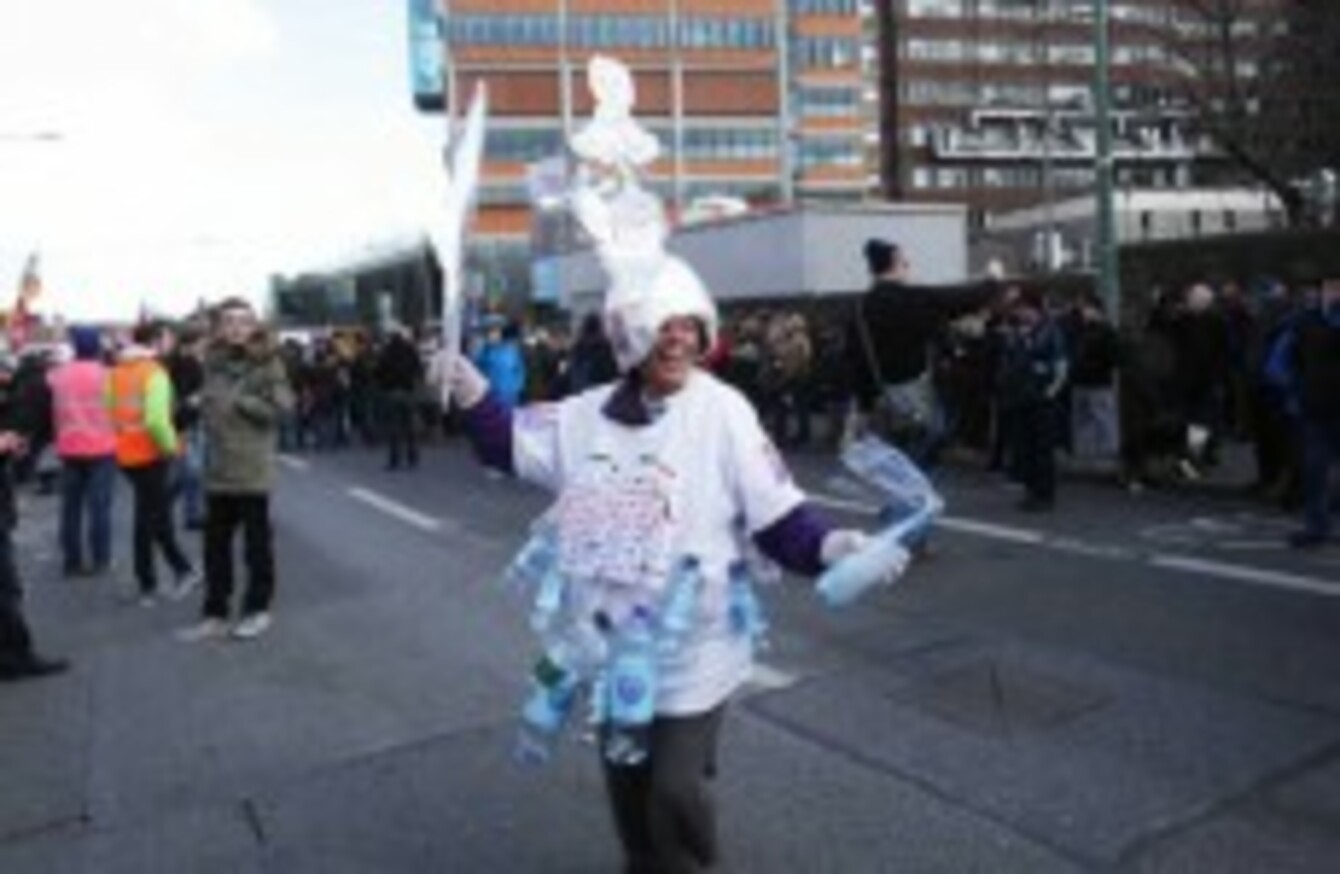 File Photo Anti-water charge protest Dublin
Image: Leon Farrell via Photocall Ireland
File Photo Anti-water charge protest Dublin
Image: Leon Farrell via Photocall Ireland
Updated 17 March, 06:54
AN ANTI-WATER charge float has been banned from the St Patrick's Day parade in Limerick with the group receiving an e-mail from the organisers yesterday morning.
The 'We Won't Pay' campaign said it had been told it was entry 41 in the parade and had been preparing for over a month.
We Won't Pay campaigner and organiser of the campaign's entry Amanda Keane told TheJournal.ie that the application was under the name We Won't Pay.
The group said it was even sent a pass last week. However, it received an e-mail today from the organisers Grooveyard saying it was not allowed to take part as it "does not have any place for political agendas". Keane said:
"We had been given permission for a group of 25 to take part weeks ago, and had that reconfirmed as late as last Thursday.
"However, today we received an e-mail that said we could not take part because we are political.
This is not political. We are ordinary men, women and children from Limerick who came together and made a wonderful colourful display.
'Day for celebration'
The Mayor of the Metropolitan District of Limerick, Councillor Michael Sheahan said it's unfair for a protest group to take part in the St Patrick's Day parade as the day is for celebration and being positive.
He said he heard about the We Won't Pay group taking part when he got calls from people asking if he knew they were marching in the parade.
He said he had assumed City Hall controlled what groups were taking part and that he was concerned when he realised that it was contracted out to a company in Galway.
Keane added, "I'm disappointed to see the Fine Gael Mayor intervening in the St. Patrick's Day parade to protect his party and Irish Water and to veto the presence of our group in the parade.
However, Shehan told TheJournal.ie, "I'm mayor of Limerick not Fine Gael Mayor.
"I have no input into who marches and who doesn't.
We have never stopped anyone protest but please let's not have negativity on the day.
"How can you be positive with a float that says, 'We won't pay'."
Keane said her children were very excited about taking part:
We have all been working very hard, making costumes up for the kids who were taking part, getting music organised and putting together our big eye-catching centre piece for the parade.
"Obviously the Mayor is very scared that our call for a boycott will get an echo and embarrass his party."
Float to continue
Keane told TheJournal.ie that the float will be set up near the parade after all the work that went into it.
"We plan to set up our float somewhere nearby so everyone can see the entry we had planned.
"It is a fun, colourful and entertaining entry with kids, costumes and music which everyone can enjoy, even the Mayor.
In fact I invite the Mayor to come down and check it out too, maybe get his face painted, if he can just relax for the day and stop being so defensive of his party and Irish Water.
Mayor Sheahan said that nobody has approached him from the group and added, "I'll be curious to know how they will be able to manage the display in a positive way.
"This is one day in the year that we celebrate Ireland and let's not have any 'We Won't' in it. It's not a day for that."
TheJournal.ie have contacted the organisers of the parade but have not yet received any response.
First published 20.45, 16 March 2015.