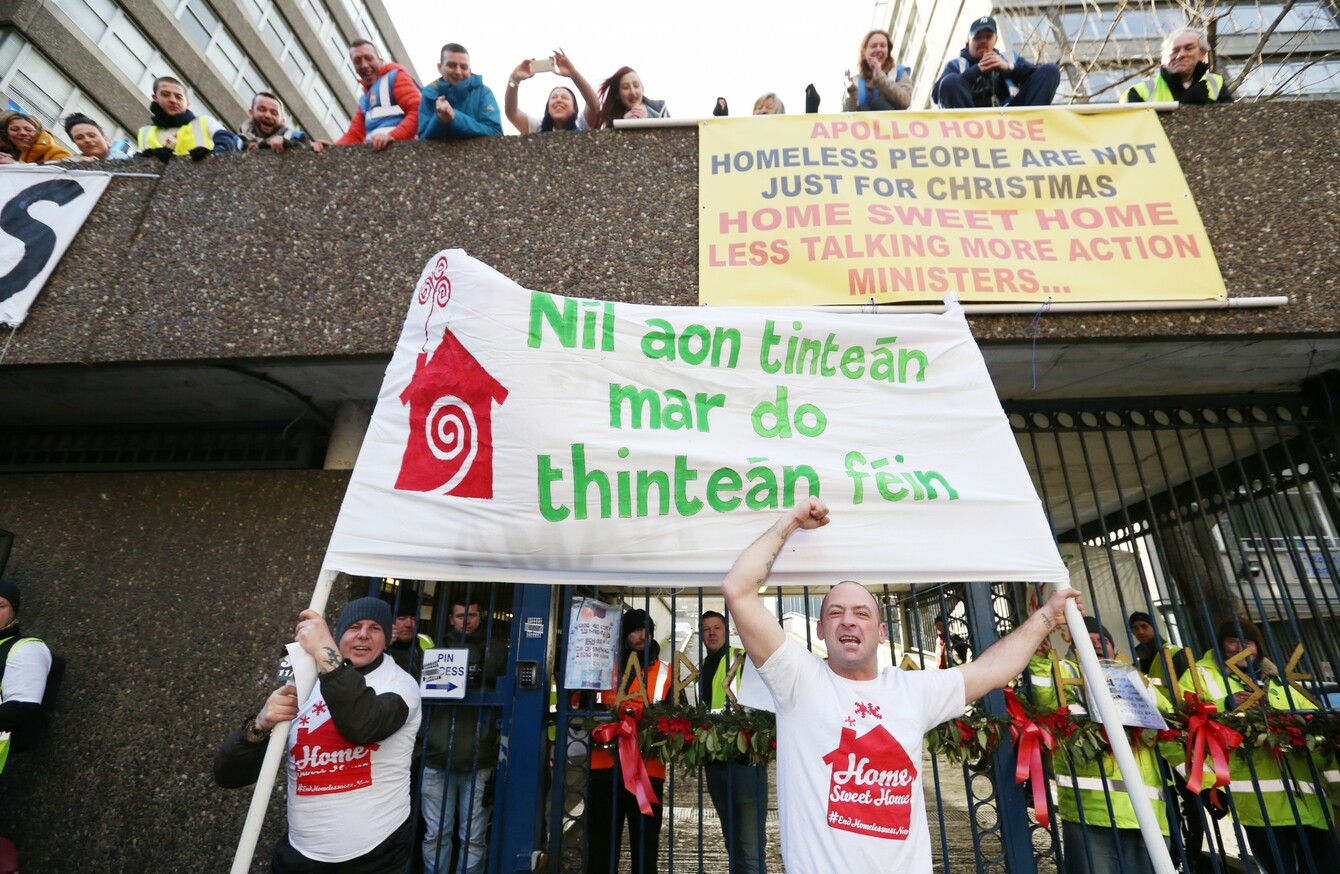 Image: SAM BOAL/RollingNews.ie
Image: SAM BOAL/RollingNews.ie
HIGH COURT PROCEEDINGS brought over the occupation of Apollo House in Dublin City Centre have been formally ended.
Justice Paul Gilligan was informed by Stephen Dowling Bl for receivers over the property today that all the remaining items of property, including furniture and beds brought into the building, have been removed.
During the occupation, a large number of items of property had been donated by members of the public to the Home Sweet Home coalition, the group that organised the takeover.
All persons who had occupied the building left Apollo House by 12 January.
However, the legal action, where the receivers sought orders ending what they said was an illegal trespass, was adjourned on several occasions so that all the items brought into the building could be removed.
The judge welcomed the news and struck out the proceedings with no order.
Solicitor Gary Daly who represented the defendants in the case musician Glen Hansard, trade unionist Brendan Ogle and activists Aisling Hedderman and Carrie Hennessy, who are all members of the Irish Housing Network group, thanked the judge.
The occupation began in December when the building, located on Tara Street and Townsend Street in Dublin, was offered as accommodation to the homeless by the Home Sweet Home group.
Receivers appointed over the building then secured a High Court injunction requiring the occupiers to leave the building.  Justice Gilligan placed a stay on his order allowing the occupants to remain on until noon on Wednesday 11 January.
An application for an extension of the deadline was refused and all the residents left the following day.
The injunction was sought by Tom O'Brien and Simon Coyle of Mazars, who were appointed joint receivers over the building by a Nama related company Nalm Ltd in 2014, to vacate the property and restraining the illegal trespass at Apollo House.
The joint receivers were appointed over the property by Nalm Ltd. It acquired loans advanced by Anglo Irish Bank to the building's owners Cuprum Properties Ltd who had defaulted on borrowing of approximately €357,000,000.
The receivers intend to sell the building, which forms part of a block due for re-development.