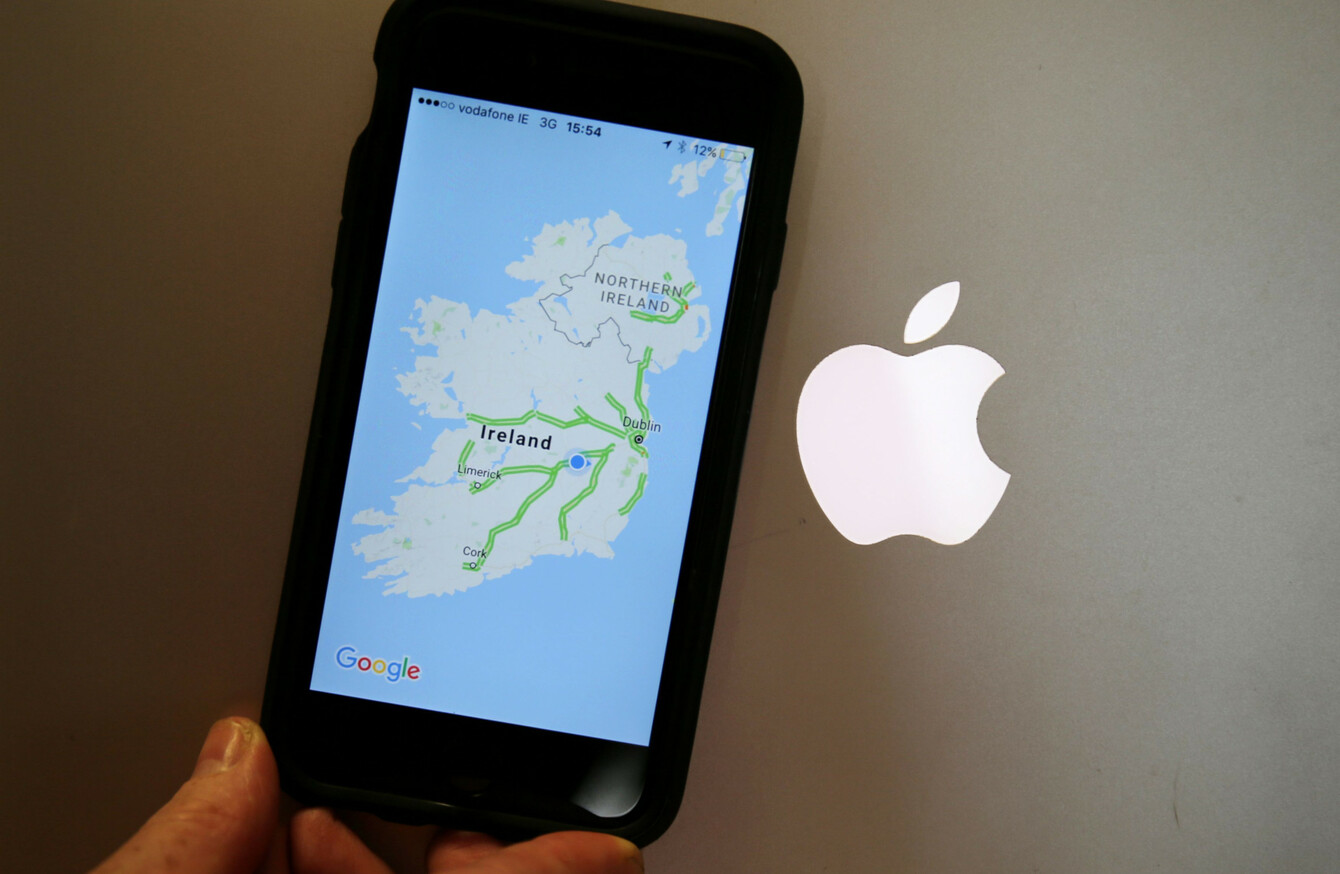 Image: Niall Carson
Image: Niall Carson
Updated 10.30pm
A HIGH COURT judge has refused to allow two local residents appeal an earlier decision of his, clearing the way for tech giant Apple to develop the first phase of a planned €850 million data centre in Athenry, Co Galway.
Mr Justice Paul McDermott dismissed the residents' case last month in the High Court and today refused an application for a certificate for an appeal of his decision.
The judge said he was not satisfied the case raised a point of law of exceptional public importance, as is required for an appeal, or that an appeal would be in the public interest.
He said many of the points raised by the residents, in seeking an appeal, sought to "reargue aspects of the case" argued before an Inspector of An Board Pleanala and later before him in the High Court.
"It seems to me that much of this argument is based on the fact that the applicants disagree with the inspector's conclusions and disagree with the court's application of the legal principles" which governed and applied to the case.
'Dramatic public importance'
Local residents Sinead Fitzpatrick and Allan Daly, of Lisheenkyle, Athenry, claimed the High Court wrongly found that AnBord Pleanala met its obligations by carrying out an Environmental Impact Assessment (EIA) on Apple's planning application for one data hall. They claimed the Board was required to do an EIA of the masterplan for eight data halls.
Their concerns included the considerable energy demands required for the potential development, intended to include eight data halls on completion within 15 years.
In seeking an appeal, Michael McDowell SC, for the residents, had argued that it was a matter of "dramatic public importance" that the disputed permission was granted by AnBord Pleanala in a manner that "sliced and diced" the overall proposed development.
The data centre development will increase demand on the national grid by 6-8%, the High Court heard. If other planned data centres are built around the country, the increased demand could rise to 32%.
Although a Board inspector raised concerns about the energy demands, and their impact on Ireland's obligations to reduce greenhouse gas emissions, the Board itself failed to take a position on that key issue, the residents claimed.
Mr Justice McDermott said "all parties were satisfied that this case was not one in which Apple sought to avoid carrying out" an EIA "by project splitting".
Although AnBord Pleanala did not carry out an EIA on the likely effects of possible future construction of seven additional data centres, it did not exclude consideration of their potential effects and the power likely to be required for same "as fas as practically possible".
The purpose of the Environmental Impact Assessment is achieved if account is taken "as far as practically possible" of any current plans to extend the specific project in hand.
He said an Environmental Impact Assessment should not be rendered meaningless.
Citing Advocate General Gulman of the European Court of Justice, Mr Justice McDermott said the "fundamental principle" is that an Environmental Impact Assessment must be carried out for projects in respect of which the public or private developer is seeking development consent.
Otherwise, there would be difficulties in laying down what comprises "an entire project" when that concept is not the same as a "specific project in respect of which an application has been submitted".
'A long time'
An Environmental Impact Assessment is not mandatory for projects other than the specific project for which authorisation is sought "even if the actual application relates only to one part of a longer road link which, as normally happens in practice, is to be constructed in stages," Mr Justice McDermott said.
#Open journalism No news is bad news Support The Journal

Your contributions will help us continue to deliver the stories that are important to you

Support us now
Speaking outside court, Noel Doherty, for the campaign group 'Athenry for Apple' said: "This has taken a long time. It's been going on now since 2015 and it is now 2017.
Hopefully this is the end of it and Apple will come quickly and turn the sod on the site."
Speaking outside court, Seán Canney, Independent Alliance TD for Galway East, said: "This is the final chapter in the history of this case. The important thing is the judge has made his decision and I think at this stage, hopefully common sense will prevail and there will be no other appeal to any other courts."
"I would like to say, the Taoiseach is over in America and he'll be meeting executives tomorrow and I think it's important we have good news going there with the Taoiseach. Hopefully this project will get onto the ground as quickly as possible."
"And the other thing we have to do to from a political perspective is look at this project. I suppose mistakes have been made in the planning process that we have and we need to make decisive decisions on how we deal with strategic infrastructure development of this country.
The most important thing this project does for Ireland is it showcases Ireland and that rural towns in Ireland can accommodate the big, big companies and their willing to come here so we should be openly bringing them here making sure they go through the planning process but in more managed way so there is a time scale and a time frame."
"We need to give that message out to the world at a time when we have Brexit coming down on top of us. We need to say we're open for business, we're a friendly country and we have the places to do business and we need to make the sure planning process matches that aswell."
"The fear was that if this went on, if it was dragged out and Apple pulled out, we would be creating a very sad precedent. We have the IDA, the Irish Government, all the agencies working together to make sure Apple remain with us and I would like to compliment them on their commitment right through this process."
"The local people in Athenry gave a vote of confidence to Apple when they had over 3,000 people out on the streets last November to demonstrate that they want Apple in Athenry. I think that in itself was a great encouragement to apple to remain in this process."