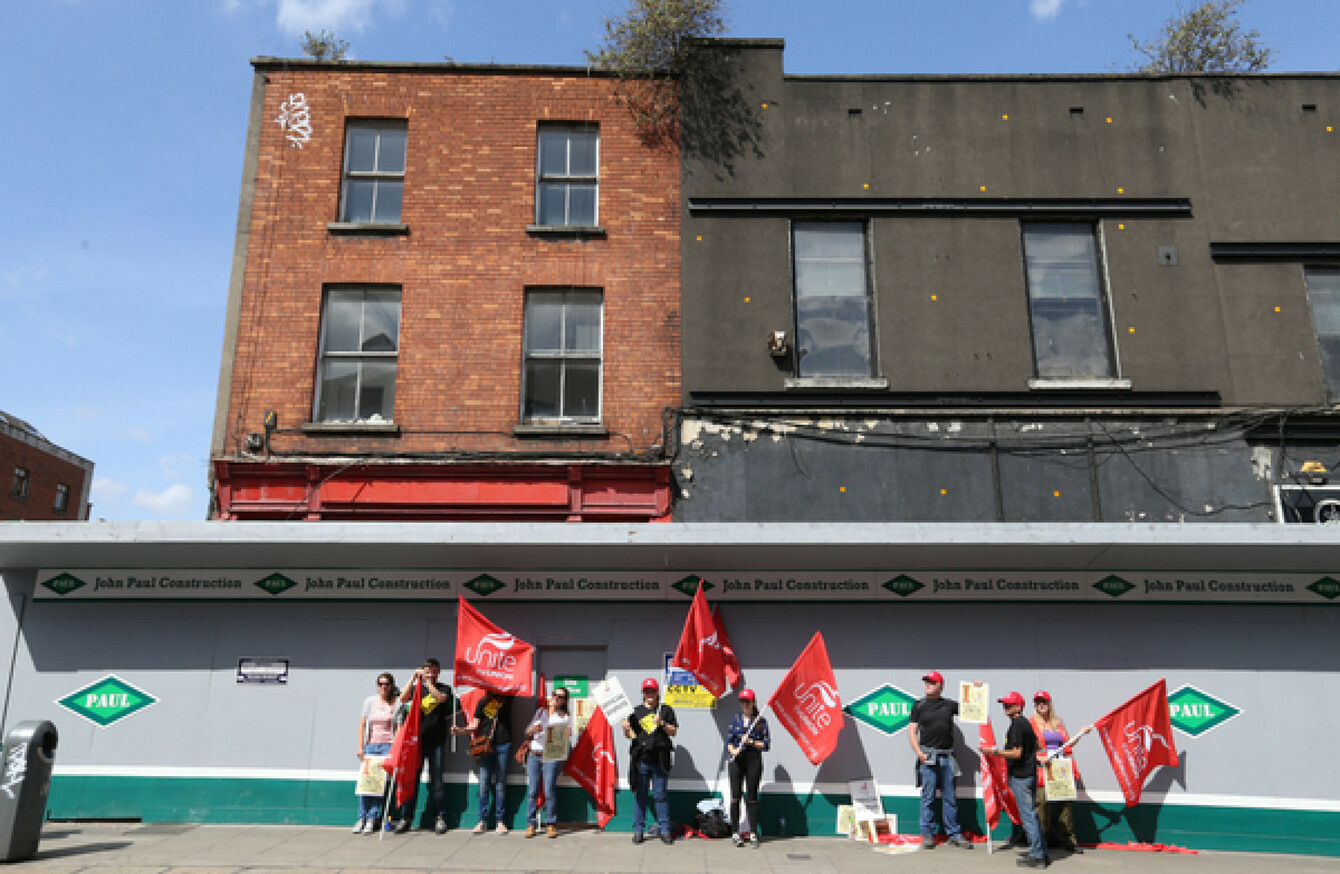 Archaeologists in Dublin city centre on a day-long strike last Thursday.
Image: Sam Boal via Rollingnews
Archaeologists in Dublin city centre on a day-long strike last Thursday.
Image: Sam Boal via Rollingnews
Updated 4.10pm 
UNITE TRADE UNION  has accused the Irish Archaeological Consultancy of paying "poverty wages" to its workers, threatening further strike action over pay claims.
Unite was commenting on a claim made by Irish Archaeological Consultancy (IAC) which stated it had increased wages by over 65% in the last four years.
The IAC employs a number of core staff archaeologists, as well as a number of field archaeologists who work on specific projects.
In a statement, an IAC spokesperson said this morning that it deals with staff directly on contractual matters but that it had increased staff wages in recent years.
With respect to pay, IAC has consistently made efforts to improve our staff's pay and conditions in response to the recovery in demand for archaeological services and line with what the company can afford. To this end, we have increased pay to our staff by up to 65% over the last 4 years.
Unite regional coordinating officer Richie Browne said that IAC is "clearly confused about its own pay rates".
"Given that our members' contracts stipulate an hourly wage of €12.50 – just slightly above the 2018 Living Wage rate – this means that the company is claiming to have paid archaeologists around €7.60 at the start of that period.
This would have been below the National Minimum Wage of €8.65 applicable at the time, and would have meant that IAC was breaking the law and subject to a referral to the National Employment Rights Agency or its successor, the Workplace Relations Commission.
Browne added:
"In fact, our records show that members were paid the €9.50 per hour – which means that, according to IAC's own statement, had they increased wages by 65%, they should now be paying approximately €15.67 per hour.
"Yet experienced archaeologists are only being paid €12.50 per hour to defend our heritage."
The IAC spokesperson said:
This is untrue, IAC has never paid below the minimum wage.
"Over the past few years and in accordance with the country and hence industry coming out of recession IAC have increased wages across the business at all grades of employees. Some of these increases have been in the region of 62-65%.
"We note that at some point in March 2018 Unite circulated a letter throughout the
commercial archaeology sector, seeking additional increases in pay/rates. Prior to
March 2018, IAC has been offering salary packages on projects, at, or up to 4%
above those rates."
Dig4Decency
Last Thursday, archaeologists downed their tools on Dublin's Aungier Street for a day-long strike as part of the ongoing dispute.
Workers there are currently focused on the remains of a medieval church, a 12th-century town ditch, and three houses in the "Dutch Billy" style dating back to the 17th and 18th centuries.
This was following on from a day-long strike by archaeologists in Macroom in Cork earlier this month.
Unite has said that the IAC will face further strike action if it does not engage with workers either directly or at the WRC.
"Our members will continue to 'Dig4Decency' until the company engages with Unite on our pay claim," Browne concluded.