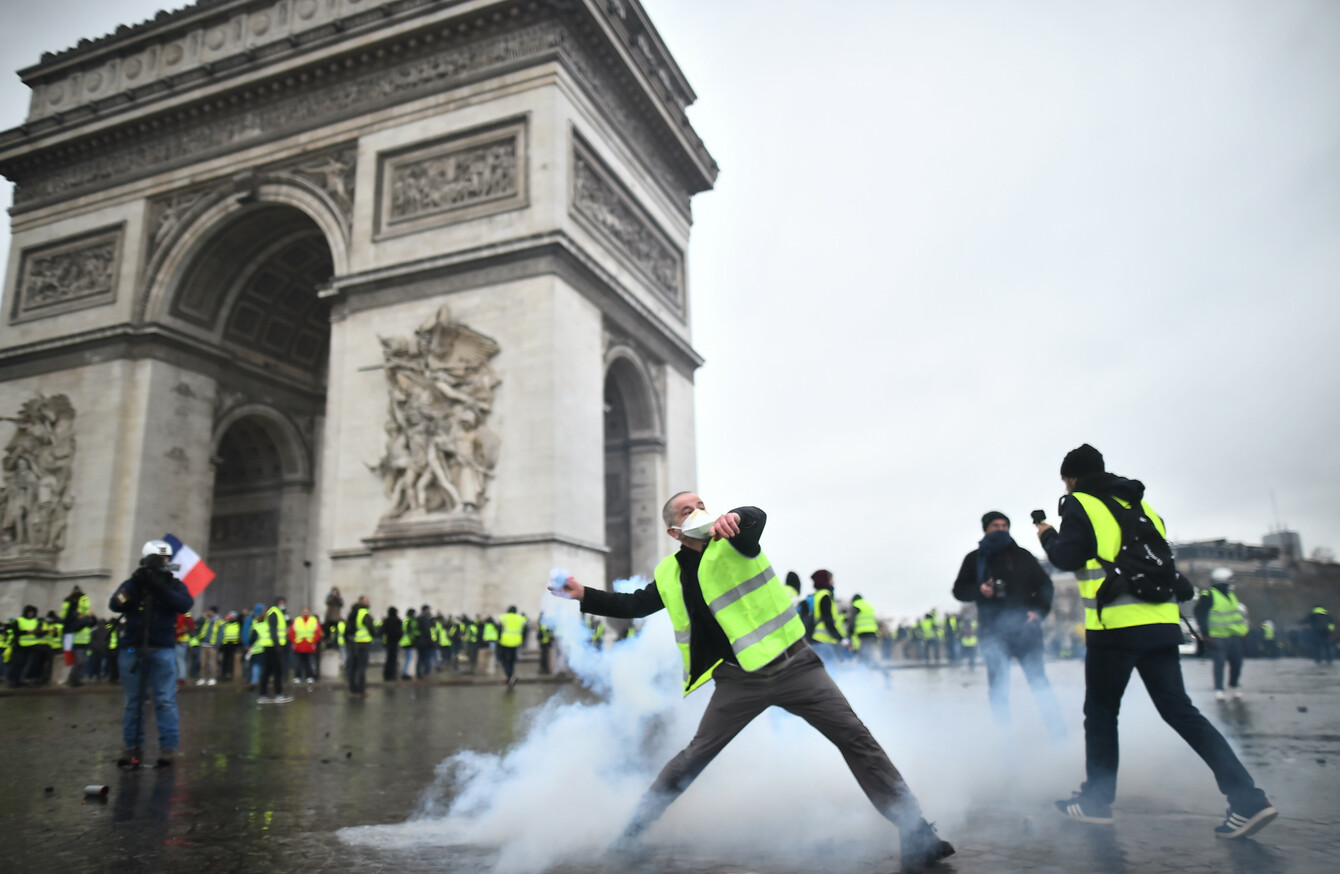 Image: Blondet Eliot/ABACA
Image: Blondet Eliot/ABACA
Updated Dec 1st 2018, 4:44 PM
AT LEAST 224 people have been arrested and 80 injured in Paris today after police fired tear gas to disperse protesters trying to tear down barricades on the Champs-Elysees as hundreds converged on the city for new demonstrations.
Growing anger over fuel taxes has now morphed into a wide-ranging anti-government movement.
Clashes between police and demonstrators wearing high-visibility yellow vests – the symbol of the protest against President Emmanuel Macron – broke out soon after crowds began gathering near the Arc de Triomphe, at the top of the famous avenue.
While several dozen were allowed through after an ID check and search, many others – some wearing gas masks or ski goggles – remained behind and fought with police who fired rounds of tear gas.
Spreading from the Champs-Elysees, protesters set cars and construction equipment alight. 
An estimated 5,500 demonstrators were counted in Paris and 36,000 in total across the country, where violence marred only a handful of protests which for the most part remained calm.
Interior Minister Christophe Castaner said there were 200 "peaceful" demonstrators on the Champs Elysees, while "1,500 agitators outside the security perimeter came to fight".
Other protests taking place around France were over a surge in fuel prices this year which protesters attribute to a series of tax increases to finance the government's anti-pollution efforts.
"With all these tax hikes, there's not much left for eating at the end of the month," Philippe, a high school cook in the Essonne region outside Paris, said near the Champs Elysees today. 
The protests come a week after violent clashes on the avenue last Saturday, marked by burning barricades and vandalism which Macron compared to "war scenes".
Some 5,000 officers have been mobilised and were carrying out ID checks and searches for people hoping to reach the Champs Elysees.
"Our responsibility is to ensure that everything goes as well as possible," Castaner has said.
Castaner had already said on Thursday that "far left and far right activists" were preparing for fresh clashes with the police.
 'We want our dignity' 
The "yellow vest" movement erupted on social media back in October and has since become a wider protest against Macron, who is accused of failing to recognise the rising costs of living that has left many struggling.
The first day of protests, on 17 November, attracted around 282,000 people. Some 106,000 turned out last Saturday – including 8,000 in the French capital.
The protests include many pensioners and has been most active in small urban and rural areas where it has blocked roads, closed motorway toll booths, and even walled up the entrance to tax offices.
Two people have died and hundreds have been injured in the protests which opinion polls suggest still attract the support of two out of three French people.
Attempts by the government to negotiate with the movement have failed, in large part because representatives have insisted on public talks broadcast on TV.
"We want our dignity back and we want to be able to live from our work, which is absolutely not the case today," Jason Herbert said after walking out of talks with Prime Minister Edouard Philippe on Friday.
Macron has sought to quell rising anger by promising three months of nationwide talks on how best to transform France into a low-carbon economy without penalising the poor.
He also vowed to slow the rate of increase in fuel taxes if international oil prices rise too rapidly but only after a tax hike due in January.
Many protesters were unconvinced by Macron's speech on Tuesday, however. 
"What we need is something tangible, not just smoke and mirrors," said Yoann Allard, a 30-year-old farmhand.
'Resign!'
Trade union leaders, who met yesterday with Prime Minister Philippe, have called for a moratorium on January's tax hike, a suggestion which some pro-Macron members of parliament have started to endorse.
The anger has reached French overseas territories, especially on the Indian Ocean island of Reunion.
The minister for overseas territories, Annick Girardin, who was dispatched to the island to talk to protesters, was forced to cut short a meeting yesterday with demonstrators after they booed her and shouted "Macron, resign!"
The movement has also spilled across to neighbouring Belgium, where riot police used water cannons yesterday to disperse stone-throwing "yellow vest" protesters who burned two police vehicles in the centre of Brussels.
Speaking at a news conference at a G20 summit in Buenos Aires today, President Macron said that he "will never accept violence."
"No cause justifies that authorities are attacked, that businesses are plundered, that passers-by or journalists are threatened or that the Arc du Triomphe is defiled," he said.
With reporting from Associated Press.