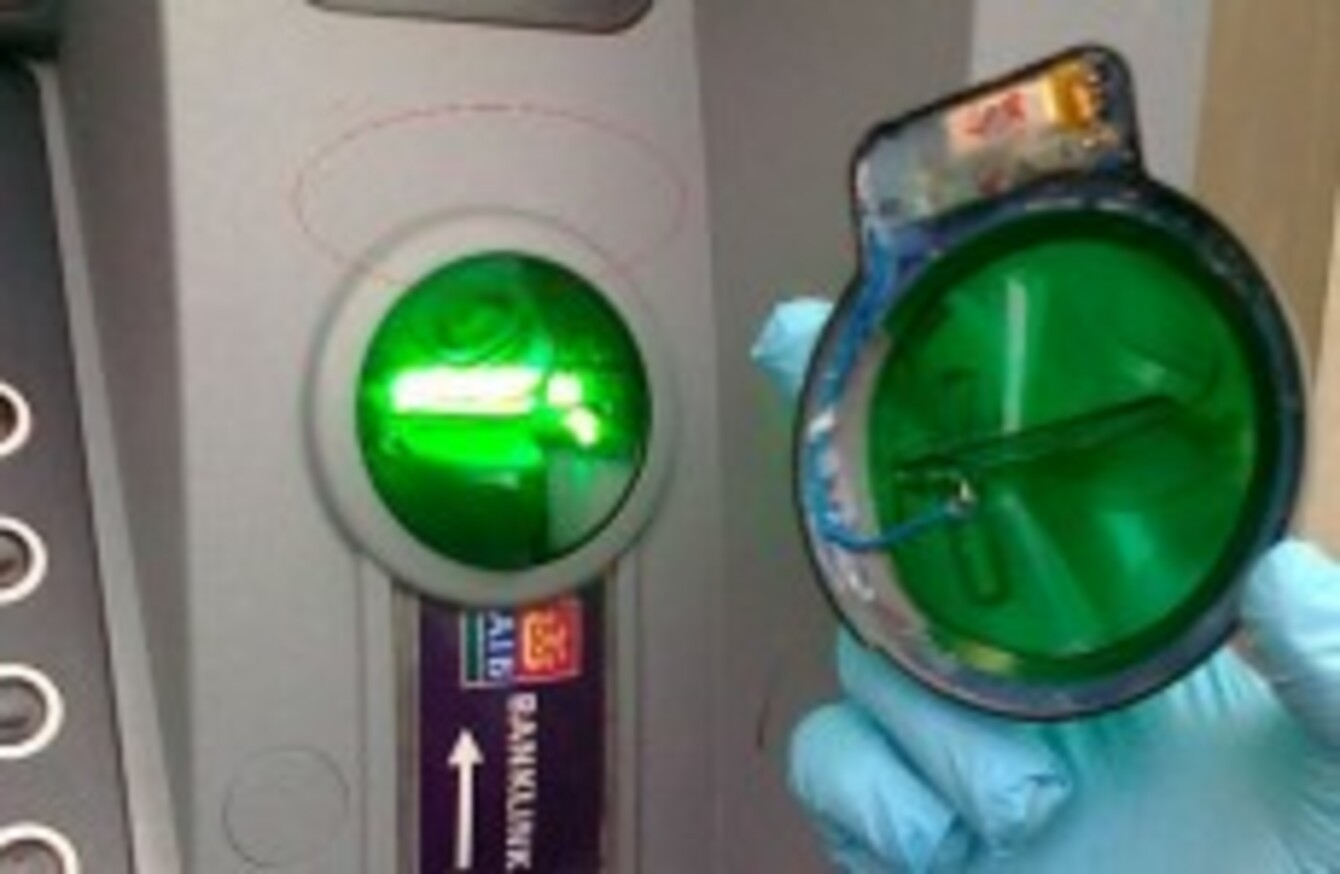 A file photograph of a skimming device taken from an AIB cash machine.
Image: File
A file photograph of a skimming device taken from an AIB cash machine.
Image: File
THE NUMBER of Irish cash machines tampered with by criminal gangs trying to steal money from the public has increased fivefold in the past twelve months.
Statistics compiled by the Irish Payment Services Organisation (IPSO) show that there were 253 incidents of 'ATM fraud' in the first 18 weeks of the year – already more than was recorded in all of 2010.
In fact, breaking the stats down on a month-by-month basis, the rate of fraud incidents – of which 'skimming' forms the greatest majority – is over five times higher so far in 2011 than it was for the same period of last year.
After skimming, the most prominent form of ATM fraud is 'cash trapping' – where a covert mechanism is fitted to an ATM machine which then diverts cash to a hidden storage panel, and not to the customer whose account is debited nonetheless.
Gardaí confirmed that investigations into the growing spate of ATM skimming are ongoing – but were unable to tell the public which machines might be vulnerable to the practice.
A capital problem
AIB has approached a number of customers in recent days, informing them they had been victims of cashpoint fraud at various locations in Dublin city centre – but some of those readers told us the bank could not say exactly which ATM machines had been compromised.
Though the bank initially cited ongoing investigations in not telling customers which cash machines were vulnerable, it eventually told one of the readers it simply did not know which machines had been attacked.
AIB said they could not disclose which ATMs had previously been involved in the practice, saying they were "part of an ongoing Garda investigation"; likewise, Gardaí declined to offer details of machines affected – saying the devices could "turn up at any ATM machine".
They directed members of the public to the Garda website where they could obtain advice on how to avoid having their accounts compromised.
"If you do see something suspicious, don't try to remove it – call the Gardaí or AIB," a spokeswoman for AIB added.
Another customer, of Bank of Ireland, told us they had only spotted fraudulent transactions on their cards when examining their statements – because the transactions were to prominent Irish companies of which the cardholder was a regular, legitimate, customer.
IPSO, however, was able to provide some details on the counties affected – showing ATM fraud to be more prominent in counties Cork, Meath, Wicklow and Wexford after the capital city, Dublin, which accounted for the overwhelming bulk of cases.
Time-delayed thieving
IPSO's Una Dillon said that the rate of skimming activity had reduced in recent weeks – but warned that gangs behind skimming could strike long after a card's details had been violated.
"In February and March, more up-to-date skimming decides were rolled out, but they were stopped completely in May and June… [but] skimming could have been successful in October or November and the criminals might not use a card for a couple of months."
Often such delays could arise because some gangs would skim card data solely to sell it onto others, who in turn might sell it on again without ever actually trying to abuse the data themselves first.
Dillon explained that in other instances, gangs would 'skim' the data from a card's magnetic strip, place this data onto a 'blank' card, and then use the card overseas where the more secure chip-and-PIN technology had not yet been rolled out.
Dillon stressed that AIB was not alone in being targeted by skimming, and that all of Ireland's banks and ATM operators were doing much work "in terms of putting preventative measures into place".
While banks were "very very swift at implementing solutions" to security breaches, she added: "Unfortunately criminals keep coming up with new technology which overrides whatever previous barriers were there."
IPSO runs a consumer website, SafeCard.ie, with details on how consumers can avoid ATM fraud.