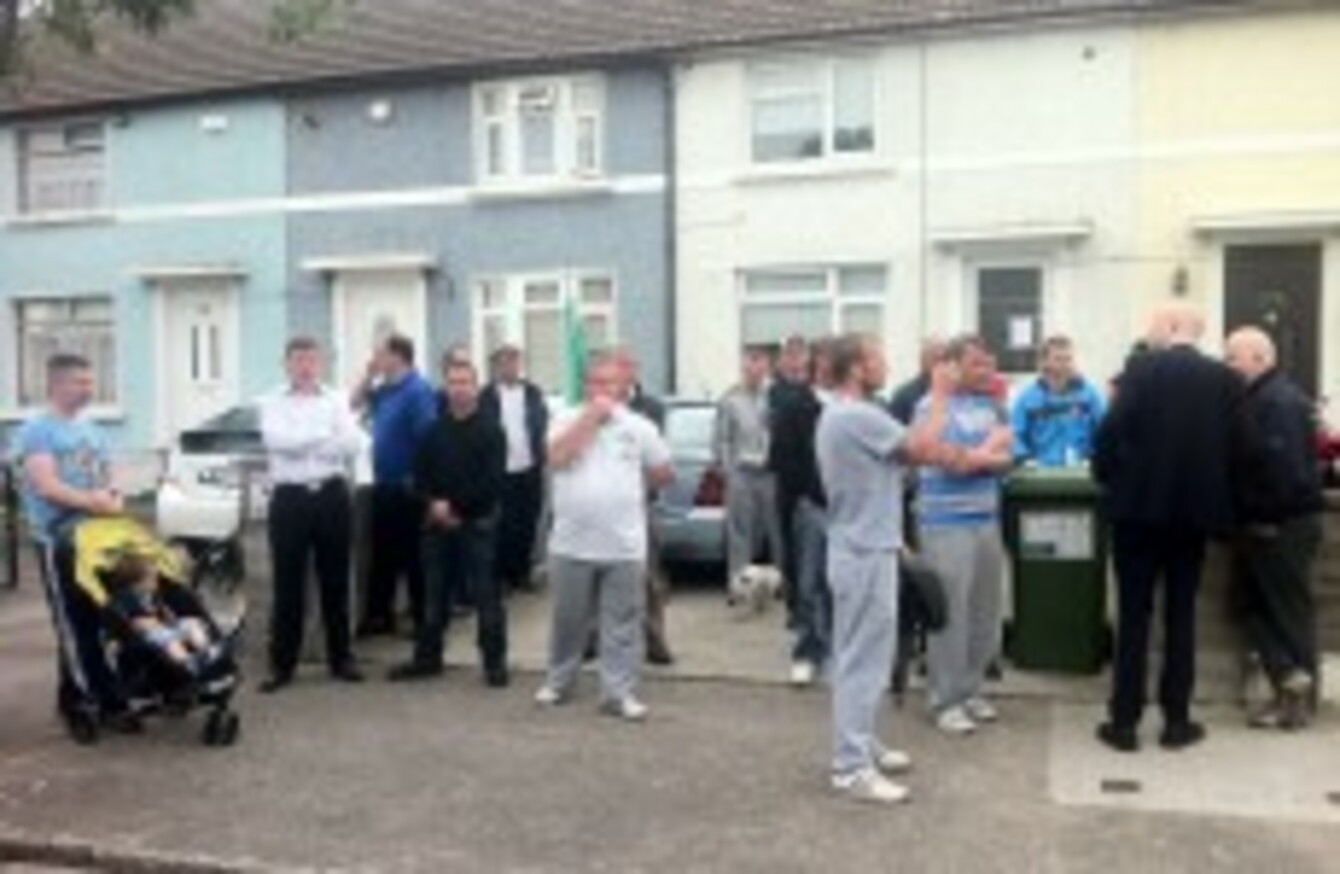 The scene outside the house in Whitehall earlier today.
Image: Alan Donnelly
The scene outside the house in Whitehall earlier today.
Image: Alan Donnelly
AN ATTEMPTED EVICTION of a council house tenant and her daughter from their home in north Dublin was halted today following the intervention of Sinn Féin TD.
Dessie Ellis, a TD for Dublin North West and Sinn Féin's housing spokesperson, said that situation had been "diffused for now" and that he was hopeful that the eviction from a property on Larkhill Road in Whitehall could be averted permanently.
The woman, her teenage daughter and their two pet dogs were facing eviction after a dispute over arrears owed to Dublin City Council which led to the arrival of bailiffs and Gardaí at the property this morning at around 10am.
Dublin City Council (DCC) said it does not comment on individual rent arrears cases and said that repossession of a dwelling only takes place "after every reasonable effort has been made to encourage the tenant who is in arrears to enter into an arrears repayment agreement."
A number of representatives from the Anti-Eviction Task Force and the Sinn Féin TD attended the repossession attempt this morning in order to try and stop it.
Ellis explained to TheJournal.ie today: "It's down to arrears but it is quite complicated in regards to those arrears. She was very upset, she felt there was a lot of things being added and there was a dispute over amount of money she owed to the council.
"She really did not engage as a result of this and it led us to this situation. Hopefully we've got a reprieve now and opportunity to resolve it. I'll certainly give everything to make sure she is not evicted."
DCC said that it has so far this year repossessed five dwellings of the 24,000 rented tenancies it operates in the city. In 2011, it took possession of 18 dwellings.
"The arrears recovery strategy is deliberately initiated at an early stage in order to protect the income of the council and to ensure that the debt is kept at a level that tenants can realistically afford to repay," DCC said in a statement.
It said that it issues three warning letters over the course of seven week period if there is no response to initial correspondence with the third letter followed by a personal visit or phone call to a tenant. Failure to respond to any of the warning letters will result in legal steps being taken.
"At all times tenants are encouraged to enter into an arrangement to repay the arrears. Eviction is only considered after every reasonable effort has been made to encourage tenants with arrears to enter into an agreement," the statement added.
Ellis said that after speaking with "senior management" within the council he was able to stop this morning's planned repossession with all parties due to meet next Thursday to discuss the situation further.
He said that he feared this morning's situation could be replicated with other people who have "serious housing needs" and warned that such reprieves as happened today could not be negotiated in all cases.
"It's coming to a point where we're not going to be able to do this in other cases. We can't be evicting people, we can't be putting people out of their homes. Even if the council took over, we have got come up with compromises," he added.