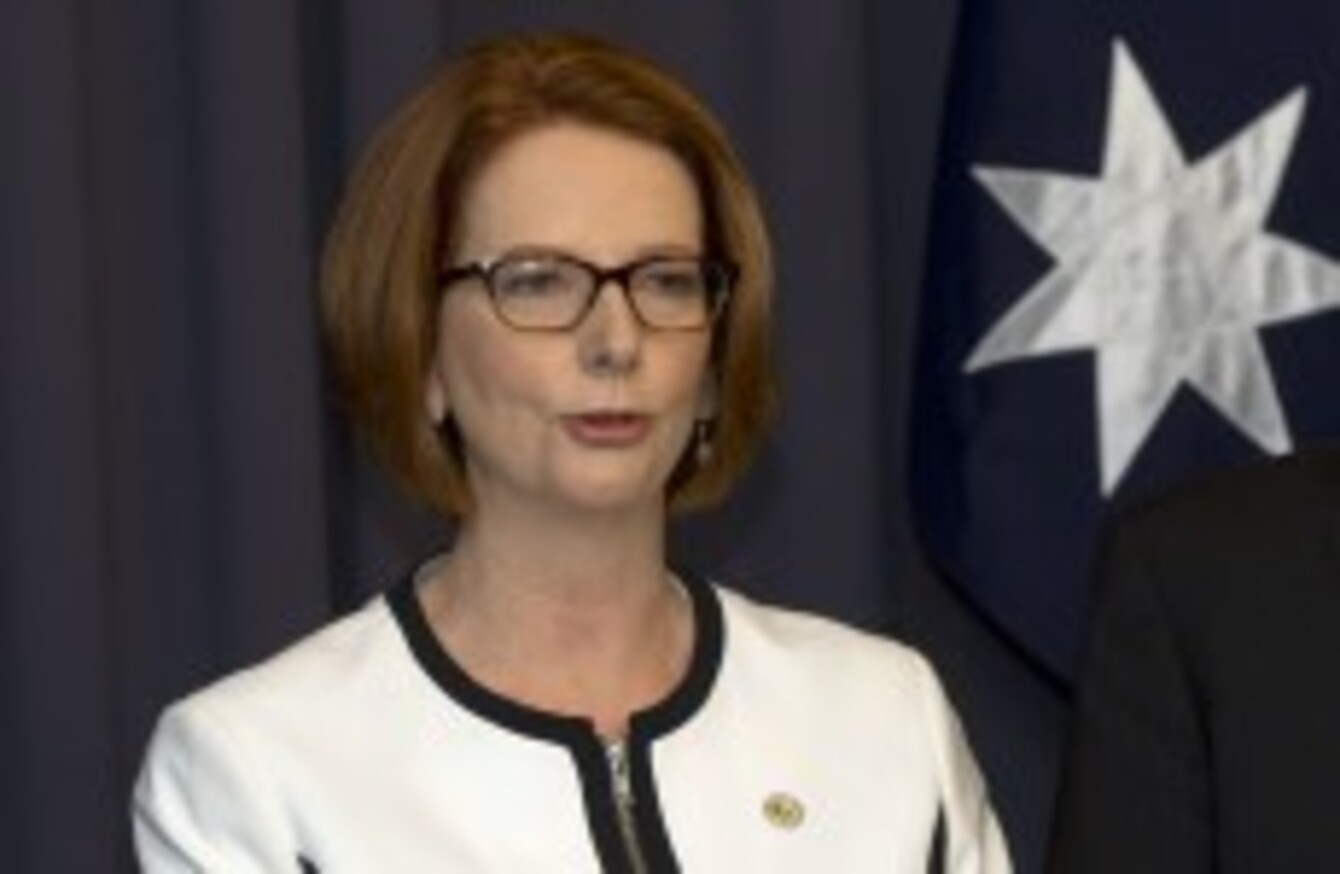 Image: Rob Griffith/AP/Press Association Images
Image: Rob Griffith/AP/Press Association Images
AUSTRALIA HAS OFFERED an unreserved apology to victims of forced adoptions, a practice common during the 1950s, '60s and '70s which separated thousands of parents from their babies.
Prime Minister Julia Gillard told an 800-strong audience today that they endured the brutality of "unethical, dishonest and, in many cases, illegal" practices.
She said the current parliament takes responsibility for the policies which created a "lifelong legacy of pain and suffering". Over the three decades, thousands of newborn babies were taken from their unmarried mothers in Australian hospitals. Some women were coerced, some were given false statements and some were drugged.
"We deplore the shameful practices that denied you, the mothers, your fundamental rights and responsibilities to love and care for your children. You were not legally or socially acknowledged as their mothers. And you were yourselves deprived of care and support," continued Gillard.
"To you, the mothers who were betrayed by a system that gave you no choice and subjected you to manipulation, mistreatment and malpractice, we apologise.
"We say sorry to you, the mothers who were denied knowledge of your rights, which meant you could not provide informed consent. You were given false assurances."
Gillard noted the loss, grief, disempowerment, stigmatisation and guilt felt by mothers, and the belief of those adopted that they were rejected.
"We apologise to the sons and daughters who grew up not knowing how much you were wanted and loved.
"We acknowledge that many of you still experience a constant struggle with identity, uncertainty and loss, and feel a persistent tension between loyalty to one family and yearning for another."
An audience member breaks down as Julia Gillard speaks. (Image: ABC Australia)
Gillard acknowledged the fathers who were excluded from birth records, as well as the siblings, grandparents and other family members "who have shared in the pain and suffering".
"We are saddened that many others are no longer here to share this moment. In particular, we remember those affected by these practices who took their own lives. Our profound sympathies go their families."
The government has pledged $5 million for supports for victims, including records tracing and mental health care. The National Archives will also receive a further $1.5 million for a special exhibition.
The apology comes after a Senate report into Australia's forced adoption practices was published last year. Gillard recognised churches, charities, families, medical staff and bureaucrats as participants in the policies that "struck at the most primal and sacred bond there is – the bond between a mother and her baby". Often, while pregnant, the women would be made work in kitchens and laundries across Australia. Life in the institutions was described as "harsh, punitive and impersonal".
The Prime Minister recalled some of the stories told to her during meetings with survivors, as well as testimonies recounted in the Senate report.
Linda Bryant recalled the "devastating moment" her baby was taken away:
When I had my child she was removed. All I saw was the top of her head – I knew she had black hair.
Margaret Bishop remembered:
In recent years, I have occasionally passed what then was the Medindi Maternity Hospital and it generates a deep sadness in me and an odd feeling that it was a Dickensian tale about somebody else.
But it was not a Dickensian tale, added Gillard.
#Open journalism No news is bad news Support The Journal

Your contributions will help us continue to deliver the stories that are important to you

Support us now
"This was sunny postwar Australia when we were going to the beach and driving our new Holdens and listening to Johnny O'Keefe."
Because of the "bullying arrogance of a society that presumed to know what was best", she continued, women were told they were "selfish", "too young" and "bad mothers".
Like many of her fellow victims, Carolyn Brown never forgot her son.
"I was always looking and wondering if he was alive or dead…From then on every time I saw a baby, a little boy and even a grown up in the street, I would look to see if I could recognise him."
To conclude, Gillard said:
Fellow Australians, no collection of words alone can undo all this damage. Or make whole the lives and families fractured by forced adoption. Or give back childhoods that were robbed of joy and laughter. Or make amends for the birthdays and Christmasses and Mothers' or Fathers' Days that only brought a fresh wave of grief and loss.
But by saying sorry we can correct the historical record. We can declare that these mothers did nothing wrong. That you loved your children and you always will.
And to the children of forced adoption, we can say that you deserved so much better. You deserved the chance to know, and love, your mother and father.
We can promise you all that no generation of Australians will suffer the same pain and trauma that you did. The cruel, immoral practice of forced adoption will have no place in this land any more.
Any Australian who reads the Senate report or listens to your stories as I have today will be appalled by what was done to you. They will be shocked by your suffering. They will be saddened by your loss.
But most of all, they will marvel at your determination to fight for the respect of history. They will draw strength from your example. And they will be inspired by the generous spirit in which you receive this apology.
Because saying 'sorry' is only ever complete when those who are wronged accept it.
Through your courage and grace, the time of neglect is over, and the work of healing can begin.
(YouTube Credit: lilanabella)