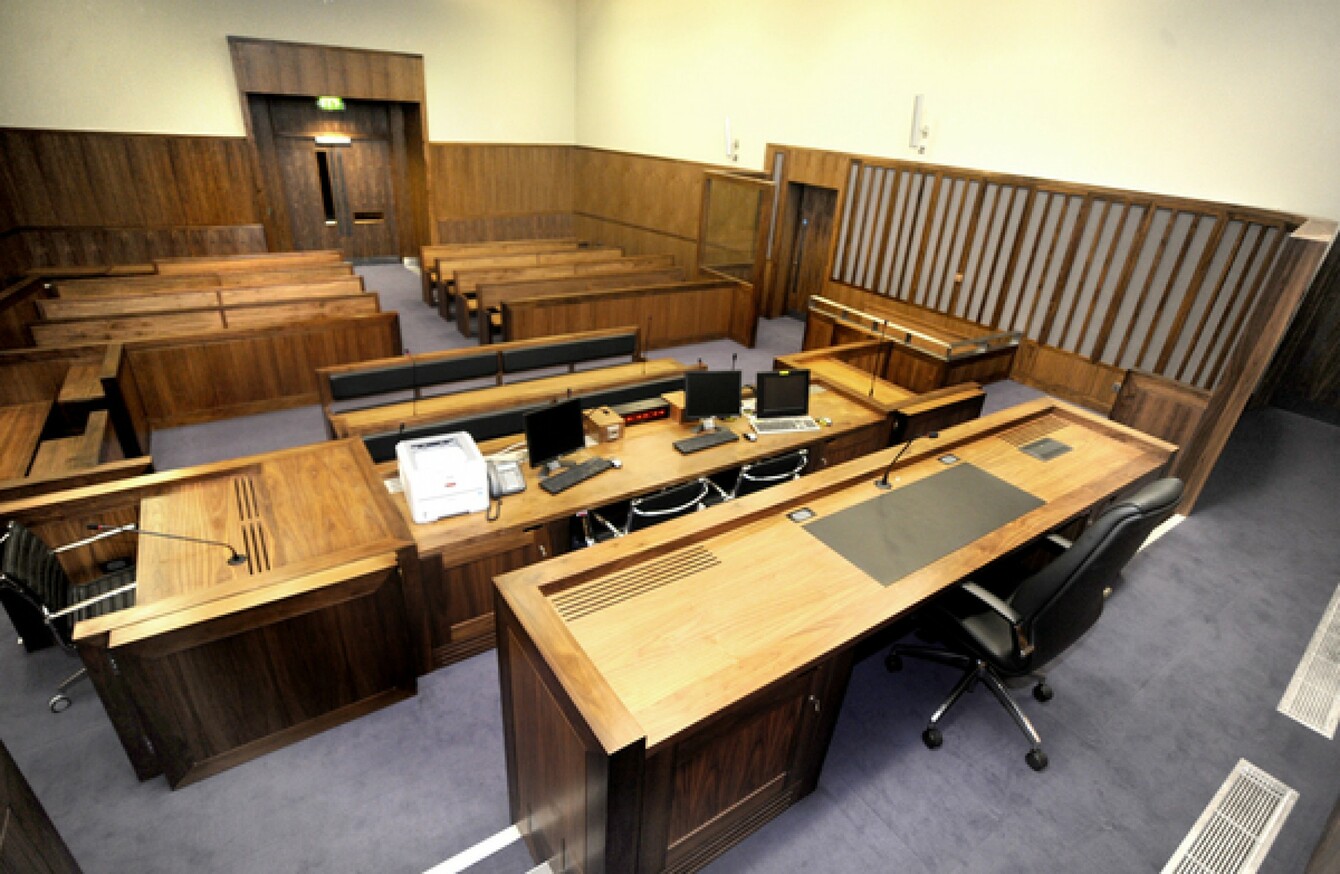 Image: Sasko Lazarov/RollingNews.ie
Image: Sasko Lazarov/RollingNews.ie
Updated Jun 22nd 2020, 6:38 PM
THE SPECIAL CRIMINAL Court has today heard of a dramatic struggle between three gardaí and a gangland criminal armed with a machine gun, which ended up in a bathtub after the gun went off while a primed grenade lay on the floor.
An unarmed garda "narrowly avoided being shot in the head" during the arrest, the non-jury court also heard.
The three-judge court heard the evidence during the sentencing of Derek Devoy (37), from Balbutcher Lane, Poppintree, Ballymun, who had pleaded guilty to possessing a Makarov sub-machine gun with intent to endanger life, or cause serious injury at Crannogue Road, Ballymun, Dublin 11 on 11 March, 2019.
Devoy also pleaded guilty to two charges under Section 19 of the Public Order Act for assaulting a garda and a garda sergeant at Crannogue Road on the same date.
Devoy has also pleaded guilty to possessing an explosive substance, to wit a Yugoslavian M75 hand grenade with intent to endanger life or cause serious injury to property on the same occasion and to 11 rounds of 9mm ammunition.
Detective Sergeant Stephen O'Keeffe told prosecuting barrister Mr Michael Bowman SC that at around 4.35pm on the day three gardaí chased Devoy from Doon Court, where he was observed by a member of the public with the letting off two rounds from the Makarov sub-machine gun.
The court heard that Sergeant Andrew O'Connor, Garda Niall Minnock and Garda Conor Garland were on patrol in the area at the time but were on a refreshment break and had no batons, handcuffs, personal protection equipment or pepper spray. However, they answered a 999 call from a member of the public about Devoy being in Doon Court with the gun.
The unarmed plain-clothes gardaí arrived at Doon Court and saw Devoy with the machine gun, identified themselves to Devoy as gardaí and gave chase when he fled, said Mr Bowman.
The chase ended up in the rear bathroom extension of a separate family's house on Crannogue Road when gardaí found Devoy sitting on the toilet with the gun. When gardaí discovered Devoy, the machine gun was pointed in the direction of Sgt O'Connor and Gda Garland, who directed he drop the firearm. Devoy then lowered the muzzle towards the ground, said Mr Bowman.
Det Sgt O'Keefe said gardaí jumped on Devoy "in a split second", that the firearm was discharged but all gardaí and Devoy ended up in the bathtub before he could be restrained.
Garda Minnock narrowly avoided being shot in the head as the gun went off with the bullet passing his eye-line in the hallway of the extension, said Bowman.
Det Sgt O'Keeffe said Gda Minnock was "very lucky, not to be two steps forward – he believed he had been shot but it was a shell-casing that had struck him".
Gda Minnock kicked the firearm away and other Garda units arrived at the scene.
After restraining Devoy, all three gardaí observed a grenade on the ground with the pin out and the fly-off lever not attached. The grenade, which did not go off, was later detonated in a controlled explosion by army experts at the scene, said Bowman, who added it left the address uninhabitable for a number of months.
Det Sgt said that the grenade had a detonation time of four-or-six seconds with a kill radius of approximately 19 metres and had a serious-injury radius of 30 metres.
Devoy was arrested and taken to Ballymun Garda Station where he behaved violently and his clothes had to be cut from him, said Det Sgt O'Keeffe.
Devoy was transferred to hospital for treatment for a perforated ulcer for four days before he was discharged, said Mr Bowman.
Counsel said that Devoy took possession of the firearm and grenade as he knew their location from another party "in case he ever needed to use it". CCTV showing Devoy with both the firearm and the grenade in Doon Court and being chased to the address was also shown to the court.
In all, five casings were recovered from the bathroom along with two from Doon Court with 11 remaining in the machine gun.
'Tragedy in his life'
Det Sgt O'Keeffe confirmed to Bowman that Devoy had been given four Garda Information Messages about threats to his life.
Det Sgt O'Keeffe said that Devoy had 27 previous convictions, including two firearms convictions, one of which he received 10 years' imprisonment.
#Open journalism No news is bad news Support The Journal

Your contributions will help us continue to deliver the stories that are important to you

Support us now
Det Sgt O'Keeffe read Sgt O'Connor's victim-impact statement was read to the court: "The incident had a significant effect on my life. The vision of Derek Devoy sitting with the machine gun will remain with me forever. I will never forget the image of the hand grenade on the floor, which if detonated would have had catastrophic consequences for all the families involved. I felt I had to be strong for my family and colleagues and that's what has gotten me through this," Sgt O'Connor said.
Defending barrister Mr Sean Gillane SC told presiding judge Mr Justice Tony Hunt that his client "was one of four children but is the last survivor" and that there was a "tragedy in his life from a young age".
Mr Gillane said his client had lost his father when he was eight, that a 2017 attempt on Devoy's own life killed his sister "in unspeakable circumstances" and that his elder brother was murdered in 2014. The guilt at the loss of his sister was the "straw that broke the camel's back in one sense," said counsel.
Counsel said his client had said in interviews to gardaí that he felt he was being spotted by others intent on harming him and that the Regency Hotel shooting of 2016 had "freaked him out".
Mr Gillane said that his client was behaving so erratically and irrationally that when Devoy tried to hide the gun behind his back near Doon Court the gun went off and left a hole in his T-shirt.
Counsel said that his client had "some sort of breakdown" regarding being under death threat and only realised that the three men chasing him "were gardaí when they didn't shoot him".
Devoy apologised in court to the three gardaí, to the family of the house at Crannogue Road and to the people of Ballymun, saying that he had lost "all my family and I wasn't in a right state of mind that day".
Mr Justice Hunt said that there were people who had also suffered tragedy, "who might say the last thing you should be doing is walking around with a gun".
Mr Gillane said that there were people who woke up in the morning with a plan to kill people but his client was not one of them.
"That's a staple of life at the moment," said Mr Justice Hunt.
The judge was told that the maximum sentence for possession of the grenade or the machine gun with intent to endanger life was life imprisonment. He adjourned the case to 23 July for the finalisation of the sentence.