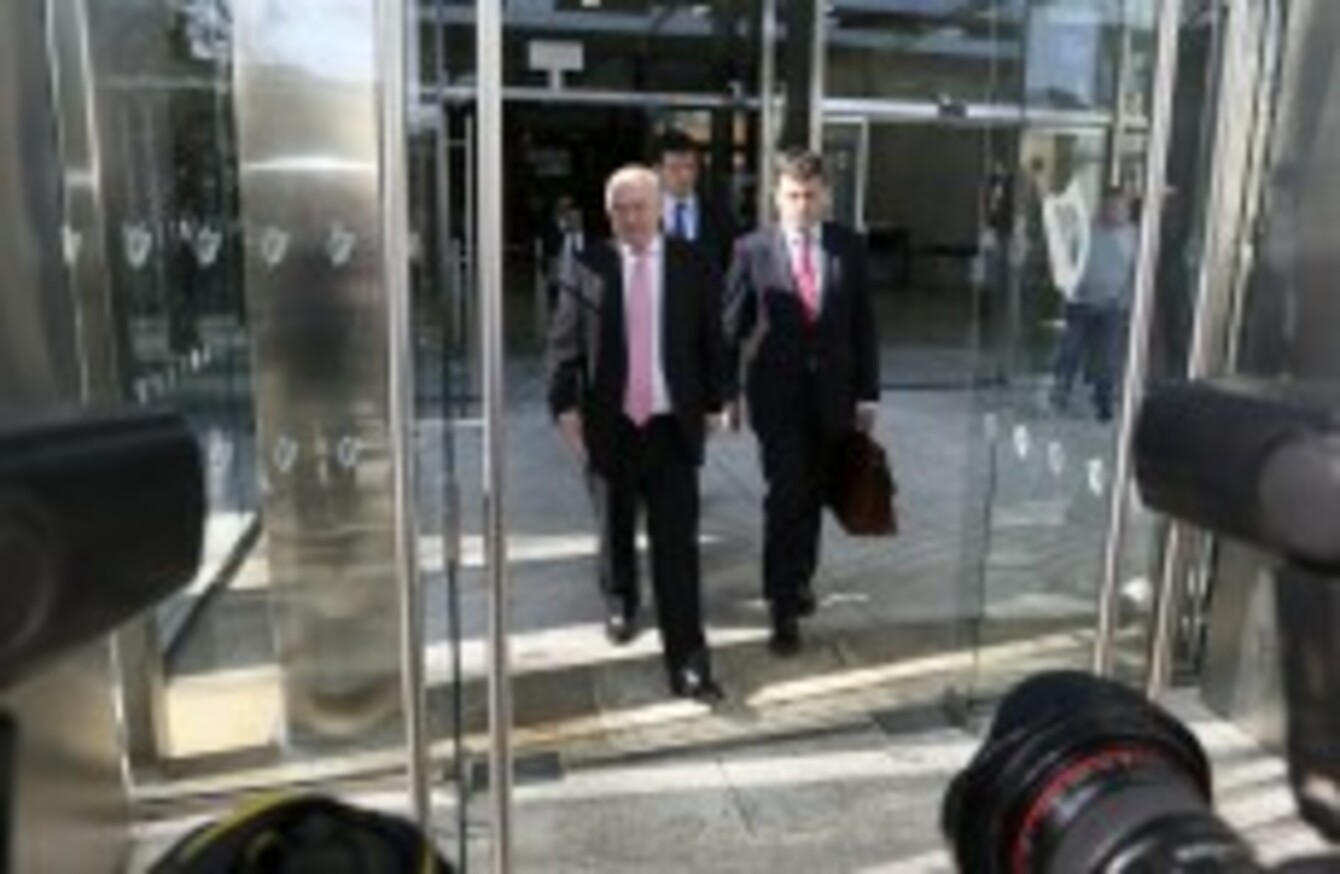 Former Finance Director of Anglo Irish Bank, Willie McAteer leaving the Dublin Circuit Criminal Court
Image: Sam Boal/Photocall Ireland
Former Finance Director of Anglo Irish Bank, Willie McAteer leaving the Dublin Circuit Criminal Court
Image: Sam Boal/Photocall Ireland
A BANKING INQUIRY is "imminent" now that the Anglo trial has concluded.
Yesterday saw Pat Whelan and Willie McAteer being told they would be assessed for community service after they were convicted of providing illegal loans totalling €450m to the 'Maple 10′.
The pair won't be spending time in prison. Former Anglo CEO Seán Fitzpatrick – chairman of the bank during the 'Maple 10′ plan era – was previously found not guilty of all the charges against him in relation to the loans.
Banking inquiry
Today, Minister Brendan Howlin said that now that the Anglo trial has concluded, it paves the way for the banking inquiry to begin.
He said that he takes "very strong note of what the judge said" during the Anglo trial.
"I think now the inquiry is imminent," said Howlin.
The legal framework was enacted some time ago and the the guidelines have been accepted by the Dáil and Seanad by formal vote, he pointed out.
"After yesterday's inquiry in court, the role of oversight of the banking system and the decisions that were made will form a very significant part of that inquiry, I would imagine," said Howlin. "But that will be a matter for the Oireachtas itself."
He said that "obviously people were mindful of the court proceedings" and that a "huge amount" of background work has been undertaken by the Oireachtas itself on the issue.
Howlin noted that "there is a compelling demand from the public to know what happened" and that there are "a lot of unanswered questions from court proceedings that should be answered by those directly responsible".
Of course not all persons are available in the state, but those that are should be called to give clear, transparent and public evidence.
When asked if he was "disgusted" by the fact the two guilty Anglo executives were not jailed, he said: "No, I think the courts do their job, the jury proved to be a very effective mechanism."
#Open journalism No news is bad news Support The Journal

Your contributions will help us continue to deliver the stories that are important to you

Support us now
Howlin said he thinks the discernment of the jury "is a credit to the jury system" and that the full commentary of the judge had to be read.
Dr Donal Donovan, former deputy director of the IMF, said on Morning Ireland that he can "understand why [the judge] handed down the sentence" to the Anglo executives.
"I can understand why people are very unhappy that somehow banks have gotten away with this," he said.
He added: "I think this approach of not doing anything, not being proactive, not looking into problems lies at the heart of the financial debacle in Ireland."
- Additional reporting Hugh O'Connell