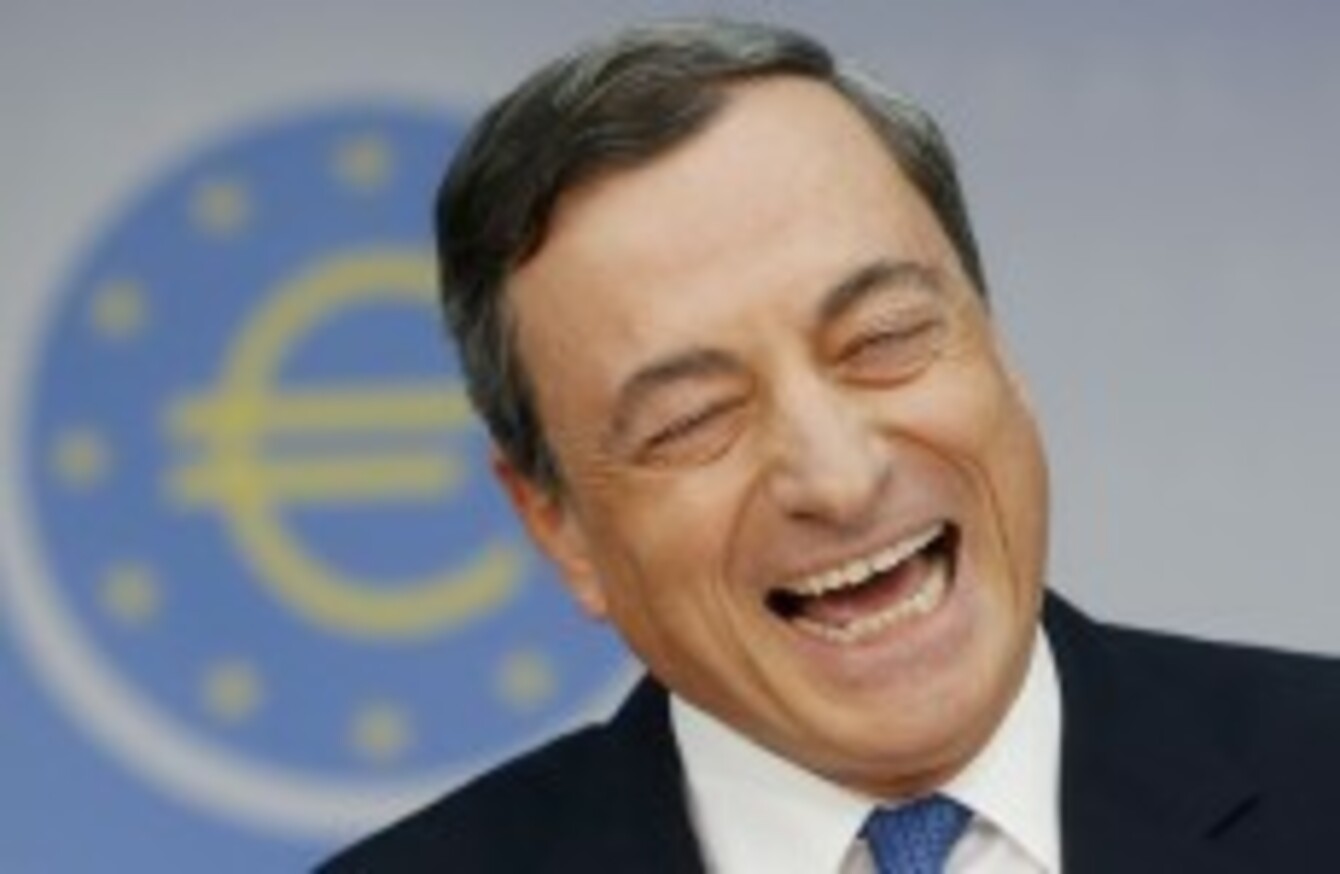 ECB President Mario Draghi
Image: AP/Press Association Images
ECB President Mario Draghi
Image: AP/Press Association Images
THE EUROPEAN CENTRAL Bank has "more or less" told Irish authorities it will not be participating in the forthcoming banking inquiry, according to Central Bank governor Patrick Honohan.
He was speaking before the Oireachtas Finance Committee today where he faced questions about the ECB's position that it will not "formally" take part into the banking inquiry's probe into the country's financial collapse.
During the course of a lengthy engagement with politicians today, Fianna Fáil senator Thomas Byrne put it to Honohan: "Have they [the ECB] said that to you: 'Look, we're not going to Dublin, you can forget about it?'" 
To which Honohan responded: "More or less, like that, more or less, like that."
During the course of a testy exchange with Byrne, Honohan argued that as he sits on the governing council of the ECB he is able to articulate its position as distinct from his own as the governor of the Central Bank of Ireland.
It comes as the inquiry is now on the verge of getting its public hearings under way after both the Dáil and Seanad voted through motions to give it powers of inquiry and witness compellability in the last 24 hours.
Public hearings to begin next month
The inquiry met in private session at Leinster House this morning and is now expected to move into public oral hearings the week after next.
The inquiry will begin by setting out the context of the collapse of the banking system with expert briefings on bank lending practices and liquidity as well as the decision to provide the blanket guarantee in 2008.
It's understood that a list of around 30 witnesses has been drawn up with UCD economist Morgan Kelly, who predicted the collapse of the property bubble, and former tánaiste and attorney general Michael McDowell among those due to be called to give evidence.
McDowell's appearance will concern his role as head of a committee which in 2003 recommended that the financial regulator be separated from the Central Bank.
After the context phase, the so-called 'nexus phase' will begin next year and will undertake a more detailed examination of the collapse including regulation, crisis management and the policy responses.
Narrow focus, tight deadline
It's expected that the former bank officials and senior politicians will be called to appear before the inquiry at this stage before a final report is issued in November 2015. 

This tight deadline has raised concerns that the committee will not have enough time to probe the causes of the banking collapse.
Several members have expressed concerns publicly with one inquiry source warning yesterday that even with a narrow focus there "many not be enough time".
In a statement issued this evening, committee chairman Ciarán Lynch said he and his colleagues are "ready for the work and the challenges that come with it".
"A key element is that the inquiry should be conducted in an open and transparent manner," he said. "Importantly, it will allow the people of Ireland to see and hear those called on to give their evidence in public."