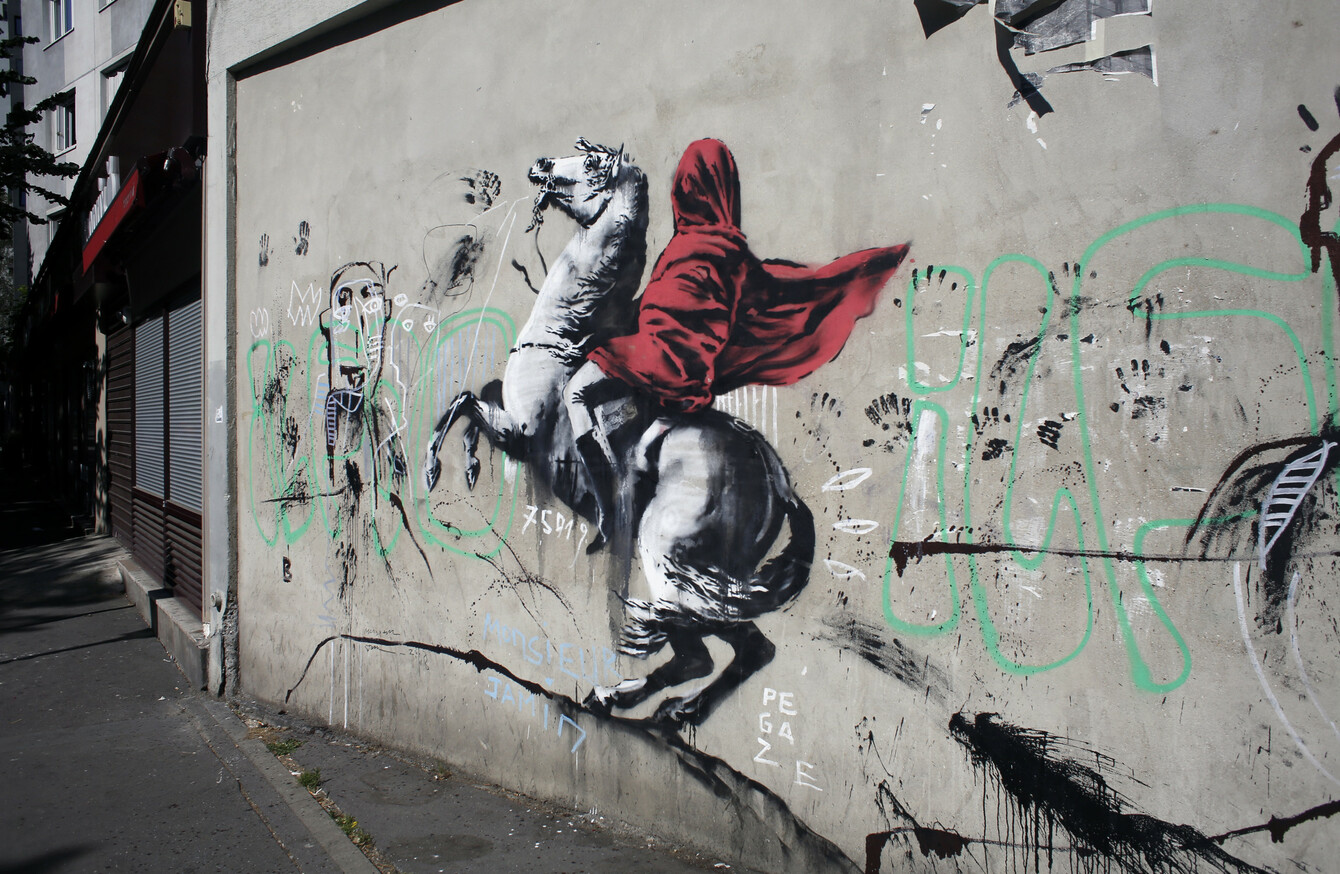 A graffiti piece believed to be attributed to street artist Banksy is seen on a wall along a street in Paris.
Image: Thibault Camus/AP/Press Association Images
A graffiti piece believed to be attributed to street artist Banksy is seen on a wall along a street in Paris.
Image: Thibault Camus/AP/Press Association Images
STREET ARTIST BANKSY has confirmed that he "blitzed" Paris with up to a dozen murals as a tribute to the May 1968 uprising and even taking aim at the French government's hard line on migrants.
Stencilled images in the style of the mysterious British graffiti star began appearing on walls across the French capital last week.
All were unsigned, leaving a lingering doubt that they might have been by an imitator.
But late on Monday the Bristol-based artist posted his latest two Paris murals on Instagram – neither of which had yet been found by his fans – and on Tuesday confirmed that another near the Sorbonne university was also his.
"Fifty years since the uprising in Paris 1968. The birthplace of modern stencil art," he quipped under a self-portrait as a masked rat carrying a utility knife that he uses to cut out his stencils.
Cheekily he sprayed it on the back of a road sign outside the Pompidou centre modern art gallery, which houses Europe's biggest collection of contemporary art.
Banksy took on the rat as his avatar – a symbol of the vilified and downtrodden – in homage to the Paris street artist Blek le Rat, who started out in 1968 when a general strike by students and workers brought France to a halt.
The movement produced an explosion of street art and ingenious graffiti slogans, some of which have become legendary.
Banksy sprayed another rat wearing a Minnie Mouse bow under the caption "May 1968″ near the Sorbonne, one of the centres of the uprising, which was read as a wry take on the decline of French revolutionary spirit.
Mural defaced
The Disneyland Paris theme park is now one of the French capital's biggest employers.
The artist, known for his sharp political and social commentary, made headlines last Sunday with another Paris mural of a refugee child covering up a swastika sprayed over the patch of pavement on which she was sleeping.
Placing it right next to a former refugee centre closed down in March by the French government was seen as an attack on President Emmanuel Macron's crackdown on migrants.
Paris mayor Anne Hidalgo, who set up the centre, was quick to hail the mural.
"Sometimes an image is worth a thousand words. Humanity and pragmatism rather than populism," she tweeted in a dig at Macron, who had argued the shelter was making Paris a magnet for migrants.
In his first clandestine "blitz" of the French capital, Banksy also created a image of girl in mourning in a fire exit next to the Bataclan concert hall, where 90 people were massacred by jihadist gunmen in November 2015.
His final stencil – which he posted to his Instagram account on Monday evening – shows a genteel old rat couple out for a walk along the River Seine near the Eiffel Tower.
In his latest Instagram post on Tuesday afternoon, Banksy claimed credit for a Left Bank mural skewering capitalism. It shows a businessman or a politician in a suit offering a dog a bone having first sawn the animal's leg off.
His Paris posts accumulated more than half a million likes within few hours.
#Open journalism No news is bad news Support The Journal

Your contributions will help us continue to deliver the stories that are important to you

Support us now
Banksy's work has sold for more than $1 million (€861,405) at auction and fans have already covered some of the new Paris works with Plexiglass to protect them.
However, his mural of the migrant girl was defaced with blue spray paint late last Sunday after news of its discovery spread on social media.
Banksy has taken the French government to task several times for their handling of migrants. A stencil opposite the French embassy in London 2016 based on the poster for the musical Les Miserables criticised French police for tear gassing the Calais refugee camp known as the "Jungle".
The previous year he crossed the English Channel to paint two murals on the edge of the camp built by migrants trying to reach Britain, which has since been razed by the authorities.
One, The Son of a Migrant from Syria, depicted Apple co-founder Steve Jobs – who was of Syrian descent – carrying a knapsack and an Apple computer.
Many believe Banksy to be musician Robert Del Naja, a 52-year-old member of the Bristol-based trip hop trio Massive Attack.
The band play the French city of Lyon last Sunday.