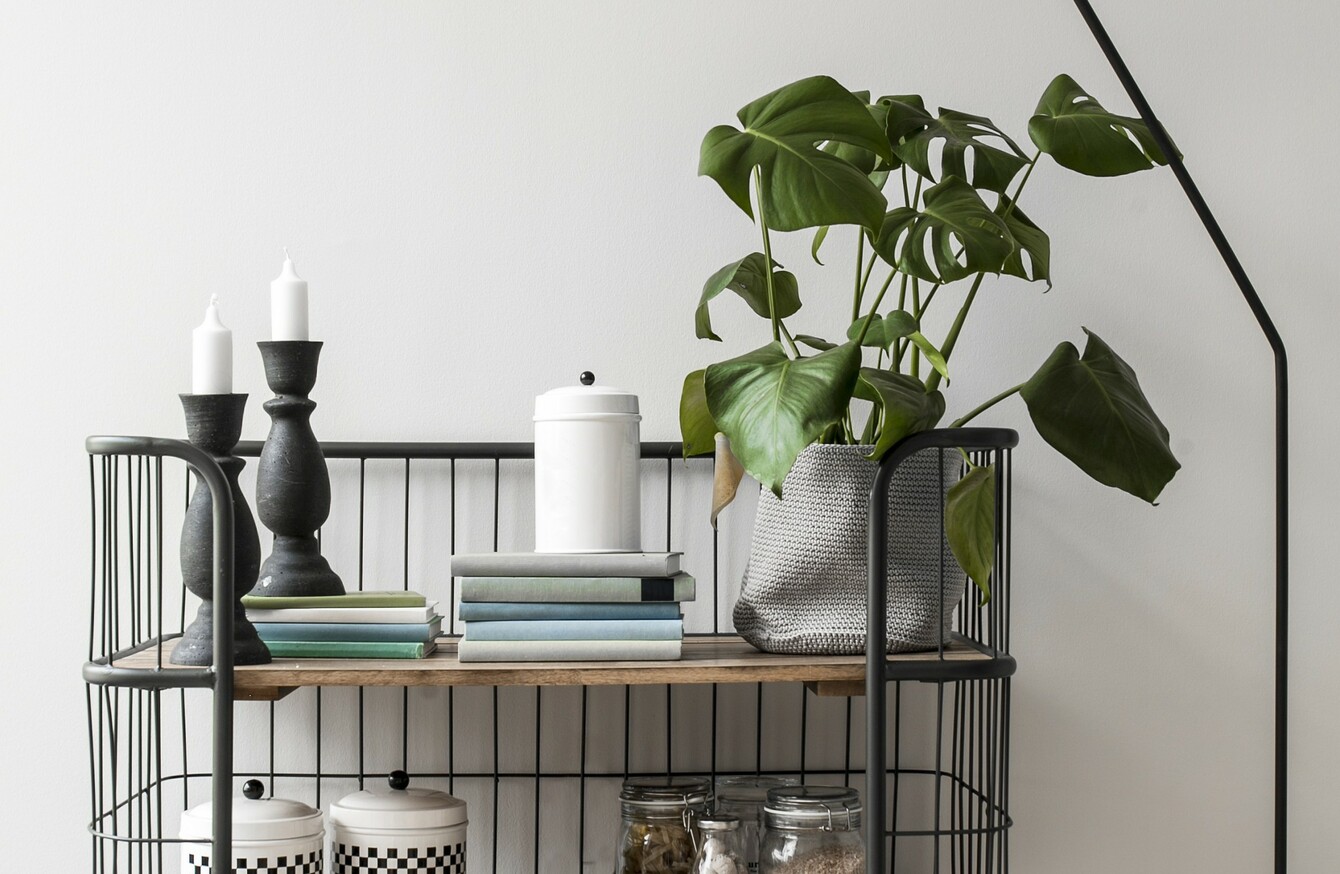 Image: Shutterstock/IsakBA
Image: Shutterstock/IsakBA
WHEN PENNEY'S RELEASED its rose gold bar cart in October 2019, demand was so high that the retailer recommended customers call stores ahead rather than all flooding in at once. The design has returned for spring 2020, meaning you're about to see a lot more of this circular cart in Irish homes. 
Whether you've been caught up in the hype, opted for another retailer or are even lucky enough to have a vintage original, the next step is figuring out how to integrate your bar cart into your home.
The obvious pieces to display are, as the name would suggest, booze. Stocked with some of your favourite bottles, glasses and a bowl of lemons or mint plant (for flavour in the cocktails, but colour on the cart- win-win), they look awesome. But if you don't fancy having your alcohol collection on display all the time, some smart repurposing will do the job. 
A bar cart is for life, not just for cocktail parties. Here are six different ways to use yours…
1. Feel the rhythm: Tap in to the ol' timey vibes of the bar cart by adding another 1940s essential to it: a record player. This would create such a sweet set-up that would work in a bedroom or living space. The iconic Crosley Cruiser record players, for example, are so worthy of display!
2. Say goodnight: Repurpose your cart as a stylish bedside table. If yours has shelves, even better, as they'll be handy for storing all of your bedtime essentials. To keep shelves streamlined and organised, try a wicker basket (this two pack is €9 in Penney's) to act in place of drawers.
3. Fresh brew: Caffeine lovers will love this one! Using your bar cart as a coffee station will make waking up a treat. If you're feeling spendy, this Delonghi Icona Vintage Pump, €189.95 in Arnotts is display worthy and would look awesome beside your favourite mugs – or keep an eye in Lidl for the return of its retro kitchen range, which has previously included a coffee machine.
4. Time to get dressed: Bar carts could act as a unique place to store and display some of your favourite fashion accessories. This is great for a bedroom, or for those lucky enough, a walk-in closet space. Display pieces like this Oliver Bonas copper and marble jewellery stand, €47, will add height and texture to your cart while also serving a purpose.
5. Living it up: The living room is the most obvious space for a bar cart, but it doesn't necessarily have to be loaded up with bottles and glasses. Instead, use yours as a sleek side table. Add a lamp like this ribbed glass one, €80 from Debenhams, and some of your favourite plants (even artificial ones like this FEJKA trailing plant, €7 from Ikea) and you have yourself a unique alternative to regular end tables.
6. Bathroom brilliance: If your bathroom is big enough to accommodate it, a bar cart would make a very smart addition to your space – and it's infinitely more stylish than some of the standard bathroom display units out there. Place it beside the bathtub stacked with your favourite bath products, or a few accents like this Paul Costelloe Living Versailles tissue box, €20 in Dunnes Stores. Useful and beautiful!