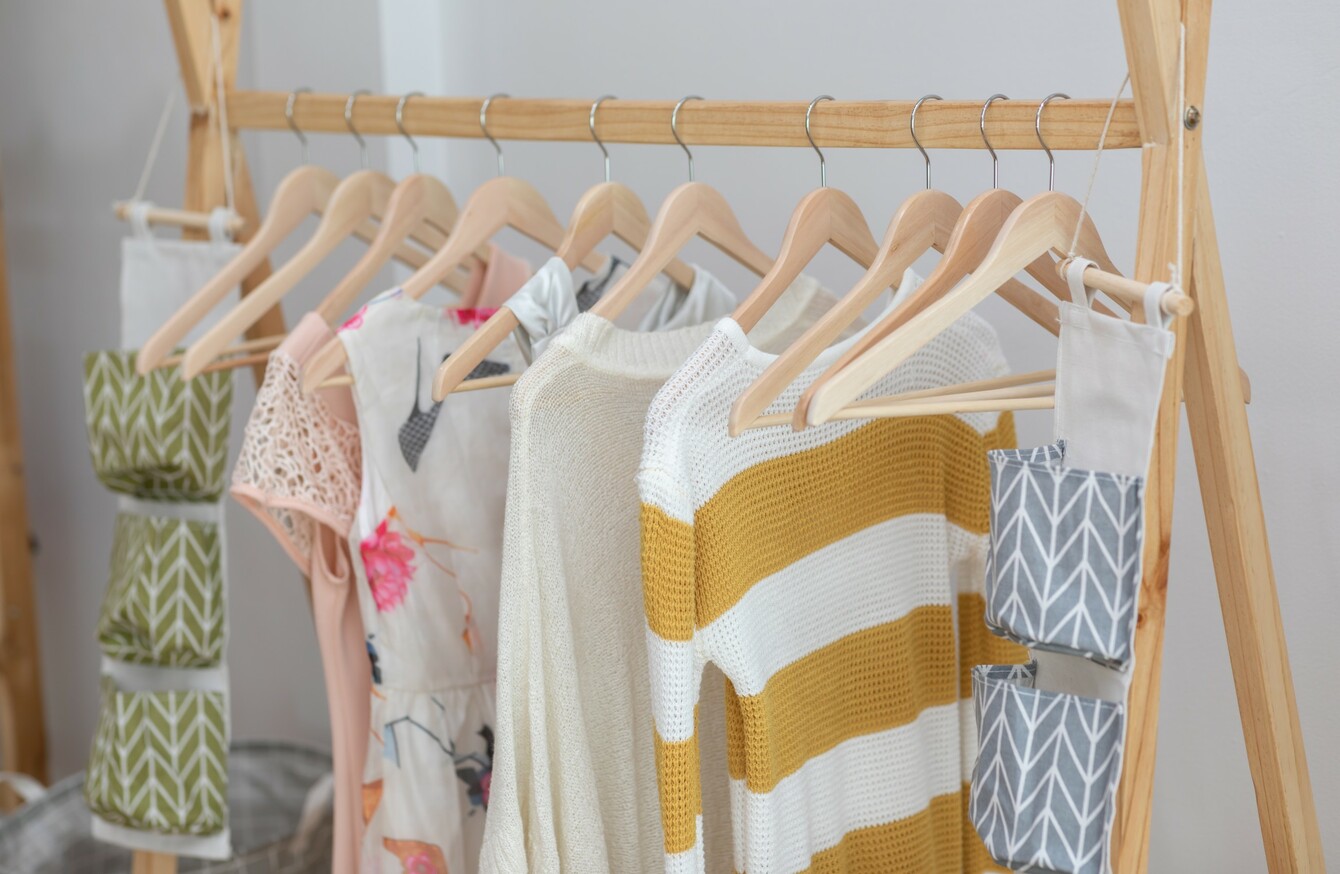 Image: Shutterstock/Yuttana Jaowattana
Image: Shutterstock/Yuttana Jaowattana
FROM TIME TO time, even the tidiest among us will allow a "floordrobe" to build up at the end of the bed, be it from a lack of proper storage or a lack of time.
But in the long-term, an overflowing wardrobe and a pile of clothes on the floor will make life tricky. It ruins the flow of your space, and it's not great for maintaining the quality of your clothes either.
So how can you keep your things in check when your wardrobe is at capacity, without packing everything away into vacuum bags? Here are six pieces of stylish storage for you, that can handle all your overflow of clothes and shoes, while still adding something to the room…
1. Unreal rails: Clothing rails don't have to scream "jumble sale", they can actually look like a beautiful piece of furniture! For long-term use, inexpensive rolling racks won't be sufficiently durable, nor are they particularly attractive. However, there are lots of cool options on the market that range in style from Scandi to shabby chic. Keep it as streamlined as possible with matching hangers and your best visual merchandising skills! It might sound OTT, but keeping it colour-blocked (for example, all of your black clothes) will prevent it from looking cluttered.
Check out this minimalistic bamboo design from John Lewis.
2. Beneath the bed: Is this the most overlooked space in the bedroom? Underbed storage is the perfect solution for stashing away seasonal clothes, shoes or even pyjamas. If your duvet and sheets don't hide the area, try to keep the boxes matching to avoid a chaotic look. This lined basket from Dunelm Mill is a pretty option – @bellwayhometorhead uses a similar solution here:
3. Eggs in one basket: You can really never have too many baskets. Use them on your dresser or shelves for storing regularly-used items. Roll scarves or stack sweaters. Be careful to pick one that won't snag any threads though. H&M Home has an amazing selection of baskets ranging from brass wire to rustic wicker. 
4. In my shoes: Instead of hiding shoes away, display them in all their glory. Floating shelves can be picked up inexpensively and easily installed. Style 'em up with your favourite shoes, clutch bags and decorative pieces like plants, prints and stacks of books to add height variation. Ikea's LACK series is a great size for displaying shoes and bags – check out @sweet_life_with_jessica's DIY approach for inspiration:
5. Hang 'em up: Similar idea as above, but using old fashioned peg rails to display your favourite scarves, bags and statement jewellery. This approach is simple to switch up as your bedroom colour palette changes throughout the seasons. For a similar look, check out this wooden hanging rail from H&M Home. Wondering what to hang on your new rail? Mix it up by adding some art in there too, like @carriehuseman.
6. Think vintage: Stacks of suitcases and trunks not only make quirky bedside tables, but they're also an ideal spot to store holiday wear or bulky sweaters. Find them for next to nothing in a charity shop, or check out vintage-inspired trunks on the high-street. These metal trunks from Habitat are a super versatile contemporary solution. Stack two trunks of varying sizes for a stepped effect, as in @belleandcoliving's bedroom.