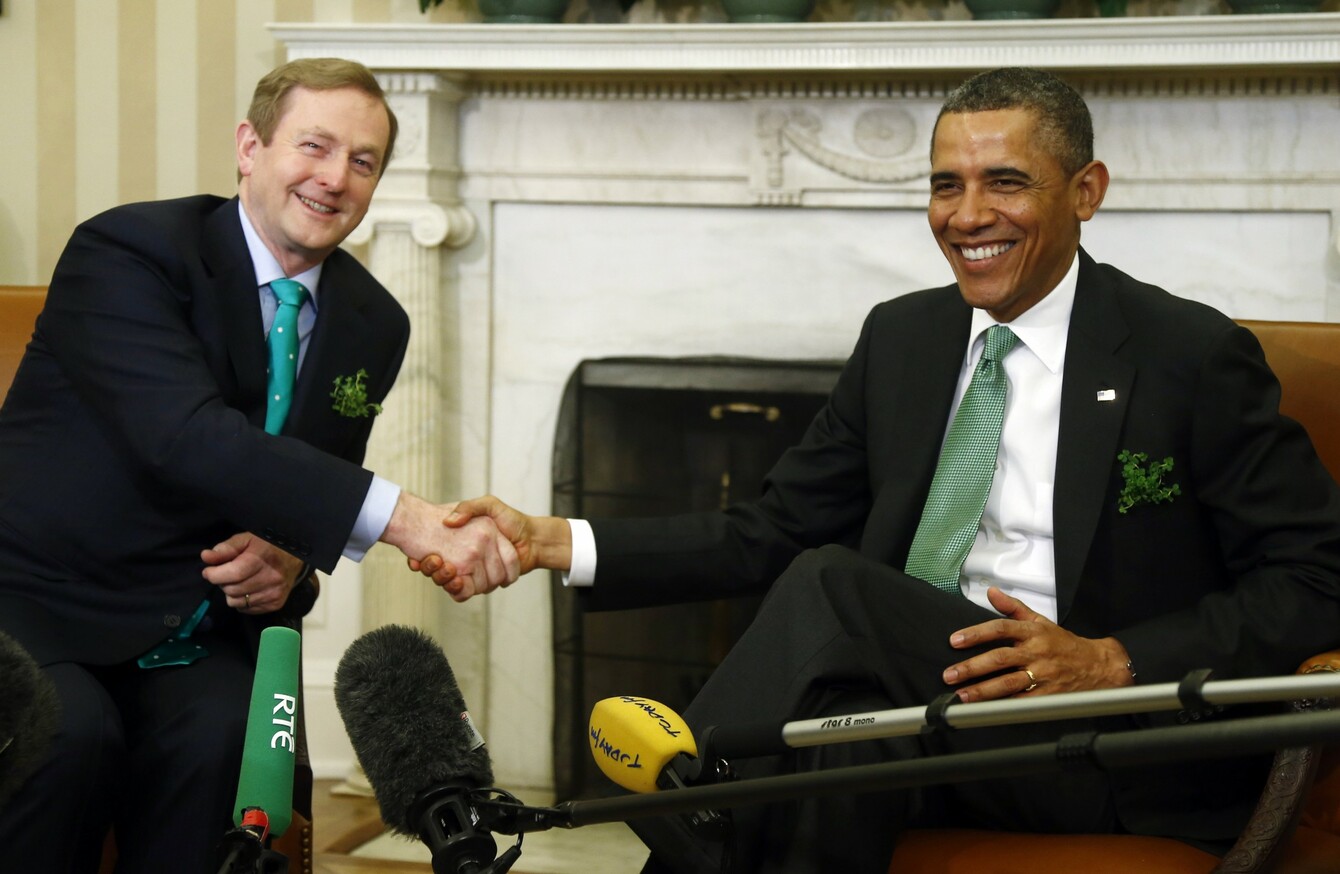 AFTER HEATED DISCUSSIONS, a "one-sided debate" and two separate votes, Dublin City Council has agreed to award Barack Obama the Freedom of Dublin award.
Of the total votes cast, 30 voted to give US President Barack Obama and former First Lady Michelle Obama with the award, 23 voted against it, and four councillors abstained.
There has been significant opposition to honouring the former President, as some argue that drone strikes he has ordered, the large scale deportations, the support of his cabinet for the overthrow of democratically elected government of Honduras disqualify him for consideration.
"It seems the main yardstick he applied was comparing Obama to the disasters who came before and after him. This is not good enough," said Councillor Michael O'Brien (AAA) before the meeting.
Lord Mayor Brendan Carr, who proposed giving Obama the award last year, said that the Obamas both deserved the award because of his work to normalise relationships between the US and Cuba; signing an executive order limiting torture methods used by US forces; winning a Nobel Peace Prize for the non-proliferation of US weapons; taking a neutral stance on Israeli settlements; and commuting the sentence of Chelsea Manning.
His lengthy statement outlined the reasons Michelle Obama also deserved the award, and how there was precedence for awarding couples the award for international efforts.
The Freedom of Dublin is a political statement, and at this juncture this council can make a clear statement about the [current] US President.
"[The Obamas] did set the right direction for US as an inclusive society, and despite stiff opposition from Congress, from the US military and from commercial establishment who aren't as progressive."
Councillor Éilis Ryan of the Workers' Party said that if the intention was to oppose Donald Trump's actions, a "more appropriate" action would have been to nominate an activist standing up for the rights of those opposed by Trump.
"The United States has seen a phenomenal upsurge in activists taking back their country from Donald Trump's racist, dangerous politics.
If the Lord Mayor's intention was to show solidarity with those opposed to Donald Trump's racism, names such as Bernie Sanders, Angela Davis and many many more could easily have been found.
A 'one sided debate'
After giving a speech outlining his points why Obama should get the award, Carr then announced that after a meeting of group leaders, it was decided that there wouldn't be a debate of the issue.
He said that this had been decided before the meeting, as it hadn't happened before that the issue was debated before a vote.
After some confusion, there was first a vote to decide if the issue should be debated, which the council decided it wouldn't be.
This angered some members, with one councillor shouting "we've already had a debate, we've had a one-sided debate from the Lord Mayor".
In the second vote to ask if the Freedom of Dublin should be awarded to the Obamas, the motion was carried with a vote of 30 to 23, with four abstaining.
Councillor Michael O'Brien said that a debate on the issue was suppressed in advance and that there are thousands of victims of Barack Obama's bombing campaigns.
"Those who supported bestowing this honour on Barack Obama spit on the graves of these victims," he said.
I have no regrets about creating a scene at the meeting as it had to be demonstrated there and then in honour of those victims and their families that their suffering has not been disregarded by some of us.
The award of Freedom of the City of Dublin acknowledges the contribution of certain people to the life of the city, important visitors to Dublin, or people who have made significant changes internationally.
Previous international receivers of the award have been Nelson Mandela, Mikhail Gorbachev, Bill Clinton and Aung San Suu Kyi.