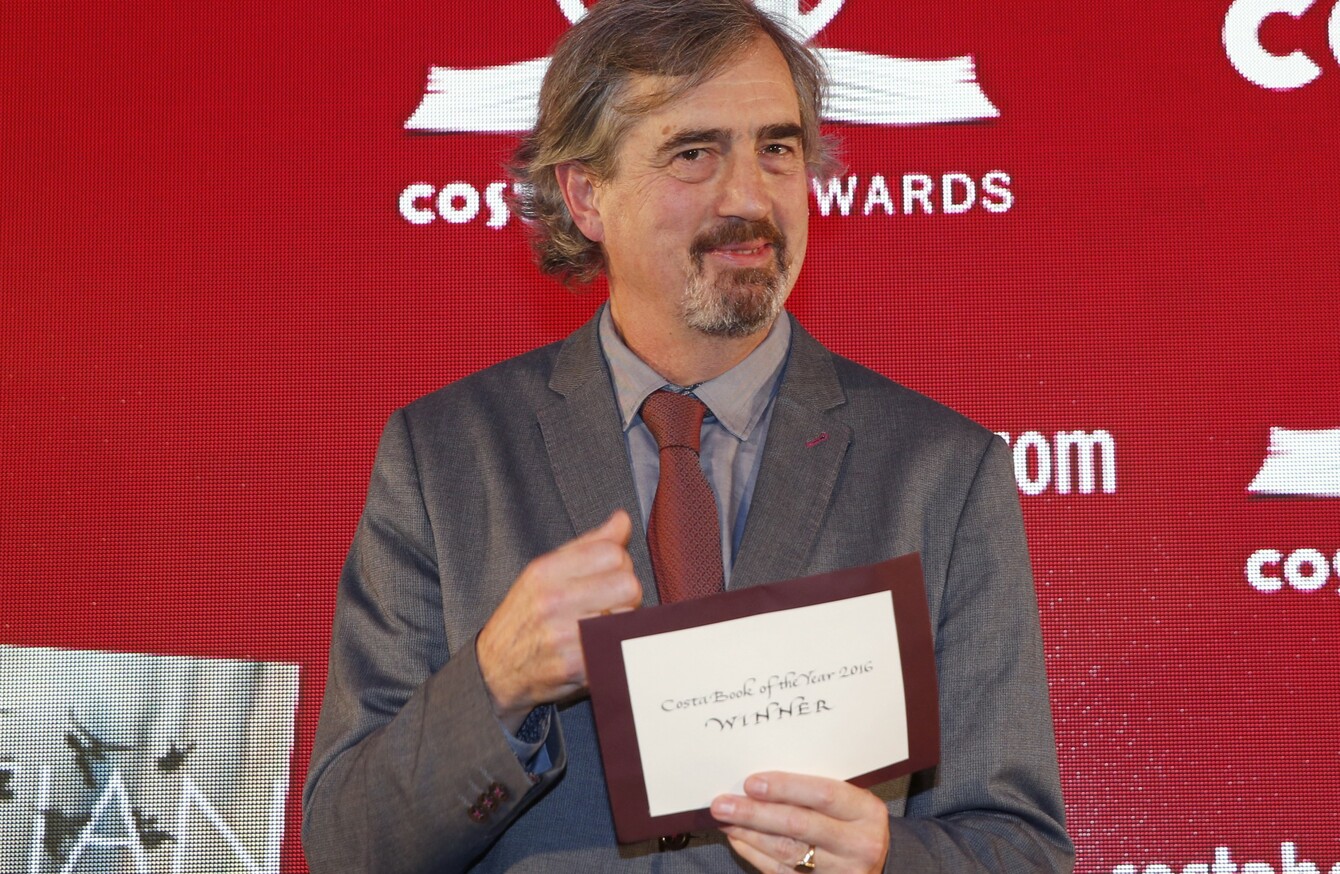 Sebastian Barry posing with the award at last night's ceremony.
Image: Alastair Grant AP
Sebastian Barry posing with the award at last night's ceremony.
Image: Alastair Grant AP
LAST NIGHT, SEBASTIAN Barry won the prestigious Costa Book of the Year award for the second time, with his book Days Without End scooping him the prize on this occasion.
The 61-year-old had previously won the award in 2008 for The Secret Scripture.
Speaking on RTÉ's Morning Ireland, Barry detailed what inspired him to write the book, how its tale of anti-immigration in the US strikes similar chords today, and his sheer shock and delight at winning the award.
The idea for the book came when his teenage son Toby told his parents that he was gay.
Barry had noticed a cause of disquiet in his son and it was when "the philosopher of the family", Toby's older sister, pushed him to tell the family that this mood lifted.
While not directly influencing the plot, Barry said that the experience inspired him to make "the devoted love of two men" essential to the plot of Days Without End.
The book centres on an Irish immigrant fleeing the Famine in the 1850s who faces a strong anti-immigrant stance when he arrives in the US.
When researching the history, Barry kept coming across situations and rhetoric mirroring the modern situation in the US.
"To hear all these ancient conversations about immigrants in America in the 1850s," he said, "that are the ones you're hearing fresh, as if for the first time, when you're writing the book" was astonishing for Barry.
While America was built on strong ideals, Barry said the issue of violence across American history appeared again and again while he was researching this book.
The history of America is to honour these extraordinary ideals. We do, in a sense, love America because of that struggle. What is dismaying about recent history is that some people seem to have discarded these core principles.
"For me, in that moment, an idea of America begins to die. I think that's why we're all so terrified."
When it came to the awards announcement yesterday, Barry had gone into the ceremony feeling downbeat about his chances.
He said: "I was practising that strange, unfamiliar discipline of realising, soberly and sensibly, that there was no chance of winning a prize like that twice.
I had talked myself into a joyful reaction to someone else's good news so I was completely shocked. It's a shock that reaches down into your oldest reserves of joy.
In terms of his own writing, it is the work of younger Irish writers that invigorates and stimulates his own work.
He praised writers such as Lisa McInerney and Donal Ryan for their "adventures in syntax and language" and detailed how he dispensed with his usual manner of writing for Days Without End.
Writing this book was a new adventure for the renowned author, and one which he relished.
"I no longer feel 61," Barry concluded, "but 22 again."