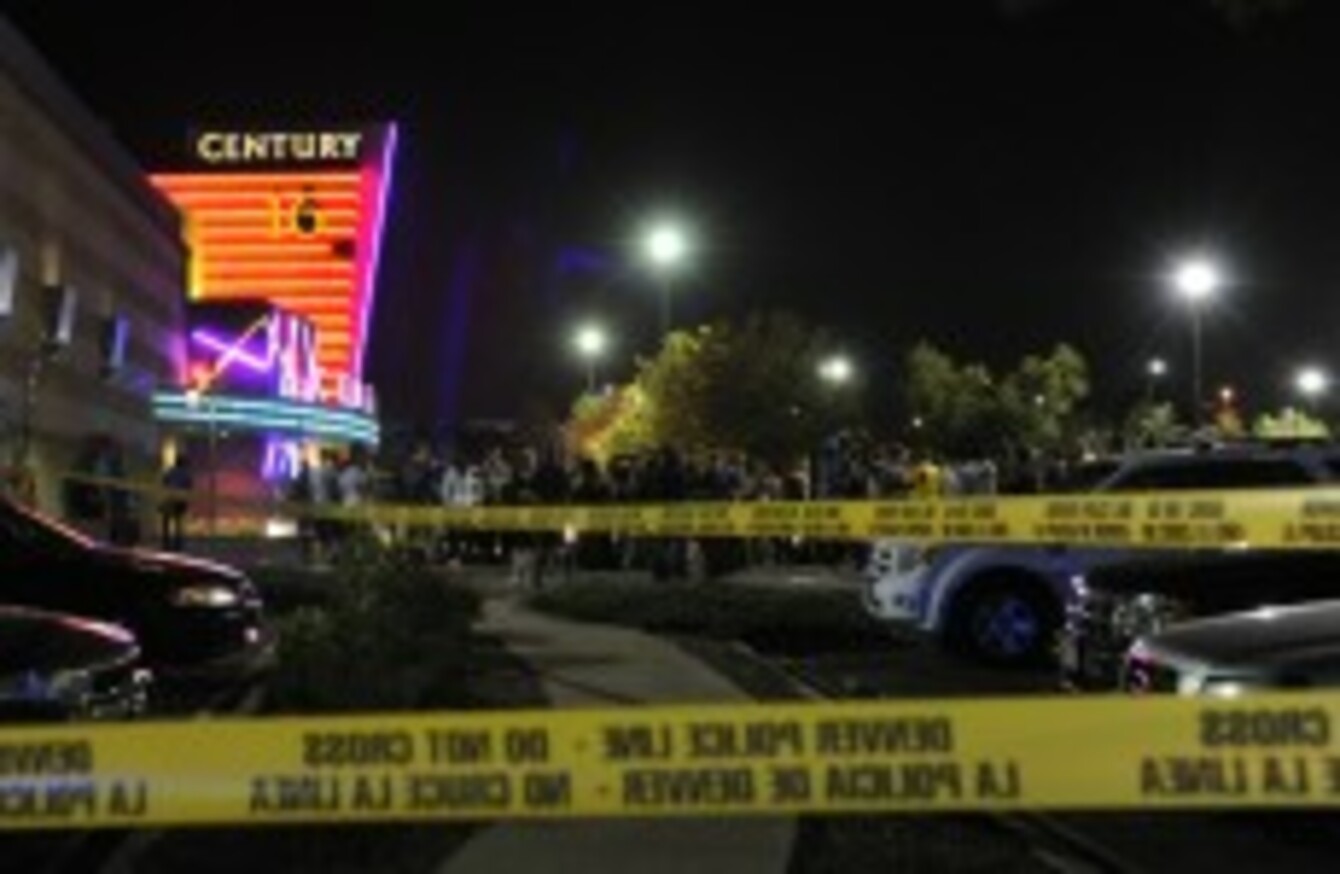 People gather outside the Century 16 movie theatre in Aurora, Colorado
Image: AP Photo/The Denver Post, Karl Gehring
People gather outside the Century 16 movie theatre in Aurora, Colorado
Image: AP Photo/The Denver Post, Karl Gehring
Updated 13.05
POLICE HAVE CONFIRMED that 12 people have been shot dead at a screening of the Dark Knight Rises in Aurora, Colorado.
Thirty-eight people were injured when a gunman opened fire inside the Century 16 movie theatre at around 12.30am.
It's been confirmed that a three-month-old baby is among the injured, as well as a six-year-old child. Witnesses have reported seeing a policeman carrying a small girl from the movie theatre.
The gunman released a cannister of gas in the cinema before opening fire and there was a hissing sound, according to witnesses. He was carrying a rifle and a handgun and at least one other weapon when apprehended by police.
Ten people died at the scene and two later in hospital.
Police have also confirmed that an apartment building in north Aurora has been evacuated due to concerns about explosives in the gunman's residence
US President Barack Obama has issued a statement in the aftermath of the shooting.
Michelle and I are shocked and saddened by the horrific and tragic shooting in Colorado.
Federal and local law enforcement are still responding, and my Administration will do everything that we can to support the people of Aurora in this extraordinarily difficult time. We are committed to bringing whoever was responsible to justice, ensuring the safety of our people, and caring for those who have been wounded.
As we do when confronted by moments of darkness and challenge, we must now come together as one American family. All of us must have the people of Aurora in our thoughts and prayers as they confront the loss of family, friends, and neighbors, and we must stand together with them in the challenging hours and days to come.
Earlier this morning…
LOCAL MEDIA IS reporting that at least ten people have been killed in shooting incident at a cinema in Aurora, Colorado.
Hundreds of people had gathered at the Century Theatre to watch the first screening of the new Batman film The Dark Knight Rises.
Police say 40 people have been brought to various hospitals in the area, including four taken to a local children's hospital, although the age and status of any victims is not known.
It's understood that at least one shooter was involved and that there was some kind of device set off, possible tear gas. Local radio station KOA is reporting that 30-40 people have been injured.
Police dispatch reports have mention 'the shooter' and 'devices' and are questioning people who had 'direct visuals' of what happened. A local high school has been designated a 'safe harbour'.
Associated Press is reporting that one person has been detained.
Witnesses in adjoining movie theatres have reported hearing around 20 gunshots and several small explosions. A shooter with a gas mask was reportedly targeting victims with tear gas and one witness saw "a couple of people hunched over".