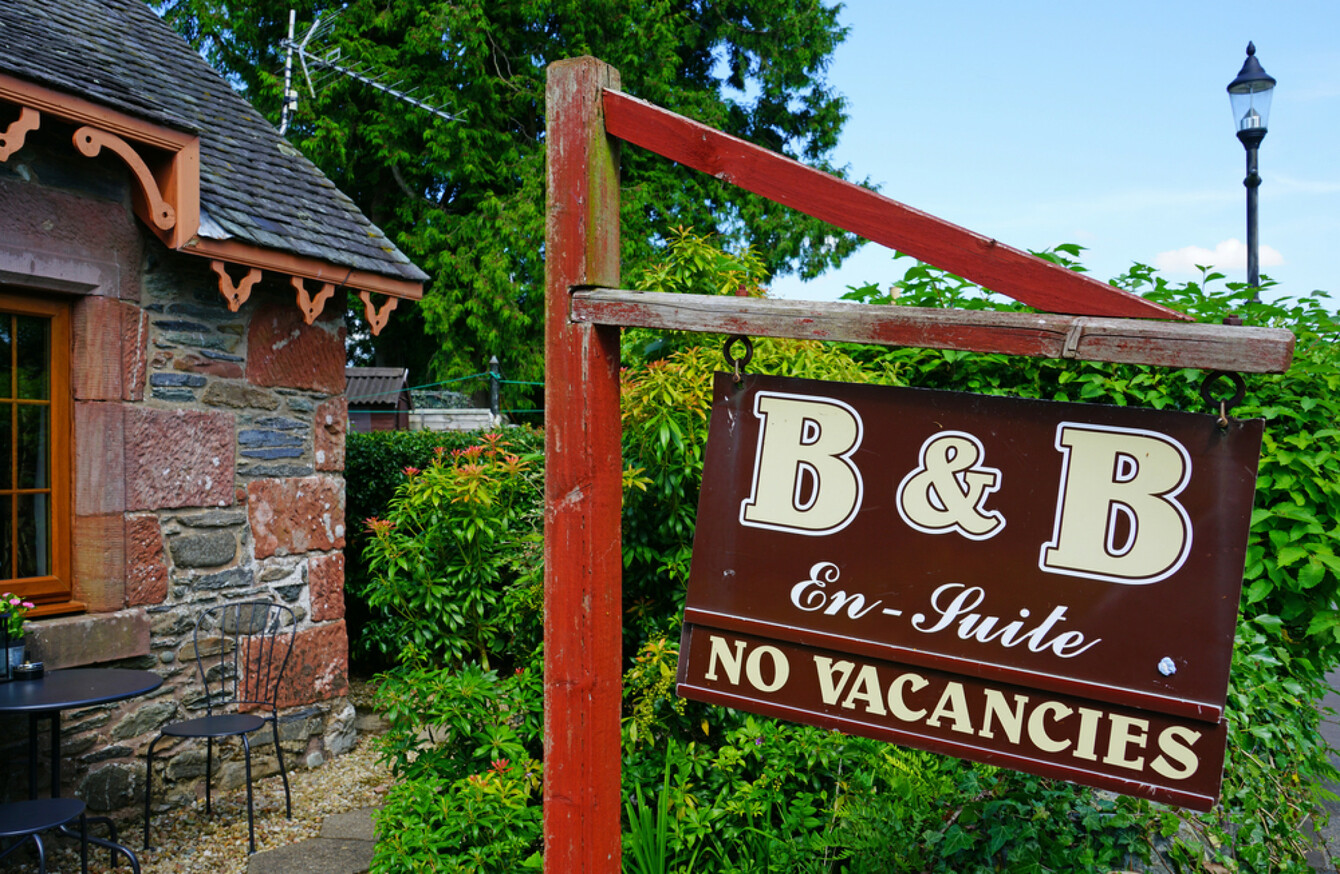 Image: Shutterstock/EQRoy
Image: Shutterstock/EQRoy
LONG BEFORE THE days of online 'home-sharing' websites, the traditional Irish bed and breakfast was probably the best way for tourists to 'live like a local'.
But today, thanks to platforms like Airbnb, it's often everyday home owners pitching themselves as knowledgeable natives offering 'immersive' and 'authentic' holidays – and making some extra cash without the overheads of licensed B&Bs.
According to Fáilte Ireland's latest tourism barometer, two in five B&B operators who reported a decline in business for the January to April period suggested "low-priced competition" from the likes of the home-sharing giant contributed to their woes.
The rise of home-sharing platforms has been a pain point for the sector for some time: Airbnb was cited as a cause of concern for B&B operators in all three tourism barometers published last year by the national tourism development agency.
"Airbnb is having a big impact on the B&B sector," one anonymised business owner told Fáilte Ireland in the April 2017 barometer.
"Any house can do Airbnb but as far as I know there are no regulations. We have spent a lot of money upgrading."
Home-sharing is sometimes referred to in the same breath as "unregistered houses" – B&Bs that are not officially approved by State agency Fáilte Ireland.
Although B&B operators must comply with tax, planning and health and safety laws, registration with the national tourism body is not compulsory.
However approved operators claim unofficial providers may damage the overall reputation of Ireland's tourist accommodation or fail to comply with tax and planning laws.
'Level playing field'
For more than 25 years, Ann Campbell has operated Seashore bed and breakfast in Ballisodare, Co Sligo.
The property is classified by Fáilte Ireland as four-star accommodation, meaning it meets certain requirements such as en-suite bedrooms and an extended breakfast menu.
Campbell says Airbnb 'hosts' don't have to adhere to the same rigorous standards as official B&Bs, which she thinks is unfair.
"I'm running a business by government standards. I'm running a four-star accommodation so when the guests arrive, they know it's high class … We're inspected and they're not. They just have their own criteria," she says, referring to Airbnb's peer-based review system.
Airbnb also requires all hosts to self-certify that they will follow local rules, including in relation to paying tax, when they list their properties.
Amid concerns that short-term lets are taking much-needed housing stock off the market, the Department of Housing, Planning and Local Government is considering the rollout of a Airbnb licensing scheme, although it's likely to only apply to Dublin.
Campbell says she would like to see the rollout of regulations to ensure that home owners who advertise on the site are compliant with tax, health and safety and planning rules.
"All we want is to level the playing field," she says.
Quality scheme
B&B Ireland chief executive Helena Healy says the organisation – which represents 750 affiliated properties – main concerns around what she describes as 'homestays' is "quality assurance and health and safety".
"My private home doesn't comply will all the B&B regulations," she says.
"The main concern we would have would not so much be that Airbnb is creating competition, but more so around the product they offer. From our own research into some of the homestay product, the standards would be questionable."
Healy says current legislation is "very clear" that people who list properties on Airbnb must comply with food hygiene and health and safety rules.
So rather than calling for special regulations for home-sharing, B&B Ireland is looking to improve standards by extending its own quality assurance scheme to include properties that wouldn't be considered traditional bed and breakfasts.
"B&B Ireland is actually setting up to work with the sector. The organisation has decided to embrace it," Healy says.
When asked how exactly the B&B Ireland proposes to achieve this, she says: "It's early days. We've just taken a decision that we have a role to play here.
"The organisation here is over 50 years old. It has a huge amount of knowledge … I suppose the B&B sector is doing what the homestay sector is doing, but doing it in a more professional way."
In response to the concerns raised by B&B operators about accommodation quality and low pricing, an Airbnb spokeswoman said: "The vast majority of hosts on Airbnb are regular people who share their homes in order to boost their income and support their families, they are not typically professionals.
"We ask all hosts to certify they will check and follow local rules before listing their space, including tax rules. This is made clear on our responsible hosting page."
Airbnb also noted that a number of bed and breakfasts choose to advertise their properties on its platform and that there is "a growing number of B&Bs in Ireland opting to do so".
Sign up to our newsletter to receive a regular digest of Fora's top articles delivered to your inbox.
Written by Conor McMahon and posted on Fora.ie