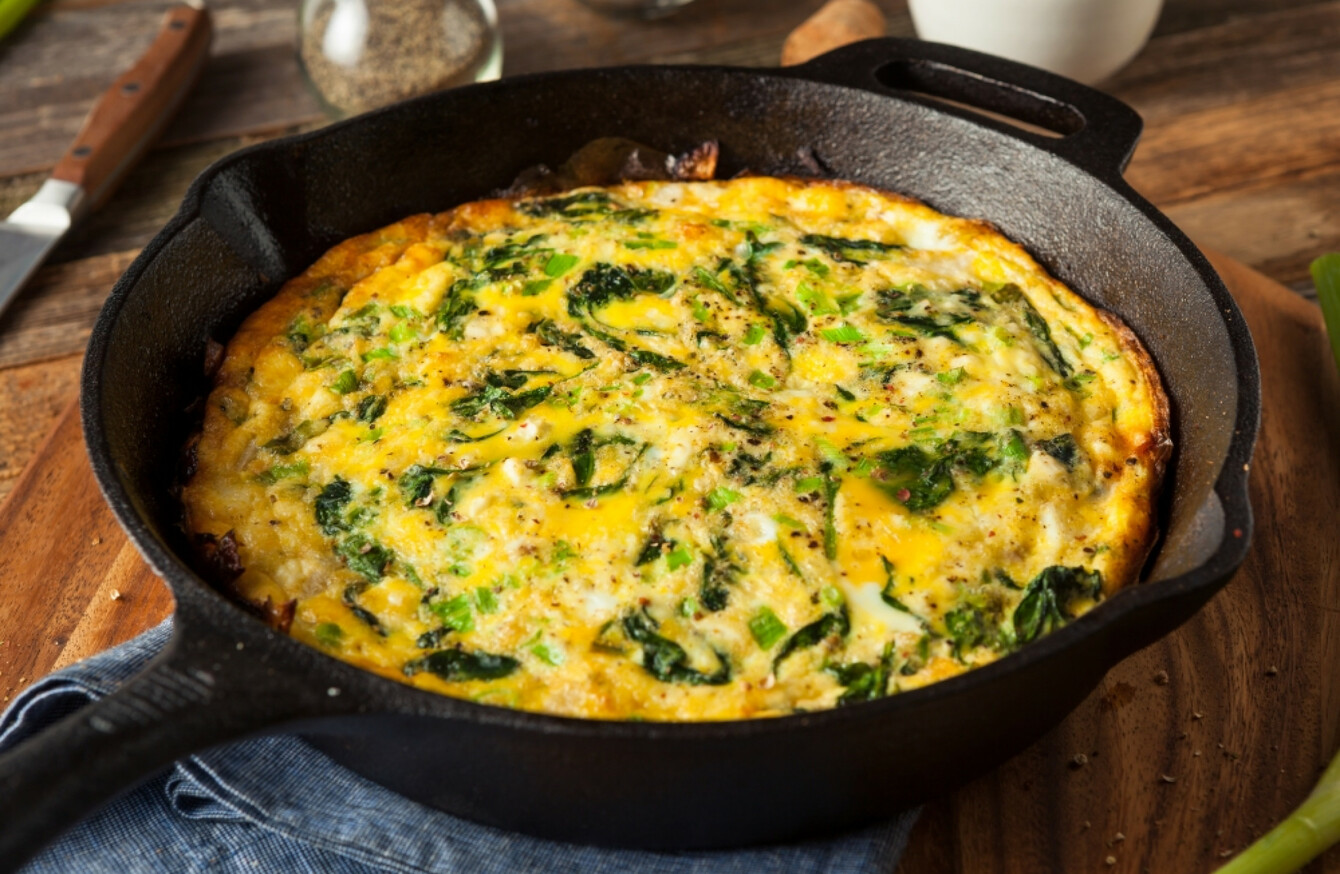 Image: Shutterstock
Image: Shutterstock
SPRING BRINGS sunshine, new growth and all of the fresh flavours that come with them – so what's not to love? Vegetables like asparagus, spring onions, peppers, broad beans and new potatoes are just a few of the edible wonders of the season.
Eggs are a fantastic way to use up anything leftover in the fridge, and make a very wholesome, protein-packed dinner. They're also very economical, so the obvious choice when looking for a quick yet healthy midweek meal.
Whether you're looking for a fuss free brunch, lunch of dinner, a frittata is a great way to get creative with those eggs in the fridge. We've listed some of our favourite recipes below.
1. Simple Frittata, from GastroGays: Filled with potatoes, courgette and mushrooms, this Spanish tortilla inspired frittata makes a delicious midweek meal in minutes. Serve with a fresh green salad and a drizzle of pesto.
2. Spring Vegetable Frittata, from the Last Food Blog: With asparagus, peas, baby new potatoes and spring onions, this frittata brings out all of the best flavours of this time of year. This recipe is delicious served hot or cold, and a great way to get the kids to eat some extra veggies.
3. Wild Garlic Frittata, from These Four Walls Blog: Wild garlic is one of the delicious foods that grows naturally in abundance at this time of year. With a delicate but delicious flavour, this is a beautiful recipe to use it up.
4. Spinach and Feta Frittata, from Ursula Walsh: With only a handful of ingredients, this frittata by Ursula Walsh would be perfect for lunch or a weekend picnic. The addition of tangy feta cheese makes this especially satisfying.
5. Roasted Asparagus Frittata, from Naturally Ella: This recipe uses pre roasted asparagus which can be made ahead to save on time. Include more herbs or swap out the cheese to add a different layer of flavour.
6. Pea, Broccoli and Parma Ham Frittata, from the Healthy Spoon: The classic combination of peas and ham paired with broccoli makes a tasty yet light and fluffy frittata. Serve this with a rocket salad drizzled with balsamic.