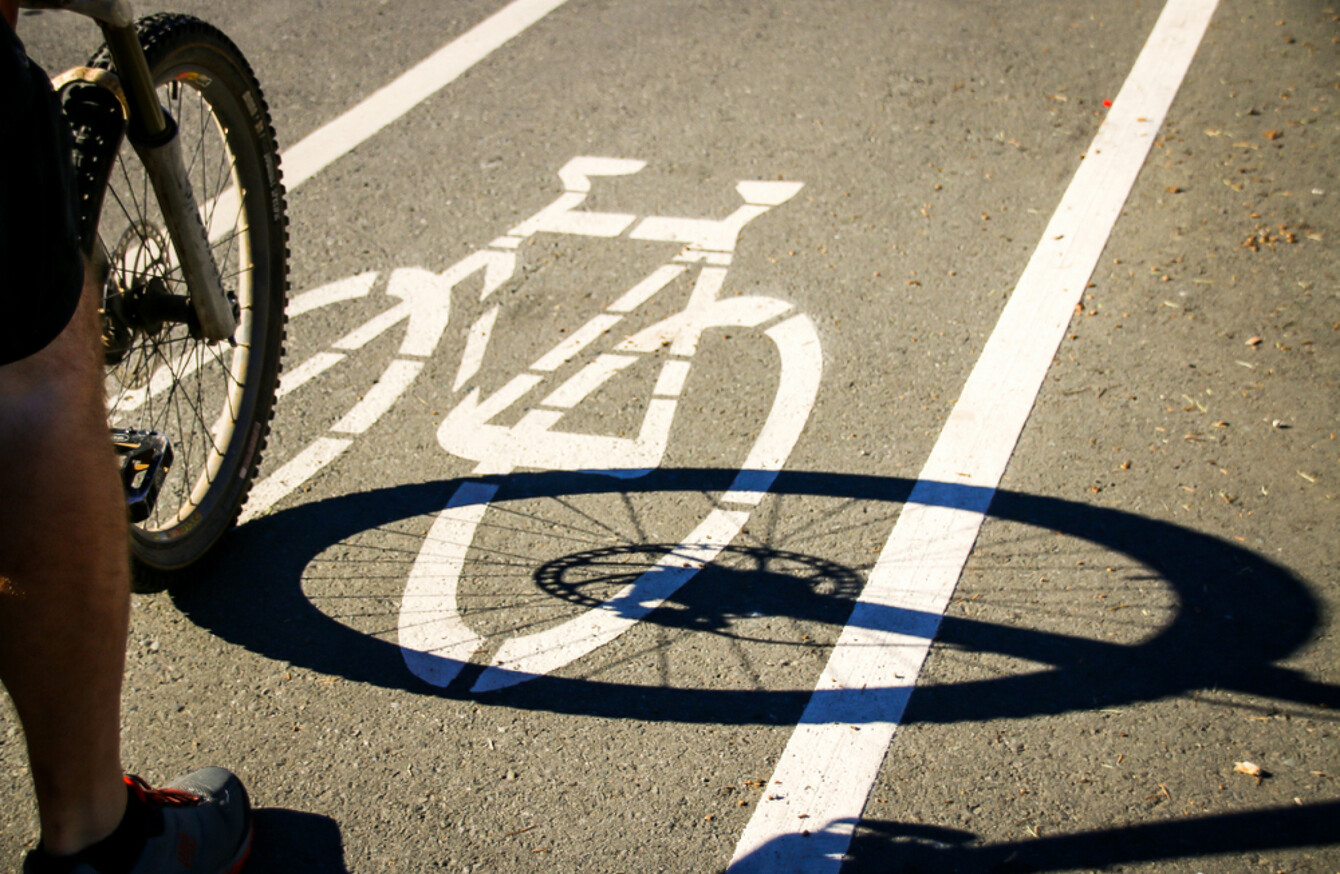 Cyclist using a cycle lane
Image: Shutterstock/Christina Felsing
Cyclist using a cycle lane
Image: Shutterstock/Christina Felsing
TRAFFIC CONGESTION IS a daily challenge for commuters coming into Dublin city by car, bike or public transport.
This is not something uncommon for modern cities today but other European cities such as Copenhagen in Denmark have successfully tackled the problem.
Recent data from Copenhagenize Design Company showed that in 2016 Copenhagen had 265,700 bikes enter the city in morning rush hours, compared to 252,600 cars.
The urban design consultancy Copenhagenize has bases in Copenhagen, Barcelona, Brussels and Montreal and it advises cities and governments on how to work towards a more bicycle-friendly urban landscape.
The data by Copenhagenize Design comes from research work by urban mobility expert and CEO Mikael Colville-Andersen who believes "the bicycle makes sense in cities".
Copenhagen had traffic congestion issues common to large cities but since 1970 they have managed to turn things around. There was political will in the 1960s to examine traffic plans more closely with an aim to avoid the car-centric focus of other cities.
Research and engineering projects were undertaken in relation to congestion, the environment and business needs.
Over the past 20 years, €270 million was invested in cycling infrastructure.
The Bicycle Friendly Cities Index
Every two years Copenhagenize releases an index list of how bike-friendly global cities are and 2017 saw 136 cities analysed.
The top 20 cities are ranked under 14 parameters including politics, advocacy and gender.
Dublin lost its place in the top 20 in 2017, falling from the 15th position it held two years previously.
Copenhagen has been at the top of this index for some time and Green Party leader Eamon Ryan puts this down to "political commitment".
Copenhagenize claims that the Danish traffic design model can be replicated anywhere and Ryan believes that the model is "absolutely" possible for Dublin.
How does Dublin fair? 
The Dublin City Development Plan 2016-2022 aims to promote walking and cycling initiatives in a way that is feasible and sustainable.
Since the plan began, those commuting by car has dropped from nearly 65,000 in 2016 to 61,694 people in 2017.
A key challenge, according to stakeholders, is providing increased accessibility throughout the city whilst encouraging less dependency on cars.
Many initiatives can be seen across the city already such as the Bike to Work and the Dublin Bikes rental schemes.
According to the CSO 2016 census figures, those in their early 30s are most likely to cycle to work when compared to other age groups. Non-Irish nationals accounted for 27% of all cycling commuters.
In May this year, Dublin City Council and the National Transport Authority released the canal cordon report which recorded traffic counts at 33 locations around the Royal and Grand Canals in November 2017.
The report revealed that of the 211,416 people coming into Dublin between 7am and 10am, just 12,447 of those people cycled.
However, it was still the highest number of cyclists coming into the city ever recorded.
What's next? 
The somewhat controversial Bus Connects project seeks to tackle congestion and eliminate the potential for cyclists to have to share bus lanes with buses and taxis in Dublin city.
Eamon Ryan described this project as vital and said that traffic planning measures need to be given real priority as the "culture is created with the environment".
He said changes must be made around the College Green area in Dublin and described the current traffic situation there as "utter madness".
A spokesperson for AA Ireland said that if high quality infrastructure is provided, cyclists will "naturally take to it [because] they can rely on it".
The spokesperson said that there are many things Dublin can learn from Copenhagen, stating that cycling "serves the city very well".
He described how Dublin being physically spread out into suburbs is a headache for planners looking at city traffic.
This is due to "generations of planning errors and failures" which prevented building upwards.
He suggested that cycle lanes should be designed by those who cycle as "some engineers don't appreciate what a commuting cyclist wants to do".
Generation gap
Ryan wants Ireland to have safe cycle routes to every school which, he says, could lead to a decrease of 30% in morning rush-hour traffic.
There would be a secondary benefits of healthier children getting to school more quickly as cycling improves cardiovascular fitness, mobility, muscle strength and overall fitness levels.
However, the AA believes parents in Ireland perceive the roads to be dangerous places for their children, having particular fears around cycling.
The most popular means for primary school transport is by car with nearly 60% of children being driven to school, CSO statistics of 2016 revealed.
While just under 25% of primary school students walked or cycled to school in Ireland in 2016.
In Dublin, city statistics showed increases in primary, secondary and third level students taking to their bike and 6,509 third-level students cycled to colleges in 2016.
The AA's spokesperson said "every investment we make has the potential to be really helpful" and that promoting cycling is key to having a situation closer to Copenhagen's.